Back to News
Work-Life | March 2015
March 10, 2015

- Work-Life brings together original and found content about work and life. -
---
March 31st, 2015
What is the most important part of good business communication?

I think people and brands are no different in the sense that BEING YOURSELF IS THE ONLY THING THAT MATTERS—a unique point of view or raison d'être are vital. Starting with this fundamental, good communication flows two ways or more… So if there is one secret to success, it lies in our ability to get the other person's point view (and have them easily get ours). The most amazing brands and people among us make us feel comfortable while constantly asking questions and answering others in between.

Michael Marckx - CEO & President, SPY
---
March 26th, 2015
Malakye Picks: Spring Cleaning for Your Career

Spring Cleaning: How to Survive Performance Reviews And Improvement Plans (read it on Malakye.com)
Why Read It? Because your performance review will be much easier if you're prepared.


- Take time to think about your accomplishments and the challenges you've faced throughout the year.
- Focus on "How can I give my boss zero excuses to reprimand or fire me?"
- If the outcome of your review is negative, instead of getting down on yourself, think about the ways you can improve.

"With adequate preparation and a clear focus on what matters, review time is just the fresh start we need to stay on job island for another day."

Spring Cleaning - For Your Career! (read it on themuse.com)
Why Read It? Because having your career in order allows you to have a clear mind and be present in your career.

- Refreshing your resume is a good practice to do once a year.
- Google your name and check the results to make sure there isn't any less-than-desirable content out there about you.
- Organize your desk and get rid of anything you don't need.

"Before you add another bullet point to your resume, consider this: Crafting the perfect document isn't always about what you add in—the best changes may lie in what you take out."

Eight Simple Tricks to Spring Clean Your Career
(read it on forbes.com)

Spring Clean Your Way to Career Success: 12 Orderly Office Tips
(read it on salary.com)
---
March 24th, 2015
Spring Cleaning for Your Career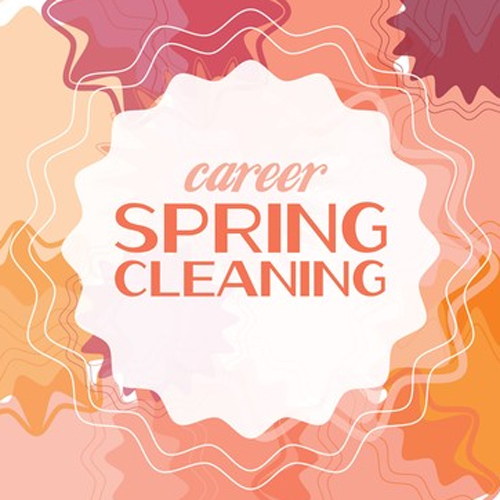 Spring is officially here which means time for Spring Cleaning! I'm not talking about the clean-your-house type of Spring Cleaning, but the keep-your-professional-profile-current-and-tight type of cleaning and more importantly, reconnecting with your network.
When was the last time you updated your resume? Your portfolio? Your website? You will most likely find something new to add to your experience and it's a great way to remind yourself of everything you have accomplished! Keep it fresh because you never know when opportunities might come a knockin'.
While you're at it, spring is the perfect time to check in with your connections. Send your professional pal an email or pick up the phone and set a time to buy him a coffee. Use your meeting time to reconnect, get advice, or talk about what you've been up to, just for a good feeling.
Then revisit your plan for yourself. As cliché as it may sound, having a set plan in mind (and written down) for 6 months, 1 year, and 5 years is an excellent way to keep yourself on track – you will at least have a mark to make or miss. And with the excitement for the upcoming heat wave, you can approach your planning with a burst of energy and an open mind!
---
March 23rd, 2015
Office Booyz!
If you weren't at Bear Mountain this weekend for Office Booyz, then you definitely missed out. Good thing it was too good to NOT get on camera! Featuring the infamous baby banked slalom to the pond skim, there was a little bit of friendly competition and a whole lot of laughing. Check out the industry weekend in photos:
The infamous pond - in all of it's two feet (deep) of freezing glory.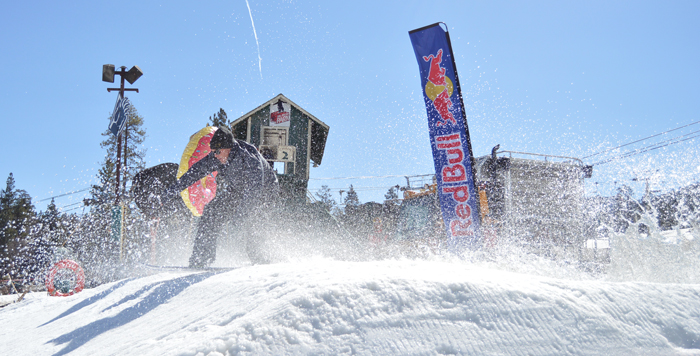 He made it!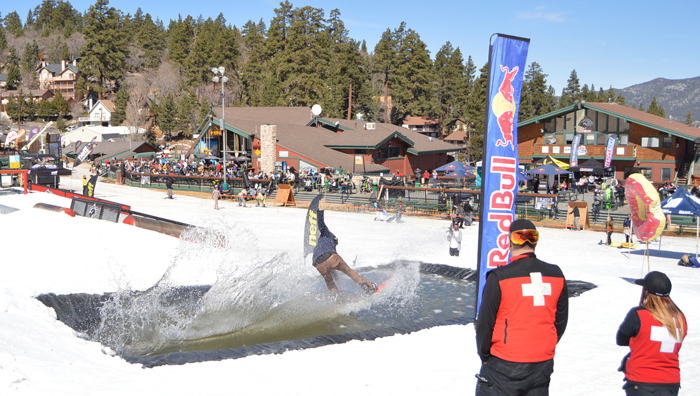 I think he hit the bottom...look at the size of those wakes!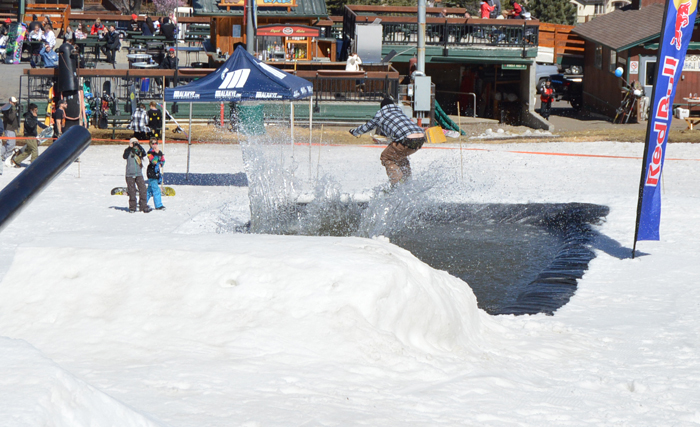 All clear!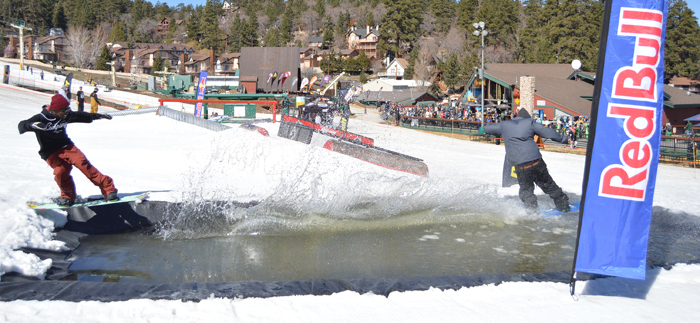 And we've got a 2fer!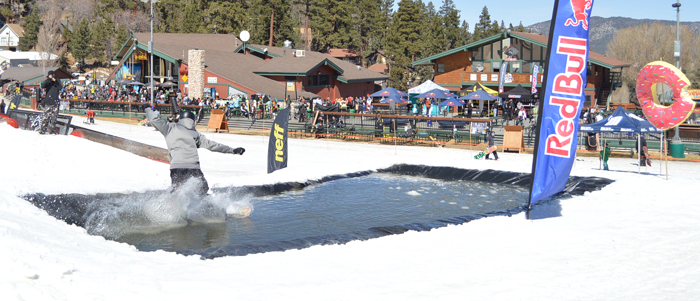 Skimmin'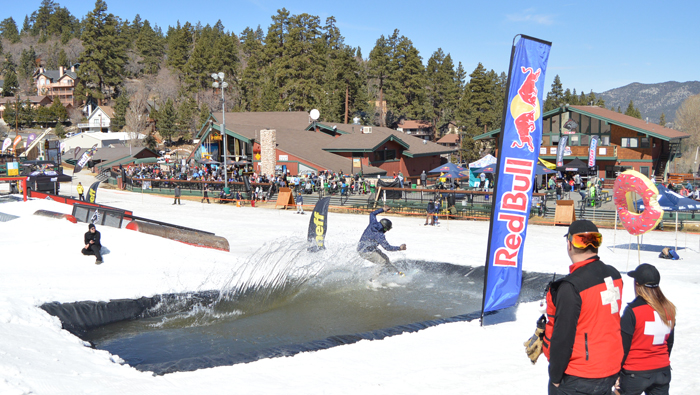 Almost home!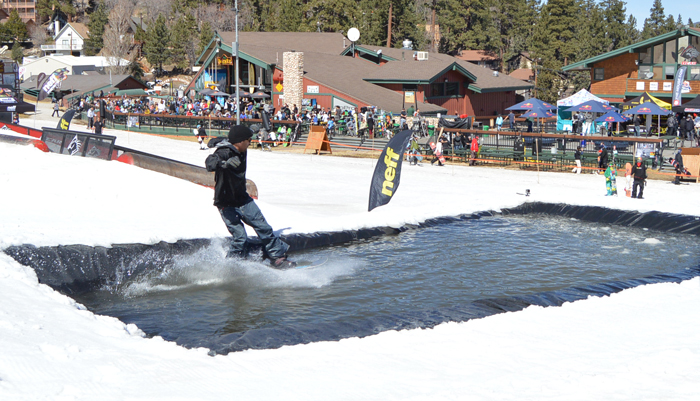 Malakye's Chad Mihalick may have done this a few times.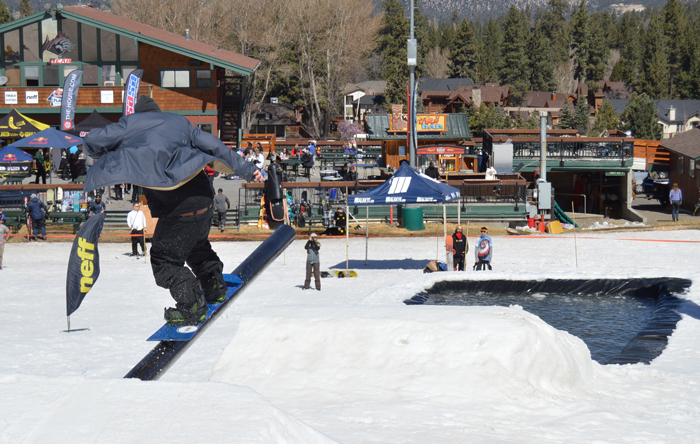 Some people hit the rail.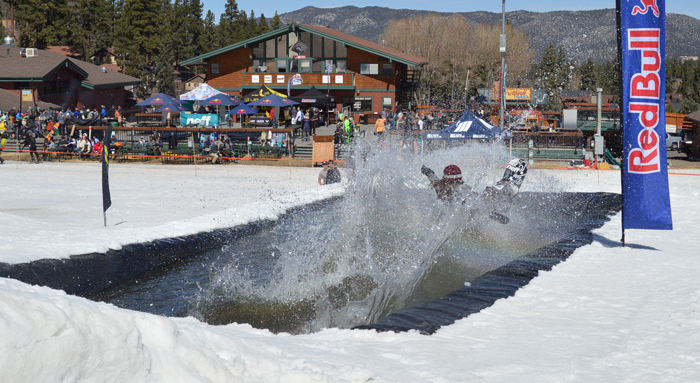 And some, didn't...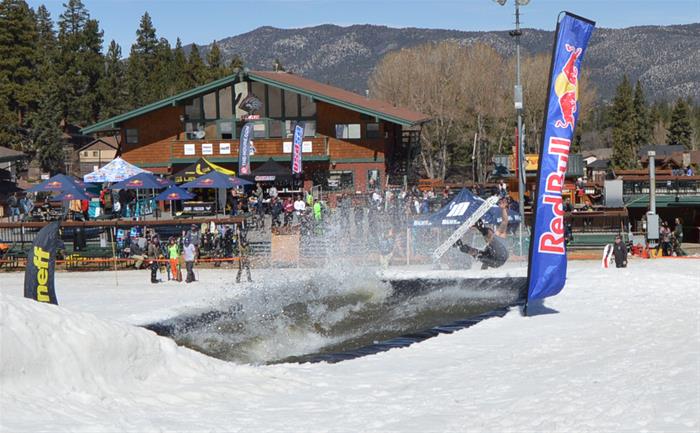 quite...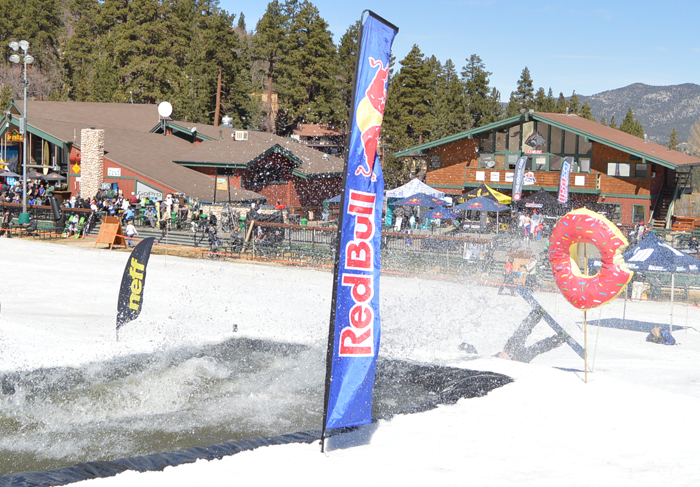 make it.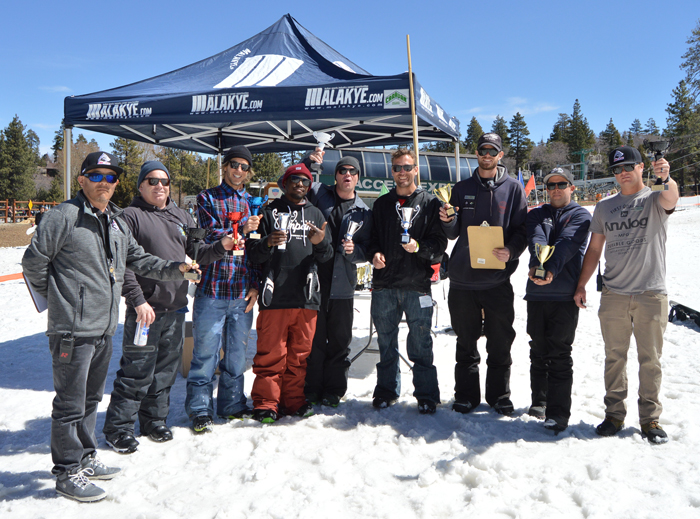 ,
Luckily there were no injuries to report and everyone was cheesin' at the end.
Special thanks to Rio Tanbara (far left), Clayton Shoemaker (far right) and the Bear Mountain crew for a fun weekend!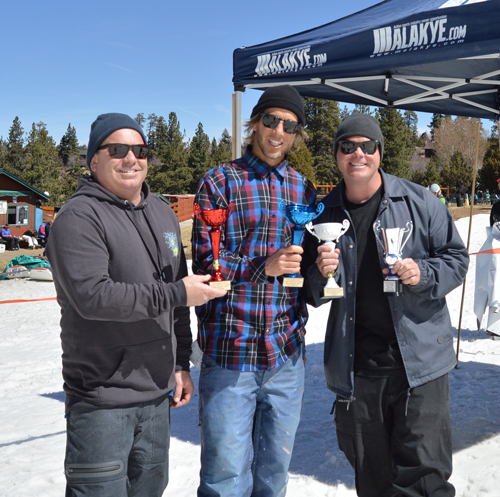 The winners! From left to right: Johnny Howenstine (2nd place), Todd Proffit (1st place), Ricky Melnik (3rd place)


Thanks to Oakley, Celtek, Quiksilver, DC Shoes, and Rastaclat for donating product for prizes, Bear Mountain for providing the crew and the slopes, event partner Neff, and to all of the industry desk jockeys that came out!
---
March 19th, 2015
Malakye Picks: Finding Purpose in Mentorship
Wax On, Wax Off: Finding, Nurturing, and Being Mentors (read it on Malakye.com)
Why Read It? Because mentorship is important in professional development.


- Sometimes your mentors are just people in your life that you meet unexpectedly
- Mentorship is a two way street - mentees should be also be considering what they can provide to their mentor
- Think about your experiences and how you can inspire others

"Either by being a mentee or a mentor, each person has so much to give and gain. All we have to do is look around and see them there, nurture the relationships and pass along the wisdom when it's our turn to teach."

How Mutual Mentorship Can Change Your Career (read it on Fastcompany.com)
Why Read It? Because we can all offer something to one another.

- In a study, 8 out of 10 millennials value mentorship
- Mentors don't necessarily need to be someone with a job you want, but someone who you can still learn from
- With the constantly changing technology, mentors don't always have to be our superiors

"Boomers and Gen Xers can also ask millennials to be their mentors on specific topics. If you continue to be flummoxed by Instagram or Pinterest, or don't know how to use Facebook or blog comments to your advantage, consider having a millennial colleague or acquaintance mentor you for a month or two."




How To be A Great Mentor
(read it on forbes.com)

5 Questions to Ask Before Choosing a Mentor
(read it on huffingtonpost.com)
---
March 18th, 2015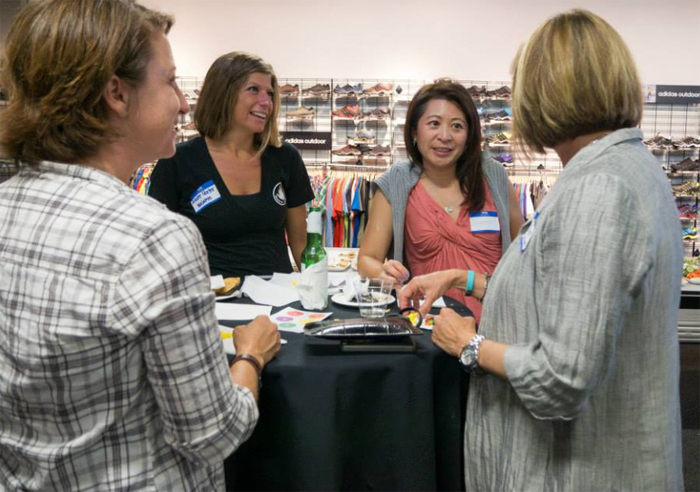 One of the identified barriers for women to enter leadership positions is the lack of a worthy role model. Only clearly evident measures allow women to believe in the possibility of professional success and career development without affecting the family life. (McKinsey Report: Women as Valuable Assets Report)
The Outdoor Industries Women's Coalition (OIWC) has created the first cross company, cross-industry mentoring program to address this barrier to career advancement in the outdoor, snow, bike, and run industries. The Professional Mentoring Program seeks to increase retention and career satisfaction of female employees by facilitating one-on-one learning and professional development opportunities between director or manager level women and VP or higher level women.
The OIWC Mentoring Program strives to create a tradition of mentoring within the four industries that will ultimately result in more diverse leadership teams. Additionally, research shows people that participate in a formal mentoring program are 5x's more likely to be promoted over non-participants. OIWC has also found an increase in business acumen and confidence based on past participants.
Now in its third year, the OIWC just kicked off the Mentoring Program Class of 2015 and will begin accepting mentee applications for the Class of 2016 on September 15, 2015. The OIWC is always accepting applications for mentors, for more information, contact Amy Luther, OIWC Program Director at aluther@oiwc.org.
Formal mentoring isn't the only way mentoring happens. There is situational mentoring, peer mentoring, reverse mentoring and even creating a board of advisors for yourself. More resources on these types of mentoring can be found here.
---
March 17th, 2015
Hey, Malakye!
"Hey, Malakye!" is where we answer your job search and career-focused questions.

QUESTION:
Hey, Malakye!,

I've been in a sales role for about 8 years, 5 of them in the financial services industry. My office (read: cube) looks out at the Rocky Mountains from the 8th floor in a Denver suburb and I long for an opportunity with a company that will allow me to be there as often as possible be it through guiding, or with a adventure-themed product company based out of Denver.
Only problem is, I'm not saying I make that much but I can't find anything NEAR my paycheck with the companies I've researched so far. I'm more than willing to take a pay cut because I'm a self-described gear junkie and mountain addict which makes me a perfect fit for an outdoor/product company but some jobs I've seen are maxing out at 35-40k and with bills and such it's not very doable, so securing a job isn't the only problem. Help!
- Ryan

ANSWER:
Hey Ryan,

A good place to start is to ask yourself what it is you really want. What is this really about? Do you want to be outside and get paid to be outside? Do you want to work for a company that makes products for use outside? Do you realize that many of the jobs working for a gear company are also cubicle jobs? However, a key differentiator is probably who is sitting in the cubicle next to you and what your work-focused conversations are about. FUN STUFF!! Deciding what it is you are really after, what your goal is, in this change is the most important consideration for you. Everything else will fall into place after that because it will all support your pursuit of that goal.

Connecting with people within the industry and finding a mentor to learn from – perhaps someone with a similar background is also huge. Seeking people out through online networking channels, attending networking events, and volunteering at industry events are great ways to meet people in the industry. Mentor relationships are invaluable in any stage of your career, but especially at the beginning. Most industry vets are more than willing to give you advice – you just have to ask!

- Malakye

Find Ryan on LinkedIn and Twitter


Do you have a question for us? Send us an email with the subject line "Hey, Malakye!" to newsletters@malakye.com and we will do our best to answer your questions.
---
March 12th, 2015
Malakye Picks: Embrace the Extra Hour

Energize! How to Recognize Stress Signals and Manage Them (read it on Malakye.com)
Why Read It? Because the time change can cause unnecessary stress and it's important to know how to manage it.


- Each individual shows stress differently and it's important to be able to identify stress signals in yourself

- Knowing what is stressing you out and why is equally as important

- People are energized differently and figuring out what energizes you helps you manage your stress

- Having energy doesn't necessarily mean physical energy, but also the ability to be able to regroup if things are getting a little too stressful

"Individuals who properly identify their stress signals and use their energizers can employ stress for their benefit, instead of their detriment."

6 Tips to Deal with Daylight Saving Time (read it on sparkpeople.com)
Why Read It? Because losing one hour can be a struggle unless you embrace the extra sunlight.

- More sunlight after work gives us more time to be outside when the workday ends

- Be alert when on the road - traffic accidents increase in the weeks following the springtime daylight saving

- Give yourself more light in the morning to wake yourself up and dim the lights at night to regain your natural circadian rhythm

"Some of us breeze through the change seamlessly, yet others feel out of sorts for days. If you have trouble dealing with this sudden disruption in your routine, it is for good reason."




Why You Should Love Daylight Saving Time
(read it on lifeproof.com)

13 Facts About Time to Spring Into Daylight Saving
(read it on mashable.com)
---
March 11th, 2015
Spring Forward Blues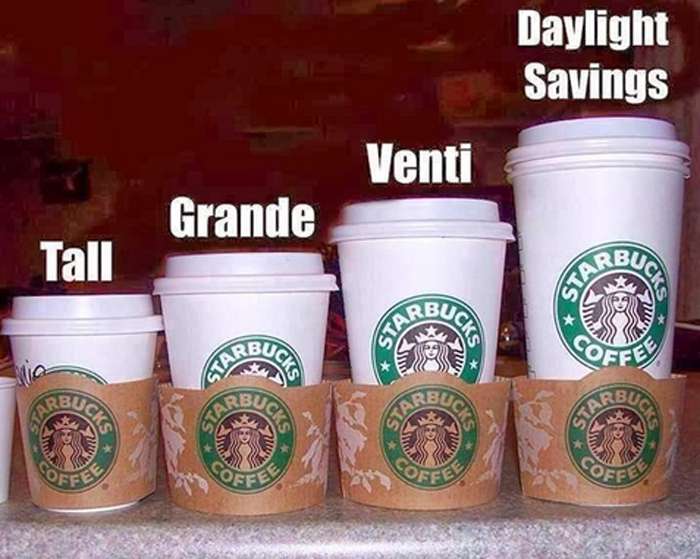 So you have the Spring Forward Blues…
For most of us, Monday probably came with a significant increase in caffeine intake no thanks to the dreadful lost hour. And for some of us, we might still be on the extra caffeine plan longing for the day that our body finally adjusts. Unfortunately there aren't any magic "daylight savings adjustments" switches, but here are some good tips that will help you power through the time change.

- Dial back your bedtime to get in your normal amount of sleep – and maybe a little extra!
- Wake up when you normally do (even though your bed is probably telling you differently)
- If exercise gets you hyped, get in a little morning workout to get you through your day

- Limit napping to 10-15 minutes so you don't confuse your body even more

- Try to limit your caffeine intake, no matter how loudly Starbucks/Red Bull/etc. is calling your name
The most important thing to definitely do, however, is enjoy the extra hour of daylight after your work day! It's safe to say we all enjoy the active life, so let's take advantage of the sun and the more time for our favorite outdoor activities!
---

March 10th, 2015
Daylight Savings Time is here so we asked a few people in the Malakye audience, "How are you taking advantage of the extra hour of light?"

@RedKitePrayer says, "taking this little guy out for rides."

---

"The reason most of us got into the action sports industry is the lifestyle and with the clocks moving forward benefits the sunset surf sessions and more time hiking/snowmobile for extra runs on the mountain. We all need to exploit the extra hour of sunlight after work to put a smile on our faces and remind ourselves why we got into this industry."

Wallace Hargraves, Product Line Manager – Boots, FLOW

---

"With the extra hour of daylight, I will feel more energized, both in the workplace and at home. I will be more motivated to go outside, take a walk, enjoy a baseball game, work out, etc. The extra hour of daylight will allow me to stay focused and energized at work, improving the quality of and passion for my work."

Shannon Stern, Marketing Professional
---