Back to News
B$Z: AMSOIL Arenacross Interview of the Week: Team DirtBikeMike KTM
March 12, 2015
For many of the up-and-coming riders in AMSOIL Arenacross, featuring Ricky Carmichael's Road to Supercross, one of the most popular and advantageous paths to stardom has been with Team DirtBikeMike KTM. The team setting provides a professional foundation for young riders to succeed, allowing them to focus solely on racing and performing at their best instead of the added stresses that can come from personal bike maintenance, travel and finances. Team owner Mike Lambert has been involved in the industry for over 40 years. In 2001, he started Team DirtBikeMike after seeing a lot of riders come up through the professional ranks without any help. He began the team with just one rider, but over the years the team has continued to grow and in 2015 Team DirtBikeMike is the home of six of the sports' most promising young riders.
Lambert is inspired by the progress he sees in his riders week after week, and he embraces the family atmosphere that is often a characteristic of race teams. Mike and his riders travel together from race to race and live at his home in Arkansas, which comes complete with an arenacross track for practice and a space to store and work on the bikes. It takes a combined effort from everyone involved to make the team successful and this season Lambert feels like he has one of the strongest groups of riders ever for his program, each hungry to improve both on and off the track.
AMSOIL Arenacross caught up with the six-rider lineup - Brandon Glenn, Clay Elliott, Jason McConnell, Ben Nelko, Brent Ash and Aaron Pipon - to get their thoughts on the 2015 season thus far and the opportunity to be a part of the Team DirtBikeMike effort. Four of the six riders have already completed the Road to Supercross this season, earning their 250SX Class endorsement to compete in Monster Energy AMA Supercross, an FIM World Championship.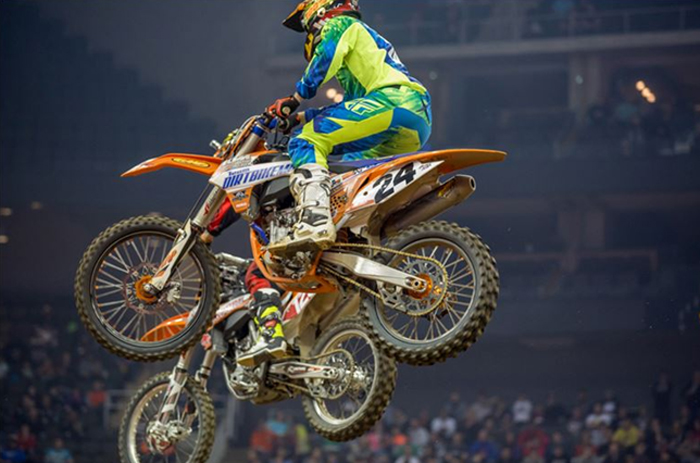 Brandon Glenn (#24) has the most experience of all the riders on Team DirtBikeMike and currently sits third in the Western Regional Arenacross Lites Class standings.
Photo: Josh Rud / ShiftOne Photography
We are officially past the halfway point in the season. What are your expectations and goals for the remainder of 2015?
Brandon Glenn (BG): This year there have been a lot of ups and downs. Some nights haven't gone the way I anticipated but that means I go into the next race with a lot more determination. My goals for the remainder of the season are to ultimately put myself in contention for the Western Regional Arenacross Lites Class Championship, and I would also love to be top-15 in the Arenacross Class points standings.
Clay Elliott (CE): I want to be in every Main Event in the Arenacross Lites Class from here on out, gaining as many points as I can and staying as consistent as possible. At the end of the season I would like to see myself in the top five in points overall in the Western Regional Championship.
Brandon and Clay, you are both competing in the Western Regional Arenacross Lites Class Championship and currently sit in the top 10 in points. What do you think of the season so far and what do you plan to do to stay up front in this championship?
BG: My season is going well. I plan to do more testing and put in more seat time. I also plan to put in a lot more work during the week to better prepare myself for the weekend. I want to work on my starts, ride aggressive and be consistent.
CE: My plan is to be in every Main Event and build off the previous weekend to be stronger and smarter on the track. I hope to break in a couple of top-five finishes. I'm currently tied for fifth place in points, so I want to build off that and improve every weekend.
This is the first year we will have a championship round combining the Eastern and Western Regional Arenacross Lites Class Championships in Las Vegas, the final round of the 2015 season. What are your thoughts on this?
BG: I think it will be really fun! It is completely different and I look forward to competing with everyone [from both regions] at the final round!
CE: It's a really cool setup this year and I plan to do whatever it takes to be a part of that, which makes staying inside the top 10 in points vital to being there. I want to do my best out in the Western Regional Main Event, but then also see how I hold up against the Western and Eastern Regional competitors combined.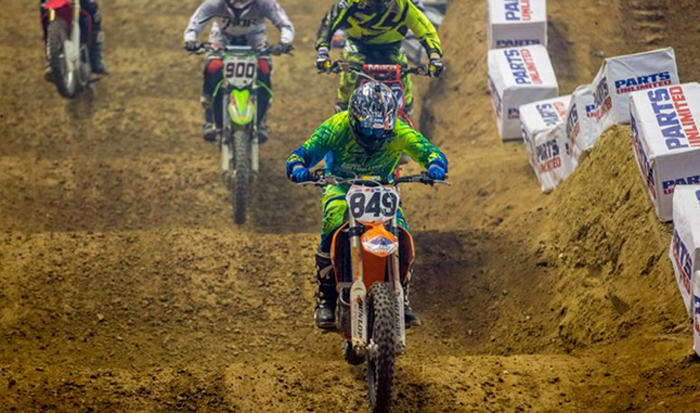 Clay Elliott (#849) has learned a lot in his first season of AMSOIL Arenacross competition.
Photo: Josh Rud / ShiftOne Photography

How has this opportunity been for you being a part of Team DirtBikeMike?
CE: I have never had the opportunity to do the full series or be a part of a team. This is my first year having this opportunity and Team DirtBikeMike's support has been more than I could have ever imagined and such a great experience. I would not be here competing if it weren't for the opportunity Mike [Lambert] gave me.
Brent Ash (BA): I'm new to the professional ranks and this is my first year racing arenacross, so to have the chance to be a part of a team like DirtBikeMike where I can learn from my teammates, learn from Mike [Lambert] and just focus on getting better is huge. It's the best opportunity I could have asked for being a newcomer to the championship.
Ben Nelko (BN): Being a part of Team DirtBikeMike has really helped me achieve the success I have this season. Everyone, from my teammates to the mechanics, is so awesome to be around and the atmosphere with this team has been huge. We're all here for the same common goal and we all do whatever we can to make sure each of us has the opportunity to succeed.
This is the most competitive season we have seen in AMSOIL Arenacross history. What has the first year of competition been like for you?
BA: This season has been a lot tougher than I anticipated. I expected to come in and make night shows and mains regularly. I plan to work on consistently being in the Main Events in the Arenacross Lites Class as well as work on my corner speed. I feel like I am making improvement every weekend.
BN: It's been a lot harder than what I was expecting. It is my first year competing in AMSOIL Arenacross and it is something to not take lightly at all. With that being said though, I am sitting top 10 in points in the Western Regional Championship and I would have never dreamed that, so I am extremely satisfied with how it has been so far.
Jason McConnell (JM): This year is a huge learning curve for me really, being my first season. I didn't know what to expect coming in. There are a lot of fast guys and tough competition but I feel like being in this environment week after week helps me improve. The first couple of weeks into the new season were tough, but I feel like I am getting into the swing of things and I am making many more steps forward to getting where I want to be.
What do you really need to work on for the remainder of the season? What are your goals?
BA: To just be consistent. I have learned a lot so far, things that I can work on the remainder of this season to perfect for next year. I would love for another opportunity to race AMSOIL Arenacross next year to take everything I have learned and be able to apply it.
BN: I need to work on my fitness a lot more. I want to finish the season top five in [Western Regional] points. I have some work to do, but I know I can make it happen.
JM: I just got my first top-10 finish this past weekend [in Council Bluffs]. I plan to improve my finishes each week from here on out. My ultimate goal is to finish top three in the Western Regional Championship. I have been working on improving certain things every week, my whoops being one of them. The whoops are a lot bigger than I ever anticipated and I know what I will be working on for next season.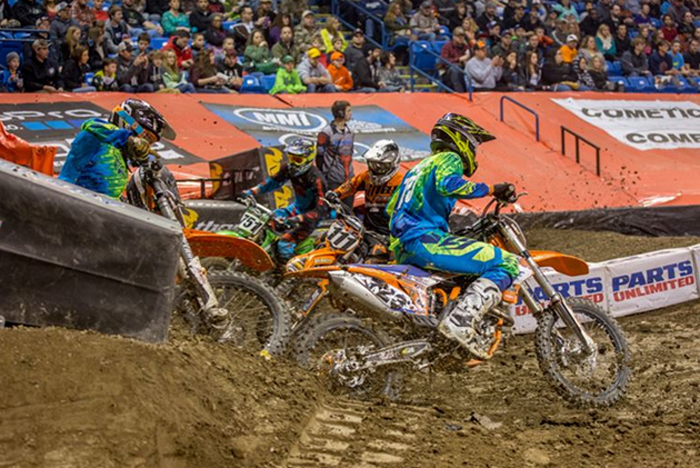 Ben Nelko (#723, front) has two top-10 finishes in Western Regional Arenacross Lites Class Main Events this season.
Photo: Josh Rud / ShiftOne Photography
Being your first year in AMSOIL Arenacross what do you think of the Road to Supercross program?
BA: I think it is really cool! I think it gave arenacross a great name and it's been really exciting to see the top athletes competing through arenacross to gain more experience.
BN: I think it is a really good program. I am really excited. I just got my third and final point last weekend in Council Bluffs. It really gives riders a chance to get the experience of being in that tight, close racing environment before heading to supercross.
JM: I think it is a great program. It gives up-and-coming riders a chance to test their skills with the top professional arenacross riders, especially this year since the field is stacked. I think it really helps young riders see what speed they need to be running on such tight, technical tracks with top competition.
The ninth round of AMSOIL Arenacross kicks off Friday, March 13, and continues on Saturday, March 14, from Southaven, Mississippi, for the championship's debut inside Landers Center. Racing begins at 8 p.m. ET/ 7 p.m. CT / 5 p.m. PT each night.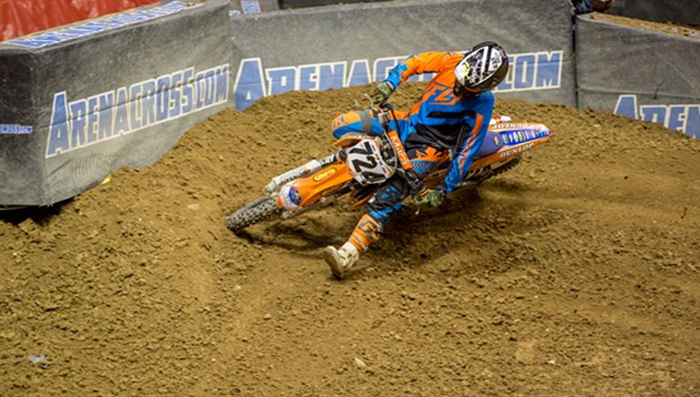 Jason McConnell has made six Arenacross Lites Class Main Events in 2015, earning a career-best eighth last weekend in Council Bluffs.
Photo: Josh Rud / ShiftOne Photography
---