Back to News
Wax On, Wax Off: Finding, Nurturing, and Being Mentors by Leslie Juvin-Acker
March 19, 2015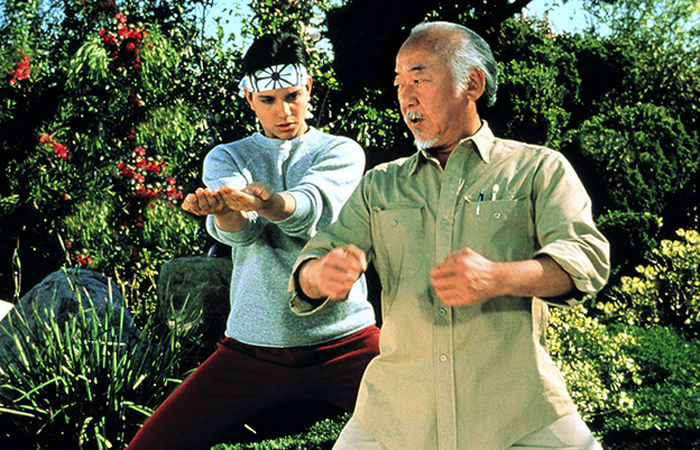 You don't have to be a karate kid to have a wise mentor that'll teach you ass kicking techniques. When we ask ourselves the right questions, we realize that mentors are there, all around, gently fine tuning us into better people every day.
From my personal stories to aspirational figures like pro snowboarders Kelly Clark and Chloe Kim, mentoring can be the rising tide that lifts all boats taking the collective from good to great. Discover how you can recognize your mentors, nurture these relationships, and how to be one yourself.


Mentors: My Stories
When I was living in France, I was required to get an internship with a professional to learn French in a professional context. The person who I would work under would act as a mentor, helping me learn business French and what it's like to work in France. For my project, I asked a woman who runs workshops for job seekers and she agreed. However, days before the internship was to begin she brought me into her office and said, "I can't take you as an intern… I'll be sharing with you my business practices and I don't want you to copy me when you go out on your own."
I was shocked, but that little voice inside said, "Don't try to convince her to take you on. Just get up, thank her for her time, shake her hand, and walk away." I did just that and with the help from the program director I found an internship at AFPA, France's national vocational school, and my mentors there exposed me to the new world of coaching and training in Europe and our relationships naturally grew into friendships and professional exchanges.
Fast forward: I'm back in the U.S.A., working on reestablishing my coaching business. Through my network, I set up different explorational meetings with different pros to see if they could become networking partners. In one meeting, I clicked with a woman in my field who totally understands my professional values, loves what I am doing to help people, and sees my potential. Gradually, she started introducing me to people, giving me advice on how to market myself, how to improve my chances in business and regularly following up with me and my family. In fact, I didn't realize she was my mentor until Chad and Katie here at Malakye asked me to write this article.
How To Recognize Your Mentor
If we really take the time to think about it, we presently have or have had mentors. It's unnecessary to go up to a stranger and say, "Will you be my mentor?"
Sometimes, we can have more than one mentor - spiritual, professional, hobbies - who teach and guide us in a variety of ways. The trick is to asking the questions that help us realize they're actually all around us. Moms, dads, friends, neighbors, old and new bosses, professors - mentors are everywhere.
Questions To Ask:
- Who do I know that takes a sincere interest in me and my projects and helps me find ways to move forward?
- Does this person try to control my thinking or help me grow and open my mind?
- Does this person go out of their way to spend time with me? When thinking about our time together, what have I learned?
- What were the turning points in my career and life? Who were the influential people who made a difference? How?
Nurturing The Mentor-Mentee Relationship
It's easy to take advantage of the ones who care about our careers the most. Bad follow up, getting free advice without offering anything in return, and not showing respect or enthusiasm for our mentor's help can burn bridges faster than a pyromaniac on an island. Without realizing it, mentees lose the support they never realized they had in the first place.
Mentoring relationships are reciprocal and take nurturing. Mentorships are not all me first, gimme, gimme! Ask how we're being of service to our mentor and if we're genuinely interested in them as people or if we just have an ulterior motive.
Another way to maximize the mentor-mentee relationship is to be clear about our goals. Specific goals help our mentors zoom into our problems. Chances are, they've gone through our specific situation and can help from their experience and once we've gone through it, they'd be stoked to hear how their advice or assistance helped us achieve our goals.
Questions To Ask:
- Am I clear about my goals, struggles, and questions? What are they?
- How am I helping my mentor? Do I offer anything to them that they can value?
- Am I following up on a regular basis and how am I saying, "Thanks! I appreciate you!"?
Paying It Forward: Being A Mentor
The cool thing about being ourselves is that we've got a unique way of experiencing and doing things. We've also got our own histories and lessons that can help advance the efforts of others. When I was at Mammoth this past weekend, I thought about snowboarders Kelly Clark and Chloe Kim's mentor-mentee relationship.
Clark said this about mentoring,
I realized in the last few months that I am not here to get anything anymore. I am here to contribute to the sport. It is no secret that some of these women will do tricks or will take the sport to a place where I never could. But I am going to take it as far as I can and hand it off. (Glass, 2015)
When asked about Clark, Chloe Kim had this to say about their relationship "We're at all the contests together. She helps me out so much. She's an amazing mentor and an amazing snowboarder. She always inspires me." (Foltz, 2015)
The inspirational relationship of these women is just one story out of many in this world where mentoring can not only advance ourselves, but the collective. Take a look inside yourself and see what you have to offer a mentee.
Questions To Ask:
- What life or work experiences have taught me the most in life? How can I share them to benefit others?
- What have my mentors taught me? What inspirational messages can I pass on?
- What issues do people constantly come to me about? Is there a theme and if so, what is it?
Either by being a mentee or a mentor, each person has so much to give and gain. All we have to do is look around and see them there, nurture the relationships and pass along the wisdom when it's our turn to teach. Take it from me and don't let the short sightedness of others fool you: there is nothing to lose by mentoring - there is everything to gain! Wax included.



---