Back to News
Shaun Tomson - World Champion Surfer, Business Man, Author, and Speaker
March 23, 2015
Shaun Tomson is a world champion surfer (1977), business man (Instinct and Solitude), author, and speaker.

Shaun's post-surfing career is equally as impressive as his surfing career.

The man has done many different things over the course of his life.

We will explore some of it to find out how and why.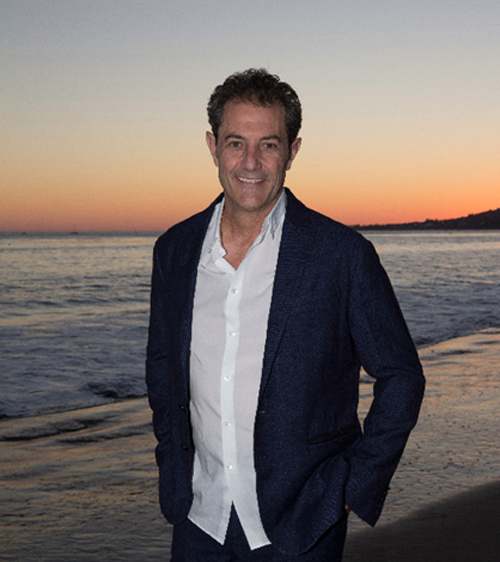 If Shaun Tomson of 1977 could answer, what would he say if we told him he'll be a business owner, consultant, author, and public speaker?
No one really knows where you'll end up in the journey through life. In 1977 I was still enrolled at university in South Africa studying economics, law and business administration – I had taken the year off and ended up winning the World Pro Championship,and that changed my life.
Suddenly it was possible to make a living going surfing, so I followed my passion, and was determined to build a career around it. I knew the life of a pro athlete was short so I picked a few sponsors carefully and tried to create a viable future career path in business - I was the first surfer to get paid to wear O'Neill Wetsuits, and have been involved with the family ever since. Since sponsorship dollars were small back then I wanted to start my own brand to protect my future, and I started Instinct shortly after my cousin Mike started Gotcha. We were competitors on the tour and in business as well. Instinct grew nicely and I always felt that the brand needed fresh blood to keep it relevant so we sponsored Tom Carroll who won two World Championships, and Barton Lynch who won one. I sold the company to my partners when I retired from the tour at the end of 1989.
I worked for Patagonia and O'Neill for a couple years and started Solitude with my wife in 1998. We sold in 2005, and stayed on under contract until 2009. Since then I havewritten books, produced a film, Bustin' Down the Door, done corporate and special event public speaking engagements, and a kids surf line in South Africa called KrazyKreatures with my wife. Since 2009 I have also been on the WWA team and done numerous business consulting jobs which has kept me current on business processes and innovation in an ever changing surf, apparel and footwear industry.

How in the world did you find your way into so many different things since your competitive surfing career ended?
I love challenges in the same way I love riding waves I have never ridden before. I retired from the tour in 1989 – I competed in my first pro contest in 1969 and my last in 1989. While on the tour I loved every minute of it, and in every heat, business venture and sponsorship, I gave it everything I had. I am a great believer in a philosophy of absolute commitment – if you compete in athletics or business give it everything. Many athletes want to make a comeback after their careers are over, principally because they feel they might have left something on the table – I never viewed my pro surfing that way – I was full on, all of the time. While I was on the tour I gave my all, and after it was over I never looked over my shoulder and wanted to go back again. However as surfers we are uniquely lucky that the ride continues – I have just as much satisfaction and challenge now when I paddle out as when I was on the tour. I still ride cutting edge equipment and after 36 years of working with Al Merrick, I still work with Channel Islands shapers to come up with perfect board for my type of carving surfing. My newest model is the Warp X and it is so much fun to be still pushing it as hard as I can.
I love taking on new challenges in business and life. A few years after I retired, I was hired by Patagonia, and my wife Carla and I moved to the USA. I worked there when we introduced organic cotton which was a huge challenge, and also when we started pushing into the surf market – Yvon Chouinard taught me a lot about creating a social purpose for business, and that profit, sales and growth are not the only objectives – while economic sustainability is important, so is social and environmental sustainability. Back then in mid 90s, his ideas were quite revolutionary. After Patagonia, I was the sales and marketing director at O'Neill Sportswear for a couple years while they were going through a tough time reestablishing themselves in the market. I really enjoyed being back in the surf market and helping the brand get back on track with the retailers, and communicating a compelling story to the consumers. I developed the first technical stretch board short while I was there called the Icon that ultimately created a whole new category in the market – it is very satisfying to see ideas turn into products that become successful. Starting another new brand was the next chapter for me.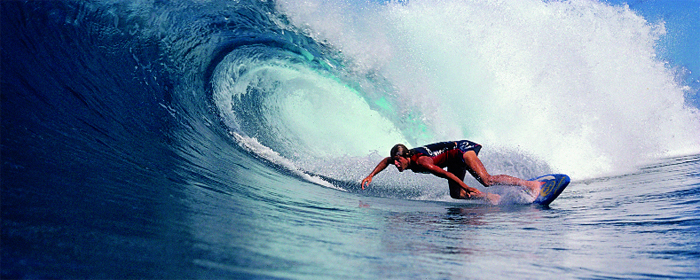 What drives you to make an idea into a reality?
Every day, every one of us has a million ideas flying through our heads. I believe it takes discipline, courage and commitment to go, ok, I am going to pick this one, and I am going to make this idea happen. That is the only way an idea becomes a reality. Sure one needs financial resources, but every entrepreneur knows the same feeling that a surfer feels when that set wave is coming at you. Am I going to push over the edge and risk the wipeout to get tubed,or am I going to sit it out?

What did you do from the time your contest surfing days ended and you started the Instinct brand?
I actually started Instinct while I was still on the tour in 1980. I used the logo that I'd had on my boards since I was 16, which had become well known after extensive coverage in the magazines. Selling the brand after retiring was quite an adjustment. 1990 was a year of big change for me – no more Instinct, the birth of my son Mathew, and then I went back to university to finish my bachelors in business finance and business administration. It was like unfinished business for me and it was quite a challenge to hit the books again.
Why did you decide to go from starting Instinct, a youth-oriented brand, to Solitude, a premium brand that used organic fabrics and targeted an older consumer?
When I started Instinct I was 23 years old and still surfing on the tour. Solitude represented a different time in my life. After working at Patagonia and O'Neill, I saw that there was a distinct gap in the market for premium product that was still authentic surf, so my wife and decided to start Solitude. She has a Masters of Design from a famous school in London and had worked for big fashion brands, so we decided to go into business together. I raised some money, hired a team and we started on a good run. We were the first surf brand to be sold in stores like Barneys, Saks, and Bloomingdales along with top surf shops and resort stores. After my experience at Patagonia the outdoor market was a natural fit – I was the only surf brand at Outdoor Retailer for years until surf brands latched on the opportunity. I believe that we broke a lot of new ground with Solitude – many people felt there was no room in the surf market for premium product with environmentally friendly fabrics like Tencel, Bamboo and Modal but we proved them wrong. We used beautiful fabrics from around the world including France and Italy, and I believe our customers really appreciated our unique handwriting and environmental commitment. Authentic stores like Hobie, Hansen, Harbor, Beach House were all big supporters. I could see that surfers were staying stoked longer and that the sport was not just populated by the 14 – 24 year old. A couple of years ago the founder of Olukai told me that he followed the trail that we blazed with Solitude in the premium surf sector – it was nice to hear that.
In 2005 we sold Solitude to Oxford Apparel who had also recently bought Tommy Bahama. We stayed on until 2009 and they turned it into a substantial business.
How did authoring books come to be? Which of your books is your personal favorite, and why?
I always liked writing – throughout my career I would occasionally write for surfing magazines. In the 80s I wrote a series called "Everything you wanted to know about pro surfing, but didn't know who to ask." I interviewed top surfer Jordy Smith last week and he quoted a line from one of the articles about the necessity of dominating your equipment – the power of words can last a long time. Some aspects of sportstrategy are unchanging. I wrote my first book Surfer's Code (I collaborated with Patrick Moser) directly as a result of creating a little card of 12 commitments called Surfer's Code. I made up these little cards and gave them out to 100 kids at an environmental event to help improve water quality at Rincon. The cards were really popular and turned into a groundswell - I gave away thousands of them – basic life principles like "I will always paddle back out." I started talking about Surfer's Code and its principles at community events and schools and the book was a deeper exploration of the 12 sentences of the code. Surfer's Code changed my life so that book is my favorite.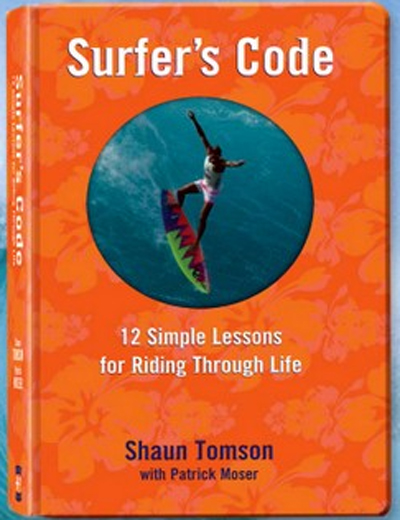 How and why did the big companies find you and engage you for speaking engagements?
Public speaking is a referral business – people just hear about your message from others, and it snowballs from there. I talk about basic life principles using surfing stories and imagery. I find that people respond well to simple stories that they can relate to, and perhaps draw inspiration from, to motivate their organizations or employees or deal with their own unique challenges. I do not offer a prescription –I simply offer a unique perspective. I suppose my message is different and inspiring, and based on sport and business too, so many corporations like the fact that you have personally experienced the same problems that they have. Sure the scale might be different – some of these companies are huge with over 50,000 employees, but the interpersonal problems and the challenges of bringing innovative product to market quickly, and influencing consumer behavior to create demand are the same – it is just the numbers that are different.
What is your most memorable moment on stage?
I have given keynotes for some of the largest corporations in the world including GM, Cisco, Price Waterhouse and The Gap. One of the best and most intimidating moments on stage was at a large event on leadership in front of 1,500 business people. I am fascinated with leadership – how people can positively influence others in pursuit of a common inspirational goal – I graduate with a Master of Science in leadership from Northeastern University on May 15. I was chosen to open the conference and I was the first speaker up on the stage to give my 60-minute presentation. As I walked out on stage in front of all those people, I knew that the speaker to take the stage after me was Malcolm Gladwell, and the speaker after him was Sir Richard Branson. For a moment there, as I looked down at the crowd, I felt like I was paddling over the edge of a 15-foot low tide dredger at Pipeline. I knew I had to absolutely commit to the drop.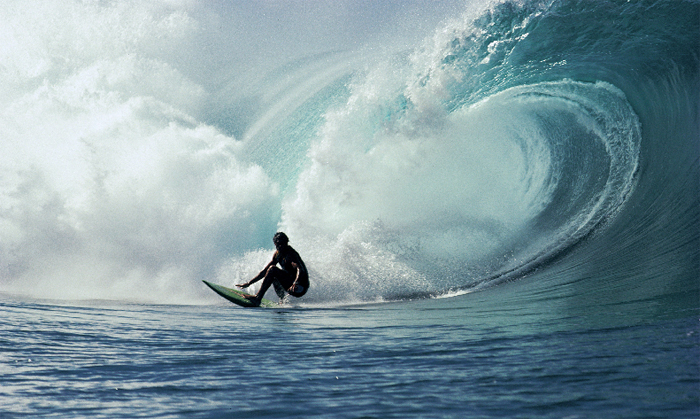 Are you involved in nonprofits?
I have been involved with Surfrider Foundation since 1984 – I was the first pro surfer to be a member. I have been on the board of directors for 6 years and recently termed off. It is a wonderful organization that does so much to protect the surfing experience for all surfers. I have been on the board of Boys and Girls Club in Santa Barbara for many years – our club makes a big difference to the lives of young people in our community. I also do some work with Boys to Men mentoring – they do awesome work in San Diego – I helped with their 100 wave challenge fund raiser and we raised over $300,000 in one day with the help of 200 surfers. I also do a lot of speaking events at schools – I speak on commitment and positive choice – about 30,000 kids die every year from bad choices so if I can influence even one kid I have done my work well – I speak to abut 50,000 kids each year and it is rewarding. I have done quite a few schools in Huntington and San Diego and there are always surf kids in the audience, which is great. I think it is important to give back – I actually think I get a lot more out of it than I give – helping others helps me deal with tough times I have been through.
What would you like to do next in your career? Where do you see opportunity and connectivity to what's next?
Since I stopped working for Solitude in 2009 I have stayed active in the sports industry but I have done very little in surf. I have done some interesting consulting projects for companies like Deckers and Brooks Shoes – strategic brand extension and leadership development programs.
I really like the surf industry and would be stoked to do something in that area again, to work for a socially responsible organization that inspires me and that I can offer my talent and expertise to. The brands are not having an easy time – there is a homogeneity in marketing and product that is not healthy – surfing used to be a business built by mavericks – today it is being run rather conservatively and I believe there needs to be a return to taking innovative decisions on product, marketing and communication.
I would love to work for a company and help it really shake things up – either a new company or an established company that wants to get back on track.
I still have great relationships with a lot of the best retailers, keep current with what is happening in the surf, and on the pro tour, and see that there is tremendous opportunity right now. There are more surfers than ever before in the lineup, and surfing is uber cool across the spectrum of industry. Being a surfer is cool in Silicon Valley and Silicon Beach and being a surfer on Wall Street is a badge of honor. Surfing as an industry still has tremendous upside – I believe if you tell a great story with great product, and communicate an inspirational purpose, business will flourish.
---