Back to News
B$Z: Bad Boy Club is Back
April 10, 2015
Oh ya, you remember it all right . . . that bad-assed, flat-topped character flexing his bicep (or shaking his fist at you, depending on who you talk to). If you didn't rock it yourself, you certainly knew someone that did. Regardless, BAD BOY CLUB is back.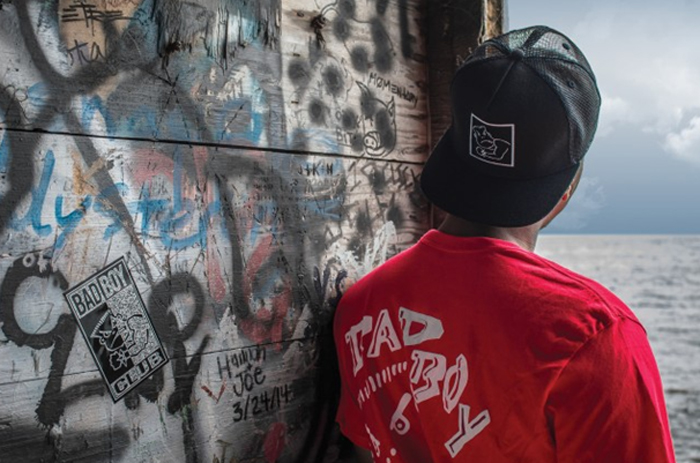 Founded in the early 80's, BAD BOY CLUB was the original counter-culture brand. Created by three childhood friends with a passion for action sports and hell-raising, BBC was originally developed as an 'anti-fashion' apparel brand. In a decade dominated by dock shoes, volleyball shorts and shirts with alligators, BBC stormed onto the scene with a baggy fit, crazy colors, wild patterns and irreverent sense of humor. Originality and individuality, not conformity was the mantra.
The BAD BOY CLUB brand and its iconic logo quickly became the badge of honor for the bold, independent, and fearless. Arguably the first true 'action sports brand,' BBC had the unique ability to crossover between surf, skate, motocross, wake… basically anything that was new and adrenaline fueled. Soon legends such as Ricky Johnson, Sonny Garcia and Mark Gonzalez were rocking BBC.
Today, BAD BOY CLUB is back and better than ever. Re-launched by a group of San Diego natives, some old enough to remember what made BBC special, some young enough to add a fresh spin to it, all the while keeping true to the same passion, energy, and unique (raw) humor that gave BBC its spark three decades ago.
BAD BOY CLUB debuted its Spring 2015 at Agenda Long Beach, currently booking Fall 2015 and designing 2016. "It's been a blast developing the line," commented Brad Horn, EVP BAD BOY CLUB. "We basically dug through the old BBC archives and pulled out the best of all the original logos, graphics, patterns, trim . . . you name it. There's some classic stuff in there – old print ads, hand drawn t-shirt graphics and even old ASR and MAGIC catalogs from the 80's. We did our best to stay true to the brands roots while updating with new fabrics and technologies where we could."
"We're obviously just getting started, but the response from retailers and consumers has been positive", says Horn.
The BBC Spring 15 line is available at Zumiez and better independent surf & skate lifestyle retailers.

---