Back to News
EVENT: After 35 Simultaneous Races on Six Continents, Wings for Life World Run Crowns 2015 Champions
May 4, 2015
In the world's only global race with a synchronized starting line and no traditional finish line, more than 101,000 runners from around the world registered today for the second annual Wings for Life World Run, a race which aims to find a cure for spinal cord injury.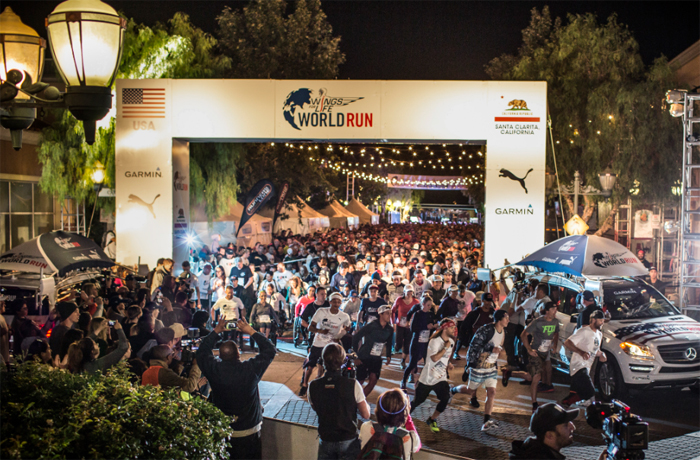 In the end, the last male and female running globally were Ethiopian Lemawork Ketema in Austria and Yuuko Watanabe in Japan, who ran for 49.7 miles and 35 miles respectively, before being reeled in by a 'Catcher Car,' an innovative moving finish line that pursued the runners from behind (all official distances to be certified May 4th). Ketema, the ultra distance runner from Ethiopia, defended his World Run title in Austria where he is in the process of applying for citizenship. Both these runners will receive extraordinary month-long trips around the world, plus get to pick where they want to run in next year's edition of the World Run.

In the USA, Santa Clarita, Calif., runners Thibault Baronian (34.3 miles; 2014 France male winner) and Shannon Rahlves (29.6 miles; sister of 2010 Winter Olympic freestyle skier Daron Rahlves), and Sunrise, Fla., runners Svein Risa (34.1 miles; 2014 Norway male winner) and Nathalie Vasseur (32.4 miles; 2014 France female winner) were the last males and females running before being caught. As top U.S. finishers, they will choose anywhere in the world to run in next year's Wings for Life World Run. In all, there were runs in 35 locations in 33 countries on six continents (all concurrent), making it one of the most ambitious global endeavors in sports history.

"This was an opportunity to support the Wings for Life Foundation and run on the team my brother Daron Rahlves put together," Shannon Rahlves said. "I expected to run 15-18 miles, but once I knew the catcher car was getting close, I told myself, I got to run!

A three-hour encore presentation of the Wings for Life World Run will air at 10 pm ET/7 pm PT on Sunday, May 3 on Universal Sports Network.

Produced by Red Bull in partnership with the Wings for Life Foundation, this innovative worldwide race raised more than $4.7 million in its second year according to Anita Gerhardter, CEO of the Wings for Life Foundation. The World Run was first held in May 2014 to benefit spinal cord injury research and more than $4.1 million was raised. 100% of the registration fees are dedicated to fund research to cure spinal cord injury.

Eric LeGrand, an inspirational voice in the spinal cord injury community after being paralyzed in a 2010 college football game, serves as an ambassador for the Wings for Life World Run and attended the Sunrise, Fla., race for a second year in a row. Team LeGrand of the Christopher & Dana Reeve Foundation, which was established in 2013, is dedicated to funding research to find a cure for paralysis and to help improve the quality of life for people with spinal cord injuries. Visit www.teamlegrand.org for more information.

Other ambassadors included Cory Hahn, a former college baseball player who was paralyzed in a game in 2010 and is helping the World Run raise funds for spinal cord injury research. In addition to LeGrand and Hahn, hundreds of notable athletes participated globally. Each was eventually caught and passed by the 'Catcher Car.' Here is a list of professional athletes who attended the two USA races:

Santa Clarita, Calif. – Olympians Lindsey Vonn, Louie Vito, Bobby Brown, Daron Rahlves, Greg Bretz, Jill Kintner, Mark McMorris, Phil Dalhausser, Sean Rosenthal and Todd Rogers; Surfers Ian Walsh and Evan Geiselman; waterman Kai Lenny; BMX bike rider Corey Bohan; freestyle motocross star Ronnie Renner; mountain biker Rebecca Rusch; ultrarunner Karl Meltzer; snowboarders Pat Moore and Ben Ferguson; Free Skier Michelle Parker; and US Trophy Truck champion Ricky Johnson as the official Catcher Car driver.

Sunrise, Fla. – Olympians Nick Goepper and Sarah Hendrickson; Wakeboarders Steel Lafferty, Shota Tezuka, Brian Grubb, Dallas Friday, Parks Bonifay and Meagan Ethell; Free Skier Grete Eliassen; and Red Bull Air Force sky divers Miles Daisher and Jeff Provenzano.

Global Facts:
·
92-year-old Shota Samushia from the country of Georgia was the oldest athlete in the field, while several 16-year-olds were the youngest.
·
The temperatures ranged from the searing heat in India at 91 degrees to a chilly 35 degrees in Moscow.
·
More than 200 cameras followed the action around the world. Around 400 satellite segments were used to bring the world's most unique running event to viewers around the globe.
Results Men:

1. AUT Lemawork Ketema (ETH) – 49.7 miles
2. CHI Cesar Hernandez (CHI) – 48.7 miles
3. AUT Remigio Huaman (PER) – 48.6 miles

Results Women:

1. JPN Yuuko Watanabe (JPN) – 35 miles
2. RSA Riana van Niekerk (RSA) – 34.3 miles
3. USA, FL Nathalie Viasseur (FRA) – 32.4 miles

The third edition of the Wings for Life World Run is already confirmed for May 8, 2016. There are two ways to currently enter next year's race.

Runners who want to participate as "Selfie Runners" through the Wings for Life World Run App available for Apple iOS and Android can register at wingsforlifeworldrun.com.
Runners who want to participate in one of the official Wings for Life World Run locations can pre-register now at wingsforlifeworldrun.com. Registration for official locations will open before November 2015.
---