Back to News
RAMP Sports - Interview with Charley Lodi
May 4, 2015
Riders, Artists, Musicians Project, better known as RAMP Sports, is a ski and snowboard company that takes extreme pride in producing high quality products in the USA. Based in Park City, Utah, RAMP Sports has a team of riders ranging from medal winning athletes, to musicians and artists. We chatted with Charley Lodi, Communications Director and Team Manager, about the team, the products, and the culture at RAMP Sports.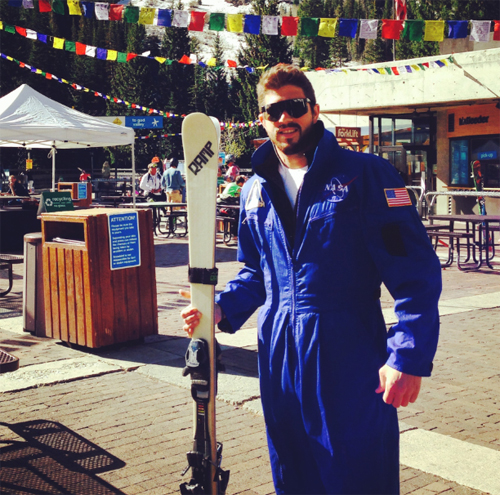 What is the history behind the RAMP Sports brand?
RAMP began in 2009 when Mike Kilchenstein and Christian Alary realized that riders and skiers wanted more from their manufacturers. They wanted better value, U.S. made products, and a closer relationship with the brand. So they created a radical new design concept for vacuum molding skis. The new method of making skis set them free…They were able overcome the limitations of other brands to rapidly develop new ski shapes and constructions tailored to the consumer.
Who named the company and why was this name chosen?
Mike and Ross Powers (Olympic Gold Medalist Snowboarder). They were brainstorming on the chairlift and trying to decide on a brand name that really showcased the fact that this Project was going to be carried out by Riders, Artists and Musicians as well… the Acronym was obvious.
How does the brand promote "High Altitude Happiness"?
We sell responsibly manufactured recreational equipment for people who live, work, and play in areas like our backyard of Park City, Utah. The modern, responsible consumer wants more than just a great product. They're asking more questions and want to know where their gear comes from, who built it, how they built it, and where it was built.
We promote true happiness in pursuing your High Altitude recreational endeavors and understand the desire of our consumers to feel good about their purchases, where their equipment comes from, and at what environmental cost.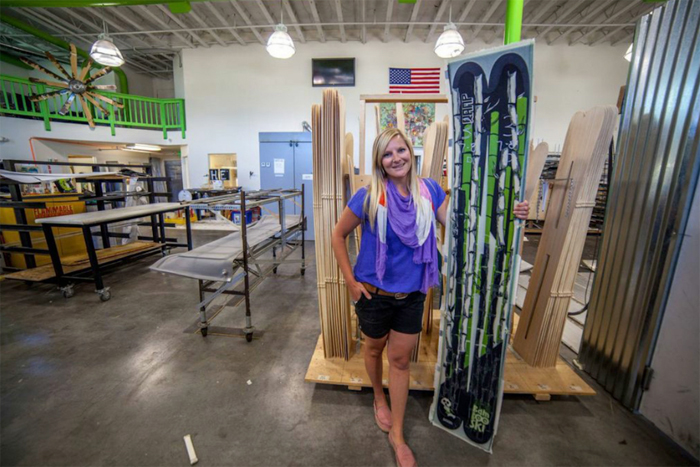 What is the criterion for an artist or musician to become part of the RAMP team?
We are all dedicated to responsible manufacturing for responsible consumers. The message is conscientious consumption. We all make these consumer choices everyday and the consequences of those decisions accumulate on a massive scale. The artists and musicians we work with share this collective concern for insuring we are going about our consumption and manufacturing in a safe, responsible, and sustainable way.
How do the team members influence the RAMP Sports product?
We have a patented Rapid Prototyping process, so we are able to change small details about the shape and construction of our skis without the huge costs normally associated with changing a machined dye for traditional pressing. Because of this, we can listen to our athletes, tweak designs, and ultimately experiment more freely than other brands. Someone like Big Mountain Legend, Brant Moles, can quickly bring his ideas to fruition in a way that could never be cost effective or worth the risk at another company. Innovation requires trying new things and here at RAMP we can do that like no one else. It truly leads to innovation.

Where can consumers demo RAMP products?
We are always demoing equipment out of our factory in Park City and we also tour the east, west, and central resorts of the USA. Check out the demo calendar on our website. During the ski season it is updated daily so that anyone who wants to get on RAMP products can do so.


What can peer companies in the Snow / Skate / SUP industries learn from how RAMP Sports does business?
People don't realize the impact of making skis in Asia and abroad. We're talking about huge carbon footprints per ski… And that's just in shipping. There is just no real way of knowing the true impact that overseas factory conditions are having on the immediate environment. Not to mention the working conditions.
RAMP Sports has licensing deals in place with MLB, NFL, and NCAA. WOW. These are massive deals. How did these deals come about and what makes them special?
The application process was extensive. They are very serious about the quality of the products they license, which makes it that much more exciting for us. We are very proud to carry the little holographic stickers that prove these skis measure up to the very high standard of manufacturing that is upheld by these major institutions. People are responding really well to seeing their favorite teams being officially represented on the slopes and we hope that the sales will reflect that excitement.

Why is it so important that RAMP products continue to be constructed in the US?
We are skiers and riders making skis in the beating heart of America's Ski Industry. There is a certain awareness and adaptability that we gain from being able to walk out of our back door and ski on our prototypes with the ski makers, engineers, and athletes that developed the product. There is no waiting for shipments or remote video-conferences with Europe or Asia. If we want to change something we walk into the factory and change it… Simple as that. We see the graphics up close and personal first thing… We have control over the quality of the materials we are using and we see firsthand the impact and problems associated with industrial composite manufacturing. Having things overseas makes one less likely to feel responsible or even be aware of what impact the process is having on workers and the environment. In America, we create jobs in our factory and in support systems. The delivery guys, our cleaners, our insurance, our lunches, all stay in the local economy and support that growth domestically. It means a lot to us.
---