Back to News
EVENT: AMSOIL AMA Amateur National Arenacross Championships Crown 28 National Champs in 29 Classes
May 5, 2015
The fastest amateur arenacross riders converged on Las Vegas' South Point Arena this past weekend for a full slate of action at the 16th Annual AMSOIL AMA Amateur National Arenacross Championships (ANAC). This yearly showcase of amateur talent featured competition across 29 classes of all ages and skill levels, with 28 winners ultimately being crowned AMA National Champions and several others receiving highly coveted distinctions.
Following a day of practice on Saturday, the entire field of 414 riders entered Sunday prepared and ready to do battle on the track inside South Point Arena. Heat Races commenced in the morning, setting the field for an afternoon of Main Events that would ultimately determine who would be crowned the winner of each class.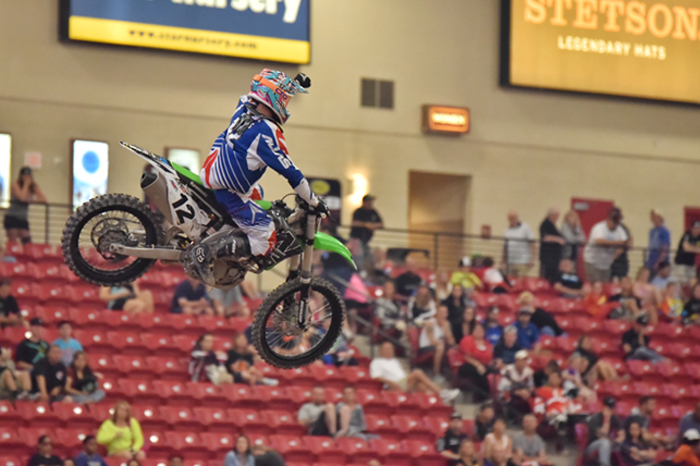 Steven Mages was perhaps the busiest competitor all weekend, racing the AMSOIL Arenacross finale on Friday, Monster Energy Supercross finale on Saturday and ANAC on Sunday, winning two titles.
Photo Credit: Mike Vizer


Each of the competitors at ANAC earned their spot to race for a national championship by competing at Amateur Day during one of the 14 rounds of AMSOIL Arenacross, featuring Ricky Carmichael's Road to Supercross, prior to the finale weekend in Las Vegas. Riders were eligible to qualify from one of four different amateur regions -South, East, West and Central.
Of the 29 classes that were in action at ANAC, several drew greater attention from those in attendance. Both the AMSOIL Dominator Supermini Class and the Arenacross.com 50cc (4-8) Class kicked off the weekend festivities at ANAC by competing alongside the pros at the first ever AMSOIL Arenacross season finale in Las Vegas on Friday night. The competition in each Main Event was exciting, adding to an already memorable night. In the end, Ezra Hastings was able to fend off his challengers and lead every lap of the Supermini race to earn the title. In the 50cc class, Nate Freehill did the same, keeping his challengers at bay to lead every lap and claim the championship.


ANAC National Champions
Photo Credit: Josh Rud / ShiftOne Photography


Additionally, the Pro Sport and Expert classes were closely watched as Ohio native and Race to the Championship competitor Steven Mages completed an action-packed weekend of racing. Mages, a six-time winner in the Arenacross Lites Class this season and one of eight Main Event winners in the Arenacross Class, began the weekend by finishing third overall in the AMSOIL Arenacross finale on Friday. On Saturday, he headed over to Sam Boyd Stadium to take part in the final race of Monster Energy AMA Supercross, an FIM World Championship, in the 250SX Class. Finally, Mages capped off the busy weekend on a high note by earning a pair of ANAC titles on Sunday in the Expert - A Class and Pro Sport A Class.
At the conclusion of a loaded Sunday afternoon of Main Events, an additional 26 riders were crowned AMA National Champions following victorious outings in their respective classes. In addition to his AMSOIL Dominator Supermini triumph, Ezra Hastings capped of a memorable and successful day of racing by also securing the AMA National Championship in three additional classes - Supermini 1, Supermini 2, and Schoolboy 1. In addition to Hastings and Mages, three other riders claimed multiple national titles - Jake McKinney (AX Lites Intermediate, AX Intermediate, Collegeboy 16-24), Preston Masciangelo (50cc 4-8, 50cc 7-8), Johnathow Shaw (AX Lites Novice, AX Novice).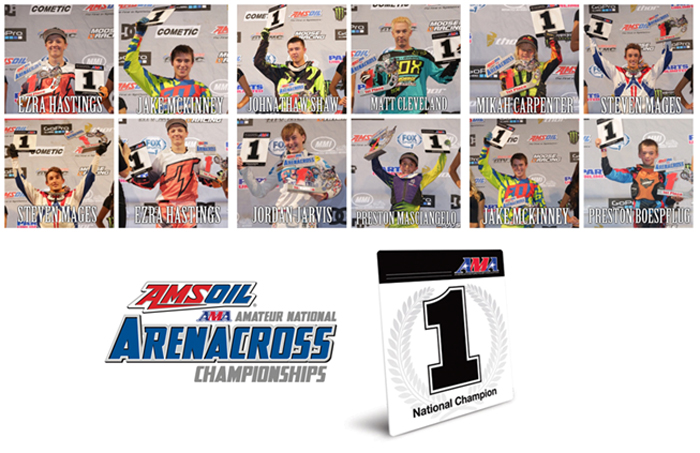 ANAC National Champions
Photo Credit: Josh Rud / ShiftOne Photography
2015 ANAC Champions
Italics denotes non-national championship class
| | |
| --- | --- |
| 50cc (4-8) Limited: | Preston Masciangelo - Brantford, Ontario - Cobra |
| 50cc (4-6) Jr. Limited: | Mikah Carpenter - Freeport, Illinois - KTM |
| 50cc (7-8) Sr. Limited: | Preston Masciangelo - Brantford, Ontario - Cobra |
| 65cc (10-11): | Freddy Aquino - Stockton, California - KTM |
| 65cc (7-9): | Preston Boespflug - Battle Ground, Washington - KTM |
| 85cc (9-11): | Ty Freehill - El Dorado Hills, California - KTM |
| AX Intermediate (Open B): | Jake McKinney - Hamersville, Ohio - Honda |
| AX Lites Intermediate (250 B): | Jake McKinney - Hamersville, Ohio - Honda |
| AX Lites Novice (250 C): | Johnathow Shaw - Benton City, Washington - Suzuki |
| AX Novice (Open C): | Johnathow Shaw - Benton City, Washington - Suzuki |
| Beginner: | Randy Ramirez - Las Vegas, Nevada - Kawasaki |
| Collegeboy (16-24): | Jake McKinney - Hamersville, Ohio - Honda |
| Expert - A Class: | Steven Mages - Sardinia, Ohio - Kawasaki |
| Girls (7-13): | Jordan Jarvis - Clayton, North Carolina - Yamaha |
| Junior Mini (65cc 7-11): | Evan Payer - Yankton, South Dakota - Kawasaki |
| Over 25: | Justin Kelly - Lamoille, Illinois - Honda |
| Over 30: | David Whitcraft - Pickerington, Ohio - Kawasaki |
| Over 35: | Matt Cleveland - Mabank, Texas - Suzuki |
| Over 40: | Steve Thinger - Roseville, California - Kawasaki |
| Pro Sport A Class: | Steven Mages - Sardinia, Ohio - Kawasaki |
| Schoolboy 1 (12-16): | Ezra Hastings - Aurora, Indiana - Yamaha |
| Schoolboy 2 (14-16): | Tylor Matcham - Riverside, California - KTM |
| Senior Mini (12-15): | Jack Rogers - Brookeville, Maryland - Kawasaki |
| Supermini 1 (9-15): | Ezra Hastings - Aurora, Indiana - Yamaha |
| Supermini 2 (13-16): | Ezra Hastings - Aurora, Indiana - Yamaha |
| Women (12 & Up): | Kylie Fasnacht - Port St. Lucie, Florida - Kawasaki |
| 2 Stroke B/C: | Dillon Cloyed - Papillion, Nebraska - KTM |
| AMSOIL Dominator Supermini: | Ezra Hastings - Aurora, Indiana - Yamaha |
| Arenacross.com 50cc (4-8): | Nate Freehill - El Dorado Hills, California - Suzuki |
---