Back to News
EMP: Street League Appoints Greg Jacobs as League's First CEO and Brian Atlas as President and COO
May 13, 2015
Street League Skateboarding (SLS) announces the addition of the organization's first CEO as well as the promotion of current SLS President, Brian Atlas, to COO. Both executive roles will lead the company into the next significant phase of growth, continuing to deliver the most elevated competitive professional street skateboarding in the history of the sport. Launched by pro skateboarder and entrepreneur Rob Dyrdek in 2010, this announcement is the latest in a host of partnership and positioning moves made by SLS over the last 12 months, establishing a global qualification structure of amateur-to-professional progression that leads to the street skateboarding competition that matters the most: the SLS Nike SB Super Crown World Championship.
As part of Dyrdek's long-term vision for the growth of the League, he continues to trust in Atlas to develop the business strategy and build a team of the right players whose passion for skateboarding and entertainment, as well as their previous accomplishments, are in the same entrepreneurial spirit as Dyrdek's. "Street League has come a long way and we can only continue the success by hiring talented staff who will take us to the next level," says SLS Founder and Chairman Rob Dyrdek. "Brian and Greg are a dream team of executives who I fully trust to keep the core of our business centered on growing skateboarding globally through live events, always-on content and an innovative media strategy."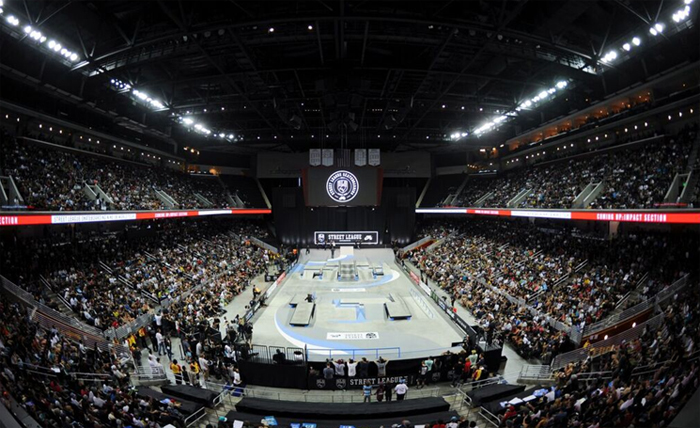 At the helm of SLS's continued growth and expansion is the newly appointed CEO Greg Jacobs. Formerly of Red Bull Media House, North America, Jacobs was part of the founding executive launch team and led Media House's monetization division after a proven track record of instrumental business development for NASCAR Media Group. Jacobs is an established sports media executive with an entrepreneurial spirit much like Dyrdek's, having founded and led his own television and commercial production company, Magellan Media, which he subsequently sold to Post Modern Creative—a premier concept-to-creation digital media production and broadcast facility. Jacobs is well equipped to navigate SLS into the future as a content-driven platform that delivers the highest quality competitive street skateboarding possible. "I see SLS as one of the last global sport leagues available for expansion. My vision is to indisputably secure SLS as the most preeminent platform in all of skateboarding," informs Jacobs. "We will achieve this through a global footprint communicated to a loyal and robust fan base by live broadcast partners, reinforcing SLS as skateboarding's true sanction body as recognized by both the athletes and the industry."
Aside Jacobs is company co-founder and President Brian Atlas, who was also recently elevated to Chief Operating Officer. As SLS's first employee, Atlas has unquestionably navigated the ranks and the space as an integral contributor to all strategic advancements made by SLS—from creating the company's original business plan to securing key supporting partnerships with some of the most premium brands in the space, such as Nike SB, Monster Energy, and GoPro. As a skateboarder for over 20 years, Atlas has an eye for keeping the business growth authentic to the culture of skateboarding. With his passion for growing skateboarding globally, Atlas has also been at the helm of developing the League's media and content distribution strategy and in 2014 oversaw the multi-year deal to exclusively televise the annual SLS Nike SB World Tour through FOX Sports 1, with global linear distribution through the FOX family of networks. Most recently, Atlas brokered Causeway Media Partners' significant investment in SLS, capitalizing the League to help evolve from an events business to a global media platform with year-round content.
As Causeway Media Partners' second investment following one in Formula E racing series, the capital raised in 2014 has helped the League grow both domestically and internationally through it's coming evolution that creates sustainable infrastructure for the sport of skateboarding. "Street League has given the sport a much needed foundation to becoming a professional skateboarder and a platform that credibly promotes skateboarding to a global market," says Causeway Media Partners. "SLS lives and breathes skateboarding and we believe in their vision for continuing its development around the world."
Street League is on the fast track for global expansion, creating strategic partnerships that will support the already established media-driven business and contribute to building a global ecosystem for street skateboarding contests. In 2015, SLS began a long-term partnership with Skatepark of Tampa to develop respected qualifying events that ensure a continued influx of new talent via the Tampa Pro, Tampa Am and Damn Am Select Series, with the latter two ultimately leading to the SLS Nike SB Pro Open. Preceding the Tour in a new country each year, the SLS Nike SB Pro Open also acts as a feeder event for the best international non-SLS Pros, taking place at purpose-built, permanent skate plazas that remain in place to invigorate the local scene and create the opportunity for future SLS events to return and re-energize the local skateboard community. This year's SLS Nike SB Pro Open will kick off the season in Barcelona, Spain, as the first-ever independent international event in SLS history before heading into the 2015 SLS Nike SB World Tour.
SLS offers options for fans across the world to tune in and watch skateboarding's most prestigious competition series. Fans in the United States can watch the 2015 SLS Nike SB World Tour on FOX Sports 1 and customers of participating cable and satellite TV providers may access the live stream of the Tour stops through the FOX Sports GO app for iOS, Android, Windows and Kindle devices, as well as on desktops through FOXSportsGO.com. International fans can catch the official LIVE webcast exclusively on StreetLeague.com.
SLS NIKE SB WORLD TOUR DATES AND VENUES:
- May 16–17 SLS Nike SB Pro Open | Skate Agora BDN I Barcelona, Spain
- July 11 SLS Nike SB World Tour: Stop One | Galen Center at USC | Los Angeles, CA
- August 23 SLS Nike SB World Tour: Stop Two | Prudential Center | Newark, NJ
- October 4 SLS Nike SB Super Crown World Championship | UIC Pavilion | Chicago, IL
FOX SPORTS 1 TELECAST SCHEDULE:
2015 SLS Nike SB Pro Open Kick-Off Special: Thursday, May 28 (8:00 PM ET– 9:30 PM ET)
2015 SLS Nike SB World Tour: Los Angeles: LIVE: Saturday, July 11 (10 PM ET – 11:30 PM ET)
2015 SLS Nike SB World Tour: New Jersey: LIVE: Sunday, August 23 (5 PM ET – 6:30 PM ET)
2015 SLS Nike SB Super Crown World Championship: LIVE: Sunday, October 4 (5 PM ET – 7 PM ET)
For more visit information visit
StreetLeague.com
. For all media inquiries contact Sarah Bronilla at VOCAL:
Sarah@VOCALnyc.com
or John Stouffer at FOX Sports:
John.Stouffer@FOX.com
.
---