Back to News
EVENT: Active Invites You to Enjoy Go Skateboarding Day at their Private Park
June 19, 2015
Active Ride Shop will open the doors to its private park at the headquarters this Sunday, June 21, from 12-5pm for their 5th annual Go Skateboarding Day event. This will be a time for the Inland Empire skateboarding community to skate the Active park, enjoy BBQ courtesy of Van's Steve Van Doren, win prizes from the skate industries top brands in the vendor village, and compete for over $1,500 in cash prizes at the Diamond Best Trick Contest.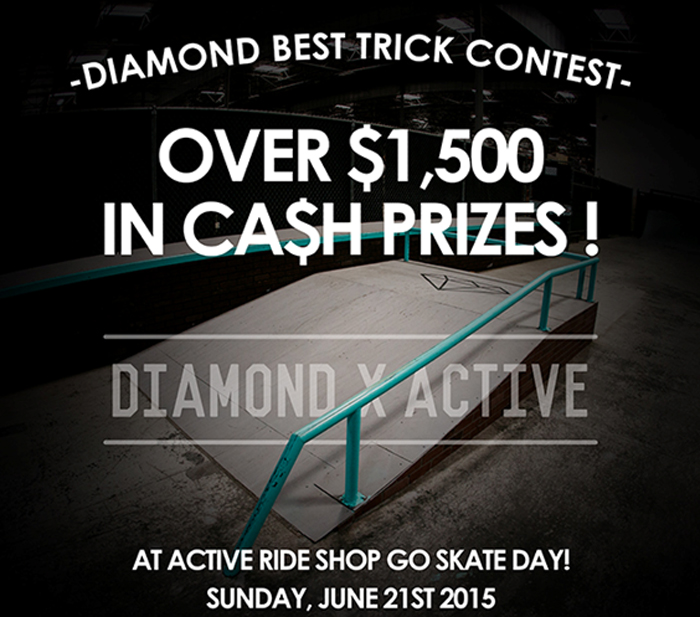 The Diamond Best Trick Contest is open to anyone and everyone. $500 in cash for hammers and an overall Best Trick prize of $1,000 is up for grabs! Will your best trick take home the cash and glory?!
This event will be at the Active HQ at 12178 4th Street, Rancho Cucamonga, CA. To save your spot at Active's Go Skateboarding Day, please be sure to RSVP today at: http://www.activerideshop.com/gsd15.
*If you are under the age of 18, you must have a waiver signed by a parent to attend the event. All skateboarders under the age of 14 must wear a helmet while skating the park.

For the latest info on Active Ride Shop stay connected with the brand here:
Website: ActiveRideshop.com
Instagram: @ActiveRideShop
Facebook: https://www.facebook.com/activerideshop
Media contact:
Ashton Maxfield
949.289.6493
ashton@masterplanpr.com
or
Michael Custodio
949.351.4443
michael@masterplanpr.com
---