Back to News
EVENT: 2015 TransWorld Motocross SLAM Festival to be Held on September 26, 2015 at Milestone MX Park
July 23, 2015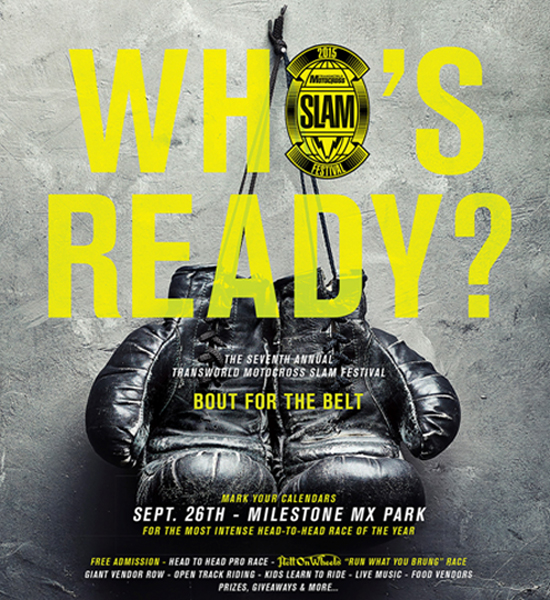 The action packed annual motocross gathering known as the TransWorld Motocross SLAM Festival is back for its seventh year! Mark your calendars and get ready for this year's #TWMXSLAM complete with open-track motocross riding, a kids' learn-to-ride track, retail sales area, live music, food vendors, a giant interactive vendor row with demo areas for consumers to test out new MX products, plus tons of prizes and giveaways.

New for the 2015 Slam Festival, TWMX will also host the inaugural Hell On Wheels "Run What You Brung" Race, sure to be a memorable spectacle for all in attendance.

The grand finale will be the TransWorld Motocross SLAM Supercross Pro Race, a head-to-head "knockout format" race between the sport's fastest pros. The stakes are high with winner-take-all prize money, the coveted TransWorld SLAM belt, and the cover of TransWorld Motocross' December 2015 issue. Past winners include Josh Hill, Matt Goerke, Justin Bogle (two-time champion), Will Hahn, and Dean Wilson.

Mark your calendars for the 2015 #TWMXSLAM Festival!

When: Saturday September 26th, 2015
Where: Milestone MX Park, 12685 Holly St, Riverside, CA 92509
Cost: FREE

For more information about the TransWorld Motocross SLAM Festival, stay tuned online at www.twmx.com and be sure to follow Twitter and Instagram feeds @twmxdotcom (#TWMXSLAM).

The 2015 TransWorld SLAM festival is sponsored by Arma Energy, Von Zipper, Hell On Wheels, and Horizon Hobby.

---