Back to News
Stephanie Sweeney - Communications Manager at Copper Mountain
July 27, 2015
There's no doubt that Stephanie Sweeney is passionate about her role at Copper Mountain. Growing up skiing with her family, Stephanie was able to combine her love for the snow industry and her background in media to score her dream job. Now the Communications Manager at Copper Mountain, we caught up with Stephanie to see how she landed her job, why the snow industry was the best place for her, and what her role entails.
photo credit: Tripp Fay, Copper Mountain Resort


How did you background in broadcasting and media help you score your job at Copper Mountain?
Broadcasting/media and public relations go hand in hand so it was an easy transition to make. I've found that I've been able to apply a lot of what I know from broadcasting to PR. A major part of PR is being able to tell a story that a journalist or reporter will be interested in writing about so being able to see both sides of that equation has helped me figure out what works and what doesn't. I think my passion for social media has helped me as well because public relations and social media go together too. I started as the Social Media Specialist and worked my way up from there.
What was your hiring process like for Copper Mountain?
It was pretty standard as far as hiring goes. I had a phone interview one day with our now Director of Marketing, Dwight, then had a Skype interview with the entire marketing team in the following week or two. I was offered the Social Media Specialist position and asked to be out to Colorado within 3 weeks. I was living in Syracuse, NY at the time so it was definitely a whirlwind to wrap everything up and get out here but I made it work. I've never looked back!
What made you leave the broadcast/media world and enter the snow industry?
I've been a skier my whole life. I've been lucky enough to have a family that loves to ski so many vacations were spent in Colorado. I always knew I wanted to live out here at some point in my life. After college, I realized that broadcasting was a tough gig to break into and after being a ski instructor at Gore Mountain in upstate NY, I knew I loved working in the industry. I explored options on how to combine my work and education with my love for skiing so public relations was a natural fit.
How has your passion for skiing and the snow sports industry driven your career?
That's what gets me out of bed every day. It's all about the passion. It's the love of the sport and the people that come along with it. What's a life of work if you're not passionate about what you're doing?
When there is fresh powder, how difficult is it to get work done? How are you able to maintain work/life balance?
It can be pretty difficult but luckily a powder day and my work go together most of the time! When there's lots of fresh snow, our whole marketing team will get out on the hill for a few runs and grab some photos with our photographer. Experiencing those big powder days is important because it reminds us of that passion and why we do what we do day in and day out.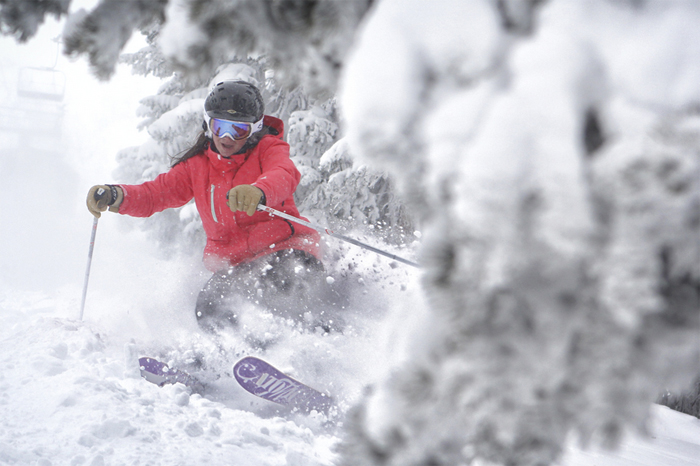 photo credit: Tripp Fay, Copper Mountain Resort


How are summers spent at Copper Mountain? What is your favorite activity?
I absolutely love the summer here. Don't get me wrong, winter is first in my heart but summer is a very close second. Between the temperatures hardly ever reaching 80 to the endless amount of activities not only here at Copper but around Summit County and Colorado, summer is so much fun. Personally, I love to hike and camp. I've got a handful of 14ers and Conundrum Hot Springs on my list for this year!
How does your role as Communications Manager change from summer to winter?
Ski resorts aren't closing up shop for the summer months anymore, they are becoming year-round destinations. Copper's no exception, we have so many activities and events happening from June to September so I switch gears and promote our summer offerings. I also do as much planning as possible for the upcoming winter season.
What should we expect during the 2015-16 snow season at Copper Mountain?
You can continue to expect an authentic and fun experience at Copper, which is what skiing and riding is all about. We really try to make everything from our marketing to our events and activities stand out and provide a complete snow day. Also, we're staying relevant by using new technologies to capture the younger generations of skiers and riders. Expect a lot of appearances by an Elkguin (half elk, half penguin) on Copper's Snapchat.
And the great debate: what is better, skiing or snowboarding?
Oh that's easy, skiing of course.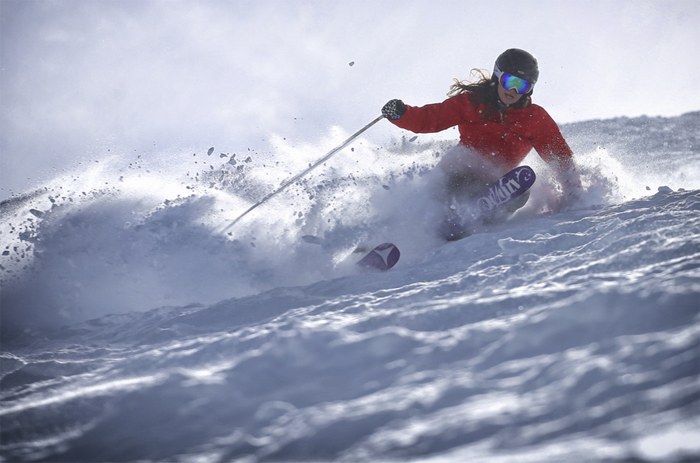 photo credit: Tripp Fay, Copper Mountain Resort
---