Back to News
B$Z: Eric Pollard Expands Artistic Collection with Launch of Redesigned Website
July 28, 2015
Designer, filmmaker, artist and all-around influencer of style, Eric Pollard, is proud to announce the complete overhaul of his website EricPollardDesigns.com. Not only does the new site offer original pieces of his stunning oil-on-canvas artwork, including the original painting that inspired the graphics on the newly redesigned 15/16 Sir Francis Bacon ski, fans of Pollard also have the chance to collect prints, apparel and accessories that the revered artist and skier has created over the last decade.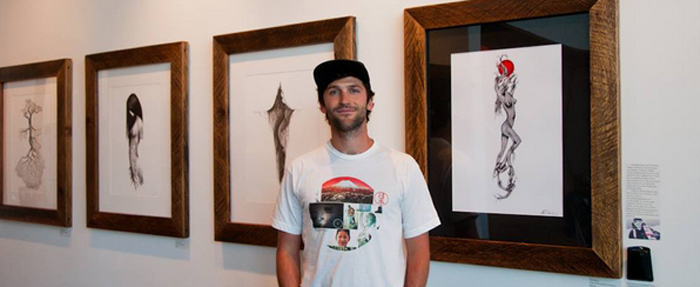 "Eric and his work are an essential component in the makeup of Line skis," said Line Global Brand Director Josh Malczyk. "His attitude, style and artwork help us make skiing MORE FUNNER on a regular basis."
A longtime Line skier, Pollard has been a part of the Line family for most of its existence. Beyond representing the iconic ski brand as an athlete, he has cemented his name in ski culture by designing the graphics and shapes of his pro-model skis since the early 2000s. His creativity has pushed the status quo in the ski world to new heights and played an important role in building Line's reputation as an industry leader in style and quality.
In addition to time spent in his at-home art studio, Pollard has been hard at work editing the latest creation from his film company Nimbus Independent. After the Sky Falls, scheduled to release this fall, chronicles Pollard's on-snow exploits over the last two winters.
"Having such a busy schedule doesn't bother me. In a way it actually helps me organize all my projects," said Pollard. " When I'm not painting or editing the movie I get to spend time with Line's engineers and design team. I'm stoked that I can pursue all of my passions with their support."
---