Back to News
VIDEO: DC Debuts Robbie Maddison's Pipe Dream
August 3, 2015
DC presents Robbie "Maddo" Maddison's "Pipe Dream," giving the world a chance to witness history being made as Maddo rides his dirt bike on the powerful and iconic waves of Tahiti. From his helmet to motocross boots, Maddo was dressed for FMX when he took his dirt bike into the unchartered saltwater terrain of the Pacific Ocean in French Polynesia.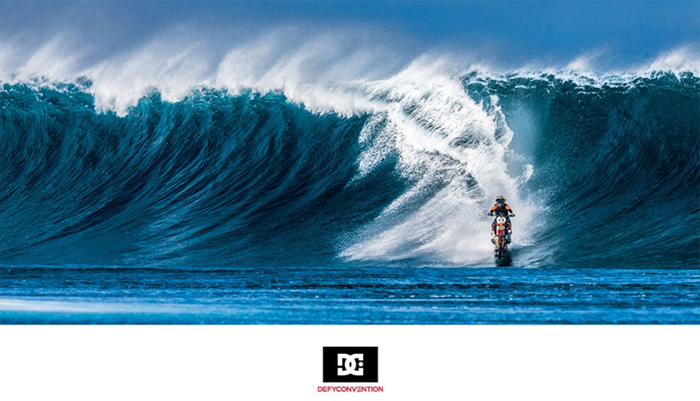 Until now, the thought of riding a dirt bike on water seemed far-fetched to most, but Robbie's seemingly impossible "Pipe Dream" took him to riding his KTM 250 SX at the site of the heaviest wave in the world – Teahupoo, Tahiti. For nearly two years Robbie has been focused on making surfing on his motorbike a reality. His efforts paid off in Tahiti, where he rode the world famous waves at Teahupoo and Papara.

"It's not about being the first or being right, it's about believing in yourself because you know something is possible."
– Robbie Maddison
"This was easily one of the most ambitious projects we've ever attempted to produce. Robbie is equally as visionary as he is talented on a dirt bike and we're happy to have enabled him to truly defy convention."
– Jeff Taylor, DC Shoes Global Brand Leader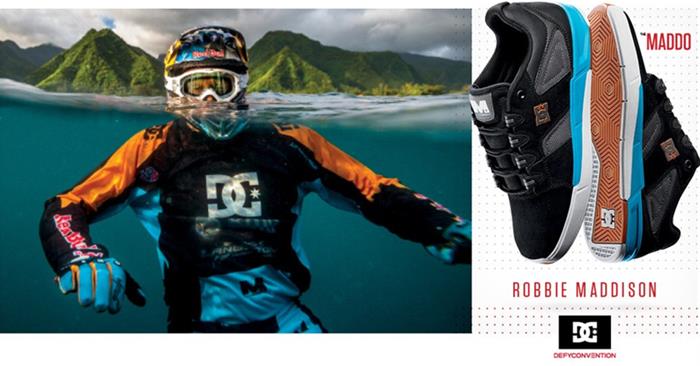 To celebrate Robbie Maddison's "Pipe Dream," DC officially launched his new signature Maddo shoe. With Maddo's signature M logo on the tongue and a DC logo on the side panel, this low-top cupsole shoe features a rugged suede and nubuck upper with breathable mesh quarter panels. These shoes are available at DCShoes.com, and finer retailers around the world.
---