Back to News
Sand Cloud Apparel, Interview with Brandon Leibel
August 17, 2015
Sand Cloud, a boutique beach towel brand, started as an idea and through a lot of effort and some help from a Kickstarter campaign, became a reality. The original idea was to pair a towel with a built in pillow for the ultimate beach experience using fine 100% Turkish cotton. Sand Cloud, in a very short time, expanded its line to now include bags. Co-founder Brandon shares the inspiration behind the brand, talks about how they distinguish themselves, and the company's give-back program. Based in San Diego, CA, Steven Ford, Brandon Leibel, and Bruno Aschidamini went to work a year ago and have never looked back.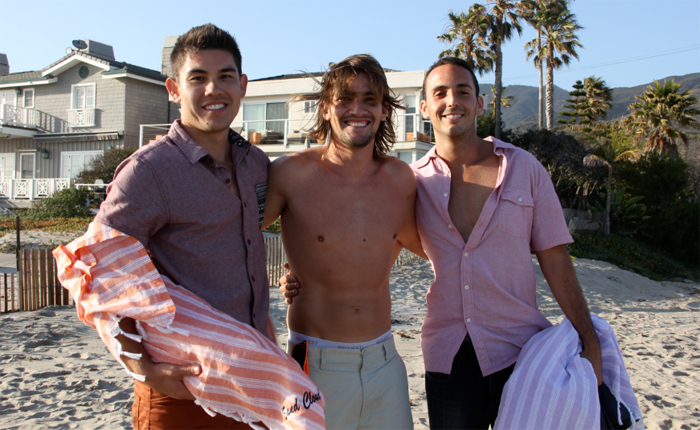 Left to right: Steven Ford, Bruno Aschidamini, Brandon Leibel


Why beach towels? Is there any significance to them?
We saw an opportunity with beach towels because there really are no brands out there that only focus on towels. Through proper marketing, and unique designs we felt that there was a big opportunity for us to become the go-to beach towel brand.
How did the beach lifestyle inspire you?
The beach lifestyle was instrumental in our company beginning because ultimately if we weren't living a block away from the beach, there probably would be no company. The three of us are all very passionate about preserving our beautiful beaches and Marine Life, and we saw this as an opportunity to combine our drive to start a company with our passion for the simple beach life. We donate 10% of our net profits to organizations that keep our beaches and Marine Life safe.
What enabled you to leave your corporate jobs and create Sand Cloud?
Our drive and confidence is what enabled us to leave the corporate world. We are all in our 20's, and we felt that if there is no better time to go for it. It really comes down to just making a bold decision, and never looking back. We took what little money we all had, raised a little more from family, and got straight to work.
How have you designed your products to show self expression?
Our goal was to design products that cater to all different types of beach goers. Each product is unique, either in color or function. When designing our towels we were only thinking about the customer, and how it would enhance their experience at the beach.
What unique features make Sand Cloud products stand out among your competitors?
All of our towels include a unique feature. Our pillow towel comes with a removable pillow for ultimate comfort on the sand. Our pocket towel has a hidden zipper pocket to hide your valuables. Our festival bag towel is a beach bag that unfolds into a full size towel. Our XL beach blankets are big enough to fit 3 people, while also having a hidden zipper pocket. Our boho inspired towels also work perfectly as a beach wrap or wall hanging.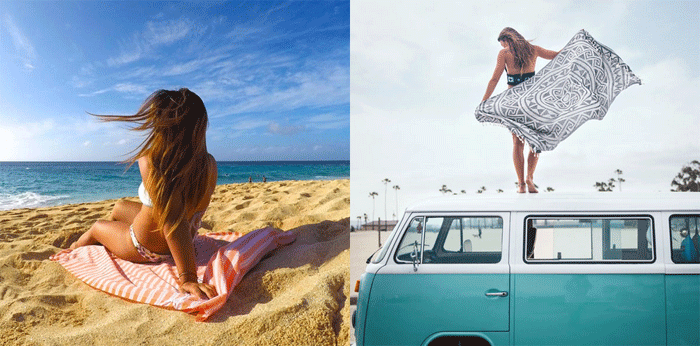 Why did you choose to use Turkish cotton for your towels, bags, and blankets?

We chose Turkish cotton because we wanted to make our products from the best possible cotton. Turkey is universally known for their extremely durable, handmade cotton.

What organizations does the brand support and how did you guys decided on those organizations?
When you purchase Sand Cloud products, you help to preserve and protect beaches, oceans, and marine life. 10% of our net profits are donated to organizations such as the Surfrider Foundation. We're committed to raising awareness for key issues involving the preservation of marine life and the environment.
What does it take to be a Sand Cloud Ambassador and how can people apply if they meet the criteria?
If you love the beach, care about marine life, and have amazing style, we want you on our team! Our ambassador team is made up of amazing people around the world who all share a love for the simple beach life. If you would like to become an ambassador simply fill out the ambassador form on our website or email us at team@sandcloud.me.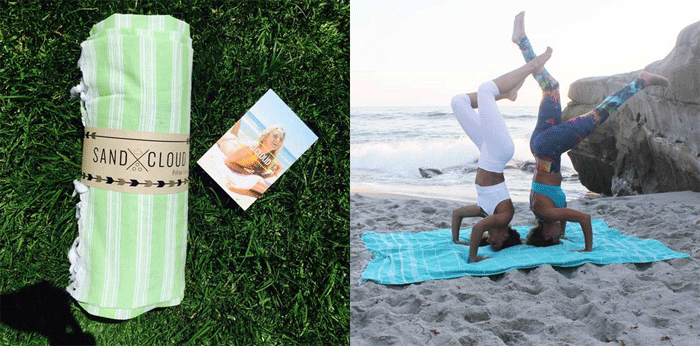 What is up next for Sand Cloud?
We are always working on new towel designs, colors, and prints. We are looking to expand our brand throughout the world, mainly Australia. As a startup company we still take things one day at a time, but our long term goal is to become the most well known beach towel brand in the world.
---