Back to News
EVENT: California Gold Vintage Surf Auction Comes to Los Angeles
August 24, 2015
The Surfing Heritage And Culture Center (SHACC), a non-profit organization dedicated to preserving, presenting and promoting surfing's heritage, along with title sponsor Griff's is excited to announce their California Gold Vintage Surf Auction on September 26, 2015 at the Culver City Veterans Memorial Museum. A piece of surfing history will go on the auction block this September showcasing iconic boards and memorabilia spanning back to the early 1900's, highlighting the culture and some of the rarest surf items in the world. The auction will bring together surfing's most elite in a night dedicated to benefitting SHACC and the Cystic Fibrosis Foundation (CFF).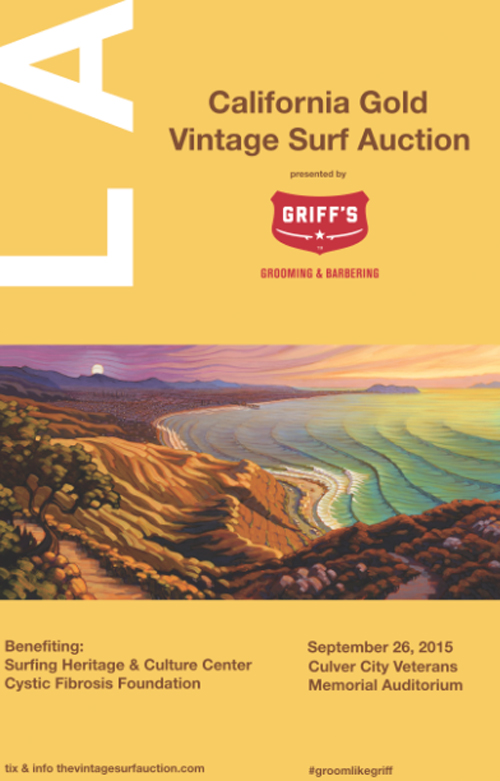 "We are thrilled to announce our biennial California Gold Vintage Surf Auction," says Auction Executive Director Scott Bass. "We had such a great turnout at our previous auction and are very much looking forward to another successful event as we begin to accumulate some of the most valuable surfboards and surfing memorabilia on the market."
Bridging together medical research and surfing, CFF is partnering with SHACC to continue to raise awareness of a sport that has such a powerful effect on this debilitating disease. Research has proven that individuals living with Cystic Fibrosis who surf regularly have significantly healthier lungs do to the saltwater mist that they take in while out in the water. This discovery has led researchers to develop a hypertonic saline solution that mimics a 'surf session', which can be used by individuals around the world who are affected by cystic fibrosis and are unable to surf. With such profound findings, both foundations have come together to celebrate a sport rich in history and grounding breaking medical findings. All proceeds from the auction will directly benefit SHACC and CFF.
Hundreds gathered in attendance for the previous auction, which featured over 50 historic surfboards from the early 1900's, including the Pete Peterson 1949 California Point Break Board, which sold for over $32,000, and "The Surf Riders of Hawaii" by A.R. Gurrey, Jr. book, which sold for $28,000. In attendance were surf icons Larry Bertlemann, Tom Curren, Robert "Wingnut" Weaver, Mark Cunningham, Greg Noll, Mickey Munoz, Rusty Miller, Paul Naude and more.

With a fresh collection of cherished surf memorabilia and roster of surfing's best in attendance, SHACC is looking forward to continuing the success of auctions in the past. A VIP food and cocktail reception will precede the main event. For more information visit surfingheritage.org
---