Back to News
EVENT: 19th Annual Ride BMX Nora Cup Awards
August 27, 2015
The Ride BMX NORA Cup Awards are landing back in Las Vegas, NV, with winners of BMX's highest honor to be announced and awarded on Thursday September 17, 2015 at The Fremont Country Club in Old Town Las Vegas.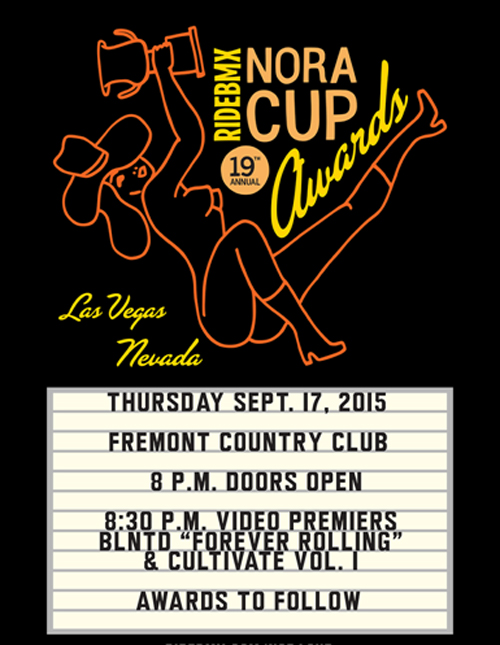 The NORA Cup Awards recognize the industry's top riders and films, honoring BMX's "Number One Rider Award" in eight categories, including: Ramp, Street, Dirt, Flatland, Best Video Part, Video of the Year, Best Web Video Part, and Readers' Choice. The winners are chosen by the pros themselves, with Ride BMX readers voting for the annual Ride BMX Readers' Choice Award – Rider Of The Year.

Voting is now open for the prestigious Ride BMX Readers' Choice - Rider Of The Year Award, so be sure to follow the link and cast your vote today!
This year's show will also feature video premiers from BLNTD Athletics' and Cult. BLNTD's new DVD "Forever Rolling" will have sections from Lahsaan Kobza, Tammy McCarley, Matty Nothnagle, Aaron Maxwell, Robbie Owen, Clay Johnson, and Matt Closson and Cult will kick off its new video series, Cultivate Vol. 1.

Special thanks to the 2015 Ride BMX NORA Cup Awards sponsors: Dan's Comp, Vans Shoes, BLNTD, Cult, Colony, Torque, GT Bicycles, Subrosa, Stranger, Haro Bikes, Wethepeople, Fox and ODI Grips.

Follow Ride BMX on Facebook, Twitter, and Instagram @ridebmx for all Nora Cup updates and announcements. Use the hash tag #NORACUP to kick off the conversation.

Be sure to stay tuned to ridebmx.com to keep up-to-date on all BMX news and information. To subscribe to TRANSWORLD Ride BMX, go online to bmx.transworld.net/subscribe.
---