Back to News
EVENT: ASA Entertainment Announces Fall Tour Dates and New Web Series to Educate About Anti-Bullying
August 27, 2015
Leading action sports event production company, ASA Entertainment, today announced the schedule for its annual ASA High School Tour, a 20 week action sports circuit that travels across the United States educating students about the negative effects of bullying and providing tools for bullying prevention. In addition to producing more than 100 live events at schools across the country, ASA Entertainment also plans to release a new weekly web series titled "Impression Sessions" that focuses on the personal stories of the top athletes in action sports.
The new web series will serve as a way to continue the conversation beyond the school visits and bring inspirational messages to youth through personal experiences from top action sports athletes and other influential individuals. It will expand beyond bullying prevention and focus on other social issues experienced by teens worldwide. The series will be featured on the ASA Entertainment's YouTube channel and shared through other various media channels.
The ASA High School Tour includes on-campus assemblies at 100 high schools in 20 markets where top skateboard, BMX and inline skating pros perform incredible stunts on a specially-designed 12-foot high mobile half-pipe while informing the students about bullying prevention and how to be an ally to those being bullied.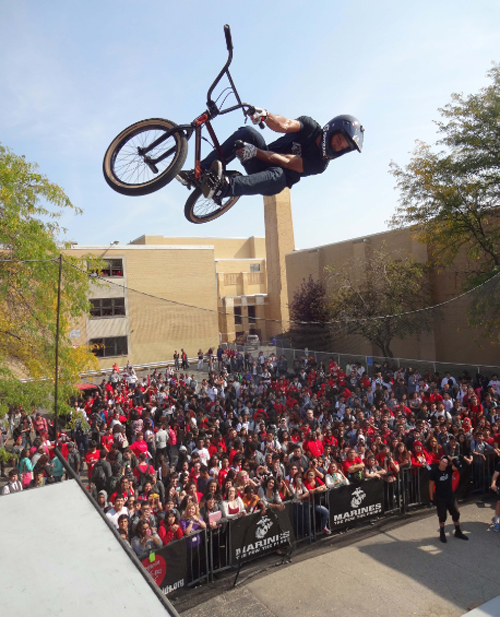 Five top action sports pros perform at each school, presenting a rare opportunity for students to interact with the athletes in a one-on-one setting. The list of pros scheduled to appear on the Tour includes Mykel Larrin (Racine, WI), Zach Newman (Frankfort, KY), Jimmy Walker (Chicago, IL), Zack Warden (St. Louis, MO), Colton Satterfield (Salt Lake City, UT), Paul-Luc Ronchetti (Norfolk, UK), Danny Mayer (Omaha, NE), Josh Stafford (San Diego, CA), Nolan Munroe (Rindge, NH), Mat Olson (Lake Havasu City, AZ), Steve McCann (Melbourne, Australia), Trevor Meyer (St. Park, MN) and Eito Yasutoko (Kobe, Japan).
The 2015 Fall ASA High School Tour will stop in the following cities from August 31 through December 11 visiting 5 schools in each market to provide a critical message to students in a peer-to-peer manner:
2015 ASA High School Tour Fall Schedule:
August 31 – September 4 San Francisco Bay Area, CA
September 7 – 11 Portland, OR
September 14 – 18 Seattle, WA
September 21 – 25 Salt Lake City, UT
September 28 – October 2 Denver, CO
October 5 – 9 Kansas City, KS
October 12 – 16 St. Louis, MO
October 19 – 23 Milwaukee, WI
October 19 – 23 Tulsa/Oklahoma City, OK
October 26 – 30 Ft. Worth, TX
November 2 – 6 Dallas, TX
November 9 – 13 Houston, TX
November 16 – 20 San Antonio, TX
November 30 – December 4 Phoenix, AZ
December 7 – 11 Los Angeles, CA
Through the support of its backers, which includes the U.S. Marine Corps, the Anti-Defamation League and action sports event producer, ASA Entertainment, the Tour is offered free of charge to schools. ASA has produced the Tour for the past 16 years, while the Marine Corps will be enjoying its tenth term with the program.
"The ASA High School Tour is probably the most rewarding program we produce," said ASA Entertainment CEO, Rick Bratman. "The ASA staff, the action sports pros and the sponsors whole-heartedly support the Tour's cause and message. When kids come up to us and say they decided to help a classmate avoid a difficult situation through an act of kindness because of our program, it is exceptionally gratifying."
For more information on the ASA High School Tour, please visit www.asahighschooltour.com. To follow the Tour via social media, use #ASAHighSchoolTour and follow @ASAactionsports (Twitter & Instagram) and ASA Entertainment (Facebook). The "Impression Sessions" web series will reside on youtube.com/asa.
---