Back to News
Farm to Feet, Interview with David Petri, Vice President of Marketing
August 31, 2015
Sock manufacturer Farm to Feet takes a very literal approach to its name by having full control of its supply chain for the socks it manufacturers – from the farm where the sheep are raised for wool to the time when you put the socks on your feet, Farm to Feet knows what's happening and the company's product is 100% designed and manufactured in the U.S. David Petri, Vice President of Marketing at Farm to Feet shares the story with us.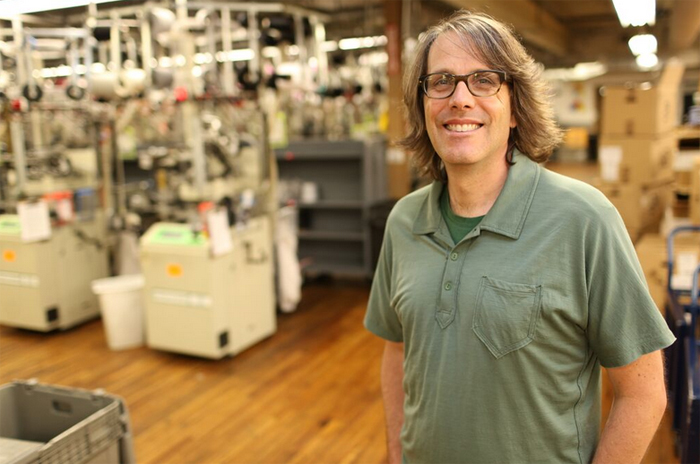 What does being 100% American mean and why is that important to Farm to Feet?

100% American means that every aspect of a Farm to Feet sock is completely sourced and manufactured in the United States, from the raw materials through the labor to the packaging. It honors the innovation and entrepreneurial spirit that is part of the American experience and pays homage to the heritage of American manufacturing.

How does this practice impact your supply chain?

At first it was a challenge, but a challenge worth taking on. Once we began asking the right questions and challenging our suppliers, we found that the US sourced materials were available, but it was a matter of developing products that used them. We began viewing things through a new lens – which in turn allowed us to design and develop better products.
The lasting benefits are transparency and quality control. We can tell our consumers where their product comes from down to the source of the raw materials. And we are able to better control what goes into our products by being very specific with our expectations of our suppliers. As a result we have far better control of our supply chain and can react to market demands faster than if we were using imported materials.
Click here for a full pictorial of how Farm To Feet sources its wool.

What is unique about your packaging?

The first thing people notice about our packaging, after the sock of course, is the person peaking out over the front of the packaging. When you open it up you are introduced to a real person associated with the brand. It may be a western US sheep rancher or a NC factory worker who spins yarn or makes socks. It may also be a person from a non-profit we support or a small business owner who runs a specialty retail shop. This helps build a connection with the consumer – they now know someone who is positively impacted by purchasing our socks.
Also each sock is named in honor of a community that our brand touches such as where our suppliers are located, a retailer locations, or cities where we have meaningful partnerships.
Finally, we wanted packaging that was also simple to read and easy to understand and wasn't overly busy with graphics. Our packaging lays out the details of the sock from its technical specifications to brand information; its intended use and what materials are in it.
Why design socks for specific use? How does this effect design?

People want socks for specific activities, whether that be running, hiking, skiing, etc. That being said, the basic construction of our socks across all these activities is very similar. But in some particular situations the designer needs to consider the activity. For example, Skiers may want more cushioning in the shin area, but less in the toe box or a runner may look for minimal cushioning in the foot area.
Additionally, lighter weight wool socks are designed for warmer weather activities whereas a medium or heavy weight sock will be required for colder weather. Ultimately, it is the user to decide how they will use our socks. We have a ultra endurance racer who wore our Everyday style Fall City in a 50 mile marathon in the desert of Mexico. Basically if you have a well constructed sock, it can be used for multiple purposes – a hike on Saturday and to the office on Monday.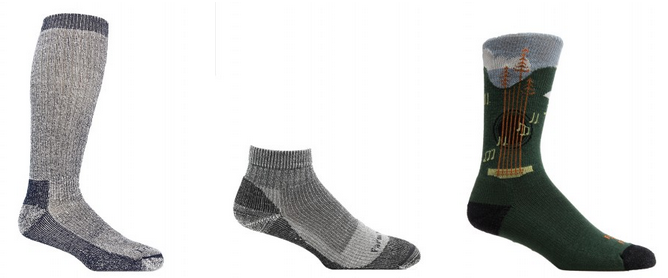 What aspects of design are considered to make Farm to Feet socks appealing to the outdoor industry?

Materials, technology and aesthetics are the three major principles that appeal to the outdoor community.
Merino wool is our primary performance fiber used as the body yarn. It is an amazing natural fiber that provides year-round comfort and well suited for outdoor activities. We also use a friction free nylon in our running socks and other applications. In addition to the Body Yarn, there are structural yarns such as nylon and elastic that are equally important in providing durability and comfort compression.
Our seamless toe closure technology is paramount for outdoor activities. This technology eliminates the toe seam that can create excessive bulking in the toe box of the shoe and cause blisters. Comfort compression is another key aspect of our technology. We used extra spandex elastic from the welt to the arch, which not only ensures that the sock stays up, but also helps reduce foot fatigue. There are other technological aspects such as ventilation, cushioning, and reinforced durability that are all key attributes to a good outdoor performance sock.
Aesthetics is where fashion meets performance. People want their socks to look good as well as perform. For our more technical socks, we strive to use designs that appeal to those users. For our Everyday socks we look for designs that have a sense of fashion yet still offer our basic performance attributes. Our product development team continually monitors trends such as new colors, designs and cultural influences that allow us to design the best products on the market.
How do you stay connected to the community and why is that important for the brand?

Our packaging is one of our initial connections with communities. Consumers however may have their first interaction with us on our website. There we try to share with them our brand story and invite them to connect with us on social media. There we continually update our followers on what is happening with the brand or share posts that we feel they will appreciate.

Once we have a customer wearing our socks, we feel that they are part of our story, the end point of the supply chain, as our tagline says "Begins with U.S. Finishes with YOU".
This year we began participating at consumer events including races and festivals where we were able to personally share our story and connect with customers new and old.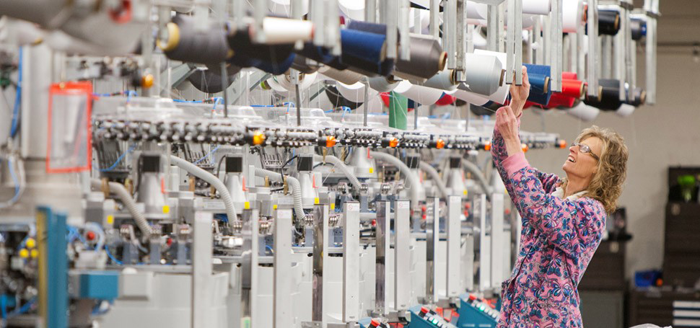 Click here for a pictorial of Farm to Feet's manufacturing process.

What is your favorite Farm to Feet style and why?

Author Steven Ambrose was once asked what was his favorite book that he wrote – he replied "my current one". In many ways I feel the same about Farm To Feet socks, our newest styles tend to become my new favorites. Currently, the Floyd Sock is my favorite. It is a nice lightweight sock that shares a little bit of my personality – a love of music & outdoors.
---