Back to News
Yonder - Interview with David Tyler
September 28, 2015
If you love going on adventures, Yonder will probably be your new favorite mobile application. With over 27,000 ways to uncover outdoor adventures, Yonder gives you access both to places on your bucket list and to destinations you may not have even known existed. You can download Yonder for free on both iOS and Android here. Be warned though, once you make your very own Yonder account, there is a relatively high chance you'll quickly be spending all your free time scrolling through the postings shared by the Yonder community. And from there, you will very likely be planning your next adventure.
We caught up with Yonder CEO David Tyler, formerly of Apple, to see how he was able to successfully combine tech and adventure, his favorite Yonder finds, and where the app is going next.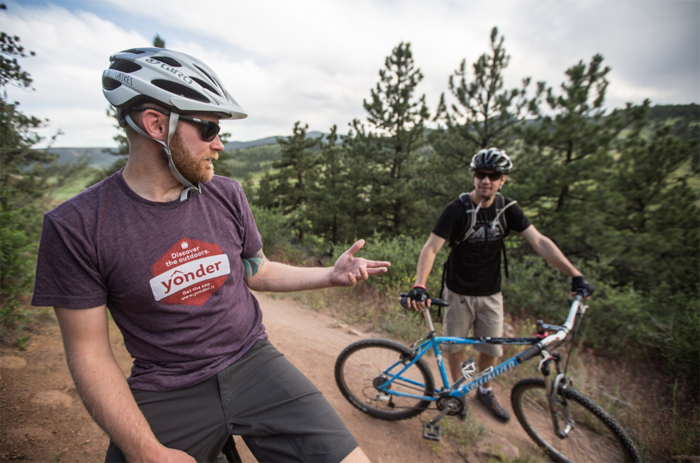 David Tyler enjoying the mountain bike trails near his home in southern Vermont.


What prompted you to combine your passions for technology and outdoor adventure?
It seemed obvious. If you believe you can create positive value by doing something you love and believe in, that's exactly what you should do.
How has your technological background and time with Apple helped the creation of Yonder?
It's hard to work for Apple without being influenced by their collective commitment to user experience. It touches all parts of the organization, and extends well beyond hardware and software. Fast forward to present day, and I'm constantly energized by Apple's philosophy, to make the very best products in their categories with as few compromises as possible.
What influenced the user interface for Yonder? How long did it take to design and implement?
A little bit of everything. I tend to download and "test" dozens of apps weekly. Together with our product team, we're always looking at how others go about building engaging experiences. At the end of the day, designing a product like Yonder is ongoing.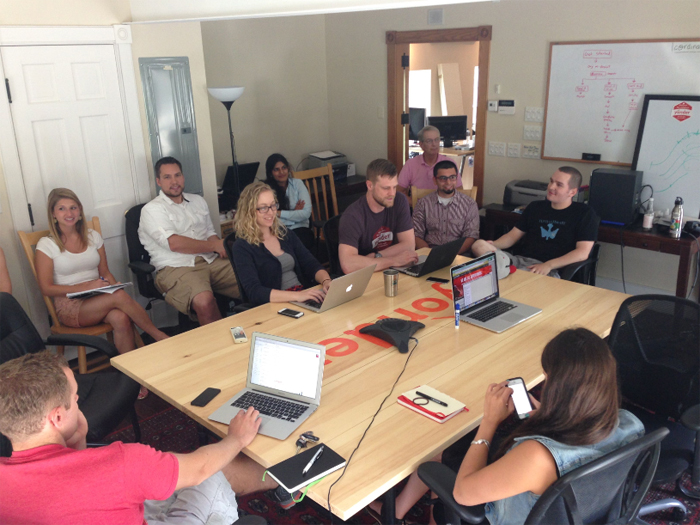 The Yonder crew at their Woodstock, VT headquarters.

How does Yonder promote exploration and adventure travel?
We built Yonder to inspire and enable a love for the outdoors. Instead of just making another photo sharing app, we set out to make something that allowed every shared experience to inspire real action. Every image and video is geo-located and tagged to activity categories. By combining users experiences with our database of outdoor destinations, we help people discover opportunities to spend quality recreational time outdoors more easily and more dynamically than any other product on the market.
How have you been able to keep the Yonder community exclusively to adventure seekers?
It started with how we engineered Yonder, but ultimately we're community-driven and defined collectively by our members. In a short amount of time, I've watched Yonder become the most positive, welcoming, digital representation of the outdoor community.
Our mission is about inspiring people to get outside, try new things, and meet new people. That's why perhaps the most remarkable development has been multi-day 'Yonder meet-ups' that community members self-organize. It's incredibly inspiring to see users travel from all over the country to meet and share "IRL" experiences with one another. Helping to enable these adventures is exactly why Yonder exists.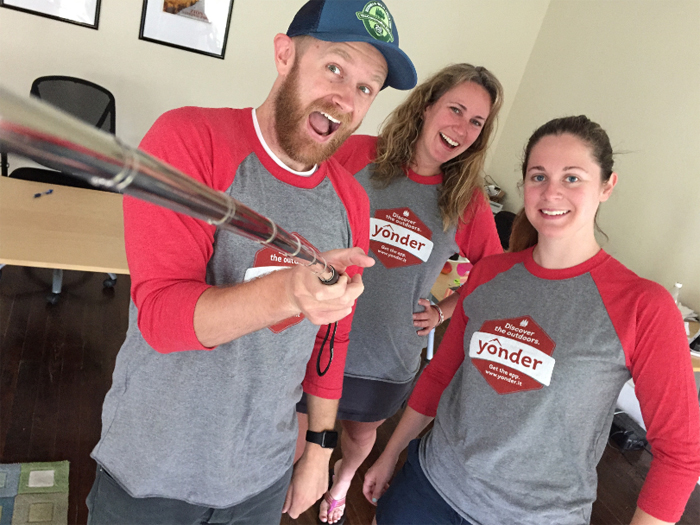 David Tyler with Yonder's Chief Designer, Marie Cole and Director of Strategic Partnerships, Emily Boyd.
How do you encourage interaction amongst users?
It really comes down to product decisions. Yonder encourages people with similar passions to share experiences with one another, and this naturally causes them to interact. That being said, we're always thoughtful about user interface/user experience choices that encourage positive behaviors we want to see within the community.
Have there been any photos of places on the app that have inspired you to travel there?
All the time. Last year my wife and I went on a road trip through southern Utah that was inspired exclusively by the Yonder community. Everyone I work with at Yonder has a similar story.
Where was the coolest place you've seen on Yonder?
That's a really hard one. I'm constantly blown away by the Yonder community's experiences. There are more places and adventures across the world than will ever fit into one lifetime. Let's just say that my bucket list isn't getting any shorter.
The app launched in 2013. What has the growth been since the launch and where do you see it going?
Yonder launched in beta (a somewhat unfinished version of what it has become) in 2013. It's evolved in some pretty significant ways. We've had over half a million downloads, seen experiences posted in nearly every country across the globe and we're only just getting started. We're building the social discovery engine for the outdoor and adventure travel industries and even powering interactive experiences for partners like The North Face and United States Forest Service. I feel like we're in the first inning of something pretty special.
Download Yonder for free on both iOS and Android here.
---