Back to News
B$Z: Ethika x Grizzly Griptape Collaboration
October 16, 2015
Ethika is excited to announce a collaboration piece with Grizzly Griptape. This design will be the first of numerous collaboration products launched between the brands over the next year.
"I just think it's rad to be able to partner up with another brand that's all about the fam," said Torey Pudwill. "That's what Grizzly is and that's what Ethika is. We got so many of the same dudes representing that this collaboration was only right to do."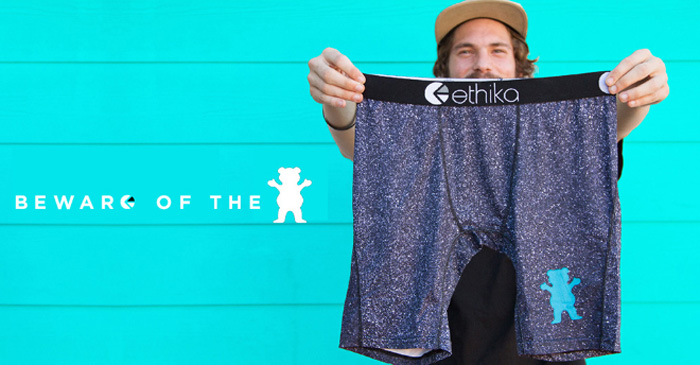 The pair will feature a unique griptape design with the Grizzly bear logo on the bottom of the leg.
"As a kid I remember doing whatever chores mom asked, cause my only goal was to save enough money to purchase my first Lance Mountain skateboard at the local shop," said Ethika Founder Malcolm McCassy. "Skateboarding everyday while blasting Social D, N.W.A., Run DMC & Beastie Boys on my ghetto blaster would help define my youth, eventually inspiring me to create Ethika. Now Grizzly has changed the game, evolving skateboarding by innovating more then just griptape…but building a global family. Grizzly and Ethika share the same idea that culture is key, while staying true to what you love, which makes me so pumped for this mashup".
The pairs are now for sale at www.ethika.com, The Grizzly Flagship Store in Los Angeles, Zumiez, Tillys, Active Rideshop, Hansens, and numerous other retail locations.
Ethika is focused on expressing every person's individuality across a variety of cultures including, skateboarding, motocross, bmx, snowboarding, surfing, basketball, football, music, art, and fashion. More Ethika news, photos, and videos can be found on Twitter (@ethika), Instagram (@ethika), and online at www.ethika.com.
---