Back to News
Swiftwick - Interview with Katy Holmes
November 9, 2015
At Swiftwick, you will find a wide variety of athletes, all with one universal goal in mind: to do what moves them. From cycling, to golf, to snowboarding, Swiftwick makes high quality socks to ensure people get the most from their favorite activities. Starting with a technically solid design, the company has recently expanded their sock lines to include more color and design options.
We had the chance to chat with Katy Holmes, Athlete and Public Relations Coordinator at Swiftwick, and she told us about how the team helped shaped the brand, and what makes them different.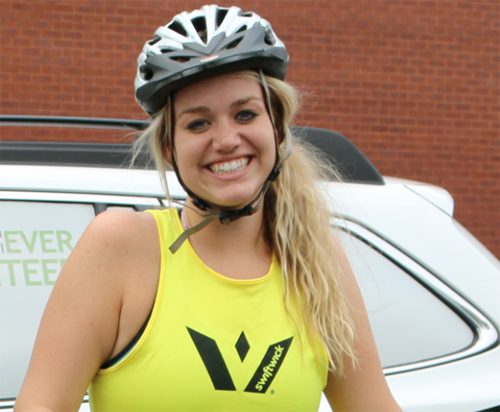 Swiftwick's tagline is "Do what moves you." What moves you and how do you apply that to your role at Swiftwick?
I have always pursued an active lifestyle, whether it was playing sports growing up or training for my next half marathon. In my role as athlete and public relations coordinator, I am given the opportunity to not only give our athletes the tools they need to take their ambitions to the next level, but I am also able to tell their stories to inspire the person looking to run their first 5K.
How does the Swiftwick office space promote the company's purpose?

Our office space is a completely open floor plan surrounded by windows. This helps facilitate a collaborative environment for the team to ask questions, play a quick game of putt-putt, park their bikes, or even ride through the office.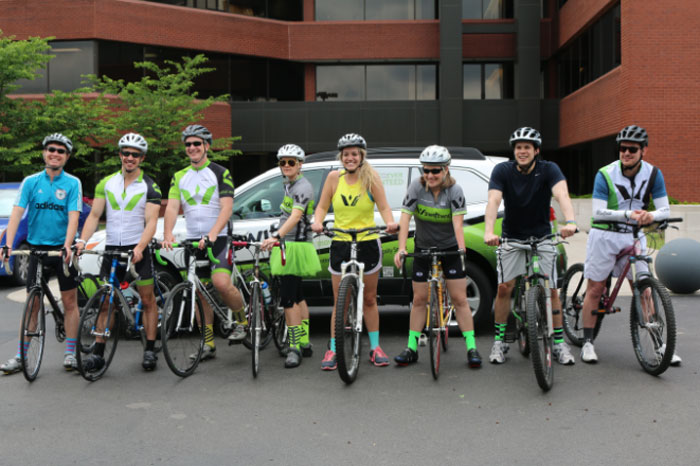 What are some of the perks of working at Swiftwick?
All employees are encouraged to be active by going on lunch rides/runs and benefit from company-supported gym memberships. Every Friday, the Swiftwick team enjoys year-round summer hours to get a jumpstart on the weekend so we can do what moves us.
How involved is the President of Swiftwick in ensuring employees are doing what moves them? How does Chuck promote that?
Chuck has made a push to ensure Swiftwick products are sold to athletes by athletes. He made sure this philosophy began internally with the Swiftwick team. Chuck believes the employees are the best product testers and continually encourages everyone to take advantage of the Swiftwick perks and share their stories with the rest of the team.
How have employee interests helped shape the company?
Swiftwick is a unique place where we are able to help people achieve their athletic goals. We have a team that is encouraging, motivated and passionate about living active lifestyles. Our team includes people who have finished 100-mile ultras, competed in Kona, climbed in Patagonia and many other amazing accomplishments. I think our mutual attraction to challenge the body and mind allows us to connect with our customers and ultimately support their adventures. We pack our passion into our products.

What types of partnerships and community activities does Swiftwick participate in?
Our company looks for partnerships and community activities that support others to do what moves them by pursuing their athletic ambitions. We partner with Back On My Feet by providing socks to help the homeless on their runs. We also work with the ColorDash, which picks a different local charity to support with each race and Kip More's Comeback Kid Skatepark to help benefit the youth looking to be active.
What impact has technology had on creating the perfect formula for the compression socks? Now that the formula has been perfected, how are Swiftwick socks evolving?
Swiftwick launched as a company because a couple of bike guys were tired of paying money for the best shoes, nutrition, etc. and having their cheap socks hinder their performance. In order to achieve the technology to achieve optimal performance, Swiftwick began as a company that made only black and white socks before focusing color and design.
By focusing on your feet, we created socks that will increase your endurance with Managed Compression construction, keep your feet dry with the most effective moisture wicking fibers, eliminate the risk of blisters with a second skin fit and defeat foul stench with the most advanced odor fighting technology.
Now, that the company has mastered these technologies, we have expanded our products into several new colors and designs for athletes looking to stand out, but still receive the Swiftwick advantage.

What is unique about Swiftwick's manufacturing processes?
Our company focuses on high quality, domestically produced socks. All of our socks are made and manufactured in the U.S. By having complete visibility to our supply chain, we are able to ensure our high needle count socks are not compromised.
The company maintains sustainability with less waste due to the durability and long life of our socks. We also produce zero water waste by dying our fibers pre-production, compared to the several gallons of water waste produced by dying fibers post-production.
What's up next for the company?
Our company is continuing to further our lines with fun colors and designs to appeal to our customers looking to add some flare to their sock game. We will also be launching a new sock in the spring for runners looking to have more cushion, but still desire the performance of Swiftwick.
---