Back to News
VIDEO: Brazilian Professional Surfer and Model Bruna Schmitz Shares Her Inspiring Story
November 13, 2015
Professional surfer and international model Bruna Schmitz reveals an intimate first-hand account of her life in the self-titled short film, Bruna.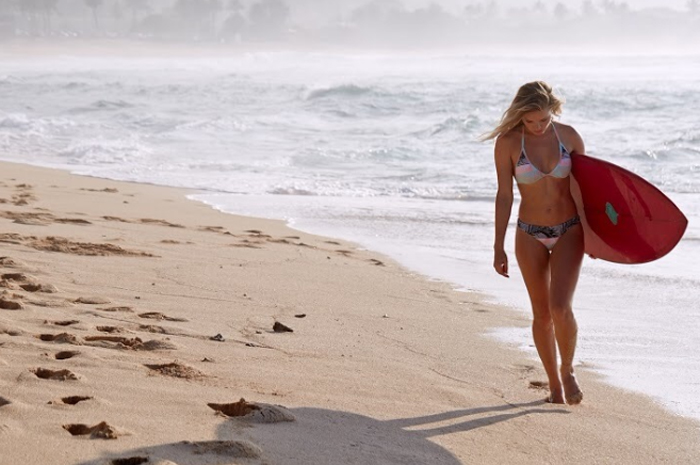 Bruna,
directed and edited by surf filmmaker Tyler Haft, is an inspiring story of humble beginnings for the professional surfer born and raised in the small fishing community of Matinhos, Brazil. At the age of 9, Bruna discovers a passion for the ocean and surfing, which leads to a future of travel and opportunities beyond the village borders. With these opportunities came difficult sacrifices of leaving family members behind in pursuit of her dreams.
"In the beginning it was hard to face the fact I was traveling alone in the world," Bruna explains of her teenage years. "Over time, fear and insecurity turned into willpower."'

In 2003, with over 30 surfing titles to her name, Bruna became the youngest surfer to win a Brazilian pro event and soon after signed with Roxy at the age of 14, becoming the youngest Brazilian to turn pro. She then went on to qualify and compete alongside surfing's elite on the WSL World tour from 2008-2010 before choosing to shift her focus away from competition. Since then, she has amassed an impressive portfolio traveling globally as a Roxy athlete and international model, shooting with Sports Illustrated, Estee Lauder and more. In 2013, she moved to Southern California where she now serves as an ambassador for Roxy, Sambazon, YogaWorks and important causes like Heal the Bay.
The film, written and narrated by Bruna in both English and Portuguese, is featured online with two versions available for viewing here.
A more in-depth look at Bruna's journey through the years can be found on her new website, www.BrunasLife.com, which launches today and includes a portfolio of images, videos, latest happenings and links to follow her on social media.
For more information or interview and film/photo requests, contact Erika Seward at (785) 550-4610 or erika@enterT9H.com.
---