Back to News
EVENT: Alps & Meters Announces Designed by Tradition Series to Occur Together with Premium Retailers
November 30, 2015
Inspired by the romantic traditions and rich history of skiing and alpine sport, the premium alpine sportswear company Alps & Meters is excited to announce their Designed By Tradition speaker series. In partnership with premium retailers nationwide, Alps & Meters founder Louis Joseph will conduct 30 to 60 minute intimate fireside interviews with a panel of writers, artists and distillers surrounding the themes of craftsmanship, tradition, and alpinism.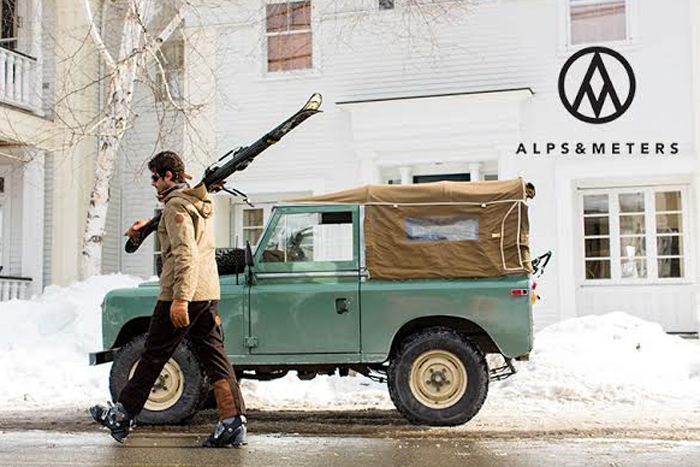 The Designed By Tradition series aims to introduce Alps & Meters in its idyllic setting while spotlighting local makers, premium retail partners and heroes who are living the brand in mountain towns from all over the country. After the interview sessions, attendees will have the opportunity to meet and greet the Alps & Meters team and founders. Guests will also enjoy cocktails and light refreshments while perusing goods from the Alps & Meters FW15 Forged Performance Outerwear Collection. In addition, events in Portland and Boston will offer on-site complimentary gift-wrapping in time for the holiday season.

Alps & Meters' inspiration is drawn from the past, from places, and from individuals whose values reflect a passionate appreciation for nostalgic mountain experiences and memories. Based on the belief that there is an enduring truth embedded within the beauty of alpine sport, The Designed By Tradition event series is designed to draw together generations of alpine enthusiasts and newcomers in order to learn more about and continue to share the lasting traditions of mountain life and alpine sport.

ALPS & METERS DESIGNED BY TRADITION EVENT DATES AND LOCATIONS
Thursday, December 3, 2015 at Portland Dry Goods (Portland, ME) || 5:30pm-8:30pm
Location:
237 Commercial Street | Portland, ME 04101

On Garment
Tradition: Featuring David Hodgkins of David Wood Shop and Michael Force of Portland Dry Goods. Special Guest includes Andre Benoit, 10th Mountain Division Veteran and Maine Ski Museum Hall of Fame Inductee.
Thursday, December 17, 2015 at North River Outfitter (Boston, MA) || 6:00pm-8:00pm
Location:
39 Charles Street | Boston, MA 02114

On Legacy:
Featuring Alps & Meters Alpinist Robert Cocuzzo, author of Tracking the Wild Coomba, a forthcoming biography of big mountain ski legend, Doug Coombs.
Wednesday, January 20, 2016 at Alpine Modern Café (Boulder, CO) || 6:00pm-8:00pm
Location:
904 College Avenue | Boulder, CO 80302

On Design, Alpine Photography and Elevated Living:
Featuring Alpine Modern Magazine Founder Lon McGowan and Alps & Meters Alpinist/Photographer Hunter Lawrence.
Friday, January 22, 2016 at 10th Mountain Distillers (Vail, CO) || 6:00pm-8:00pm
Location: 286 Bridge Street | Vail, CO 81657
On Heritage:
Focusing on The 10th Mountain Division and the impact the veterans of this elite alpine unit have had on skiing, as we know it. Featuring Ryan Thompson and Christian Avignon of 10th Mountain Distillers.
For more information, visit www.alpsandmeters.com. For all media inquiries contact Sarah Bronilla at VOCAL: Sarah@VOCALnyc.com.
---