Back to News
EVENT: Cassie Sharpe, Brita Sigourney Take Second & Third Place In Women's Ski Superpipe at Dew Tour
December 14, 2015
Monster Energy's Cassie Sharpe and Brita Sigourney take second and third in Women's Ski Superpipe at Dew Tour Breckenridge.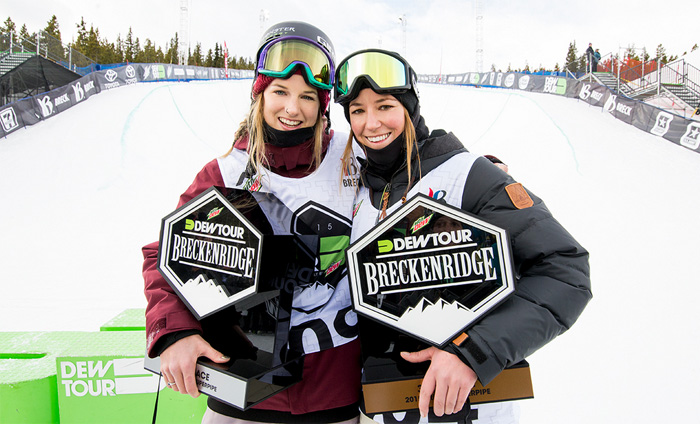 Monster Energy's Cassie Sharpe and Brita Sigourney
The clouds diminished long enough to provide top female athletes with ideal competition conditions.


In a performance marked by two back-to-back tricks, Sharpe, Canada, took second with a score of 87.40. Brita Sigourney, U.S., nabbed bronze with her impressive amplitude, which earned a score of 85.00.


Sharpe's top run was also marked with notable amplitude, as well as impressive composure during her technical back-to-back maneuvers. Her run featured a left cork 9 to back-to-back right 5s to back-to-back right flairs, followed by a right three and finished off with a switch left five.


"I feel incredible," said Sharpe, "It's the biggest podium I've ever had."


Sigourney's run was characterized by massive height out of the 22-foot superpipe and cool, collected straight airs. Sigourney, who didn't qualify for last year's final event at Breckenridge, said she felt like "this year was redemption." Sigourney has only been on snow for two weeks and says she's feeling great already.


"We have a month off now, and we have training camp, I'm going to get some new tricks into my run, and am really excited for X Games," said Sigourney.


Sigourney took bronze last year in Women's Ski Superpipe and it looks like she is well on her way to earn another medal this year.
---