Back to News
EVENT: Chloe Kim, Ayumu Hirano and Iouri Podladtchikov All Podium in Snowboard Superpipe
December 14, 2015
Monster Energy's Chloe Kim took second place in Women's Snowboard Superpipe and teammates Ayumu Hirano and Iouri Podladtchikov took second and third in Men's Snowboard Superpipe at the Dew Tour Breckenridge Superpipe.

As a potent winter storm moved through Summit County, Monster Energy athletes brought the heat to a powder filled Superpipe that presented its fair share of difficulties.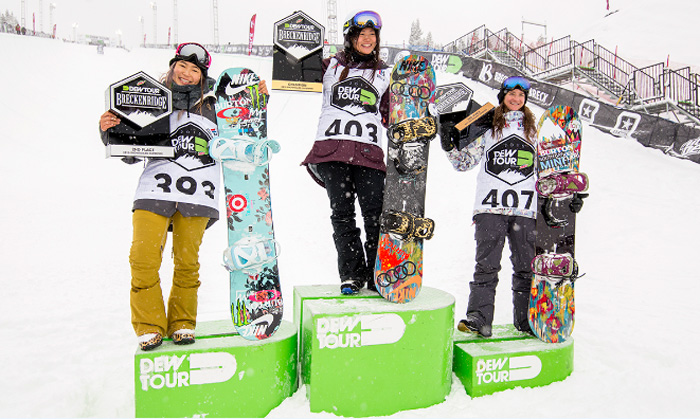 Monster Energy's Chloe Kim scores second in Women's Superpipe at Dew Tour Breckenridge

Fifteen-year-old shred sensation Chloe Kim kicked off the morning in style giving little worry to the accumulating snow at the bottom of the pipe charging with her trademark aggressiveness.


"It was pretty gnarly," said Kim of the weather, "but I stayed positive and just tried to do the best I possibly could given the conditions."


With a first run comprised of a gigantic method, Frontside 720 Crippler, Cab 720 and a lofty McTwist, Kim went on to say, "I just pumped everything as hard as I possibly good. I kept a smile on my face and that definitely helped!"


In the end, she landed in second place if only because she charged too hard through the choppy pipe, which sent her to the flat bottom on her second and potentially highest scoring run.


Later in the afternoon the men competed in the Men's Snowboard Superpipe, and Hirano and Podladtchikov displayed their contrasting riding techniques for a second and third place finish, respectively.


Watching Hirano launch his first backside hit, an absolutely gigantic frontside 540 Crippler with a tweaked out Japan grab, if style alone won the contest he would have walked away uncontested. In a run peppered with inventive tricks like a backside 900 melon grab and a frontside double cork truck driver, spectators and judges alike bore witness to a rare breed of rider, one with equal parts talent, style and creativity.


"When I first got here in the morning, I'm not going to lie, I was pretty bummed," said Hirano of the conditions. "No matter how much wax, you couldn't get enough speed, but with a second place finish in the end I can't complain."


Taking third on the podium was Olympic Gold Medalist Podladtchikov whose technical prowess in the superpipe is rivaled by only a select few. That said, unbeknownst to anyone, he was actually battling through an injury.


"Something happened in practice," explained Podladtchikov, "and I slightly tore my hamstring so it was a lot of work to keep my leg warm."


Watching him blast the highest frontside air of the competition you would have never known that he was struggling with some serious pain. Consequently, Podladtchikov then catapulted his way through a series of dizzying tricks including a frontside 1080 to a Cab double cork 1080 to a classic front side seven tail grab.


"It was challenging, but I like challenges, and I am just excited to be on the podium at all," said Podladtchikov.


All said and done, with the first major Superpipe competition of the year complete, Monster athletes are once again clocking in for another season of strategic podium dominance.

For interview or photo requests contact Kim Dresser at kim.dresser@indiepragency.com or (949) 300-5546.
---