Back to News
EVENT: 2016 TWSnow TransAM Tour Dates Announced
December 18, 2015
TRANSWORLD SNOWBOARDING Magazine is proud to announce the 2016 TRANSWORLD SNOWBOARDING TransAM. Now, in its 14th year, the TransAM continues to give young, hungry, amateur snowboarders the opportunity to get their name out there as they compete in the most fun jam-format snowboard contest on Earth!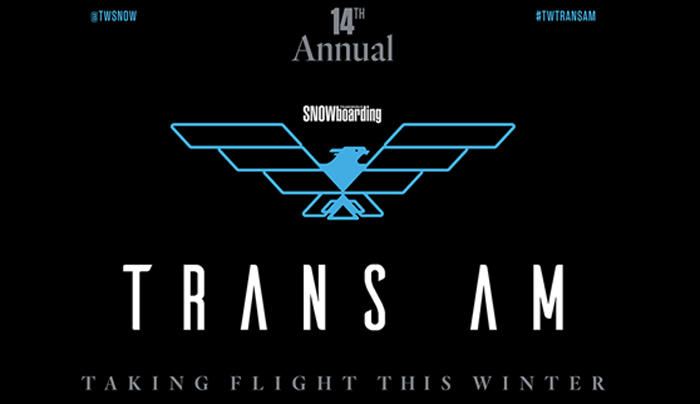 The TRANSWORLD SNOWBOARDING TransAM is a unique contest series held at some of the most progressive resorts in North America. The park crews always get creative with their builds, blending new lines with inventive, signature features customized for each stop. You can count on every course layout being fresh and fun, representing each resort's creativity and personality.

For the riders, TransAM is a chance to get exposure in front of a global audience through TWSNOW.com and to qualify for the finals at Bear Mountain, California to compete against the winners from each previous TransAM stop.

In 2016, amateur TransAM riders will be smiling and high-fiving at these 7 locations:

Waterville Valley, NH - January 9
Big Boulder, PA - January 16
Brandywine, OH - January 23
Angel Fire Resort, NM - January 30
Big Sky Resort, MT - February 13
Mt Seymour, BC - February 27
Bear Mountain, CA - March 19

For all 2016 TransAM event info, registration links, and TransAM recaps, visit TWSNOW.com/transam.

The 2016 TransAM tour would not be possible without the commitment of our partners and sponsors: Salomon Snowboards, O'NEILL, Waterville Valley Resort, Big Boulder, Brandywine, Angel Fire Resort, Big Sky Resort, Mt Seymour, and Bear Mountain.

For updates, get connected to our Facebook, Twitter, and Instagram feeds at @TWSNOW (#TWTRANSAM).
---