Back to News
B$Z: DYNAFIT Introduces the TLT7: Next Generation of Ski Touring Boot
January 6, 2016
Reduced to the bare necessities: That's what the footwear gurus at DYNAFIT are saying about the introduction of the new TLT7 ski touring boot. The ski touring brand's development team has succeeded at landing a true bolt of lightening with the evolution of the TLT boot series: The new TLT7 Performance weighs a mere 1,010 grams. Plus, it "moves" more efficiently with its new toe design called the "Speed Nose" and a setback pivot point. Not only that, the boot allows users to adjust, open and close it with a single buckle – thus saving time and handling.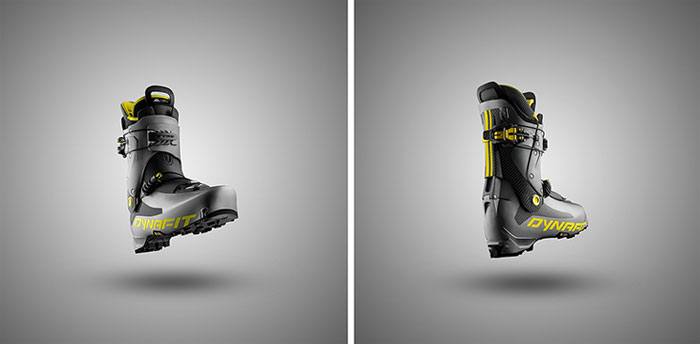 The TLT7 ski touring boot, available for the 2016-17 winter season, is the future of serious ski mountaineering. Weighing barely over a kilo, this boot is one of the lightest in its category. Aside from its weight, developers emphasized more efficient handling. The reengineered toes of the boot give it exemplary agility and maneuverability. The short lip sans projection enables the pivot point to be set back to the pin binding attachment point: That significantly improves the ability to move comfortably on the ascent. These characteristics give the TLT7 a unique position in the ski touring boot market.
Open. Close, Walk, Ski: The Ultra Lock 3.0 Closure System combines all needed adjustments into one buckle. The system allows users with one lever to open and close the boot, as well as change between walk and ski modes. That saves serious ski mountaineers weight, handling, time and parts that can wear out. Lastly, the boot is impressive looking with its simplicity. A trimmed back design doesn't, however, just mean a sleek appearance. It also cuts back on exposed closures and components to avoid snagging, catching or undesired adjustments while moving. At the same time, fewer frills mean lower weight and less frictional resistance.
When it comes to downhill performance, the use of a so-called Lambda Frame results in a more rugged shell and higher shaft strength. Fiberglass is used to reinforce areas put under more stress, while areas that need less have fewer reinforcements and therefore offer more flexibility.
The boot will come with the new DYNAFIT Masterstep Insert that enables easier entry. The new insert allows maximum loads that can occur with Freeride bindings when they are set to a maximum DIN release value of Z16.
In addition to the TLT7 boot, Dynafit will introduce several new hardgoods items and a range of new apparel pieces this week at Outdoor Retailer. The full line will be on display at the Dyanfit booth # 36113.
---