Back to News
EVENT: AMSOIL Arenacross Announces 2nd Annual Military Appreciation Race in Colorado Springs
January 20, 2016
With the 2016 AMSOIL Arenacross season in full swing, Feld Motor Sports® announced today that the championship's three-day visit to Colorado Springs, Colorado, will be headlined by the Second Annual Military Appreciation Race on Saturday, February 6. In conjunction with Broadmoor World Arena, AMSOIL Arenacross will once again host "Rivalry Night," featuring Army versus Air Force, in support of The Home Front Cares (www.TheHomeFrontCares.org), a 501(c)(3) nonprofit organization that provides emergency grants to military personnel throughout Colorado.
All Department of Defense personnel and members of the military can save $5 on admission (valid on Lower Level and Upper Level) by logging on to BroadmoorWorldArena.com and using the codes AIRFORCE and ARMY, or by simply logging on to branch-specific ticket pages for Air Force and Army. Additionally, the discount applies at the Broadmoor World Arena box office by simply showing a military ID.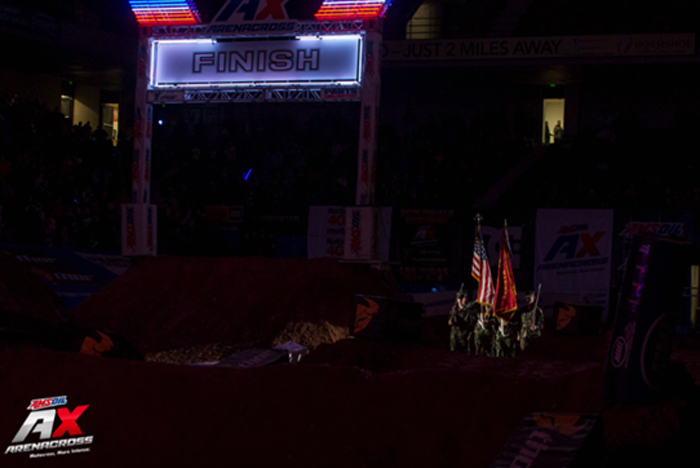 AMSOIL Arenacross will once again our military veterans.
Photo: ShiftOne Photography
"Rivalry Night" embraces the competitive spirit present throughout every branch of the military and aims to establish an exciting and energetic atmosphere around Saturday night's race, adding to the intensity provided by DJ KO and the world-class arenacross athletes. Colorado Springs boasts one of the strongest military contingents in the country and is an ideal location for AMSOIL Arenacross to celebrate the city's military heritage and honor its veterans.
All parties for those stationed at Fort Carson and Peterson Air Force Base are encouraged to come out and "support your camo" in this spirited encounter of Army versus Air Force. Which branch will have a greater presence and motivate the stars of AMSOIL Arenacross to provide a truly memorable night of the most intense action on the planet?
"We are very excited to once again host the Military Appreciation Race in conjunction with The Home Front Cares and Broadmoor World Arena. Last year was full of excitement and provided us a platform to give back to the men and women of our armed service branches," said AMSOIL Arenacross Director Mike Muye. "We have even more in store for the fans who come out in support this year and we look forward to having some fun with the rivalry that exists between the Army and Air Force."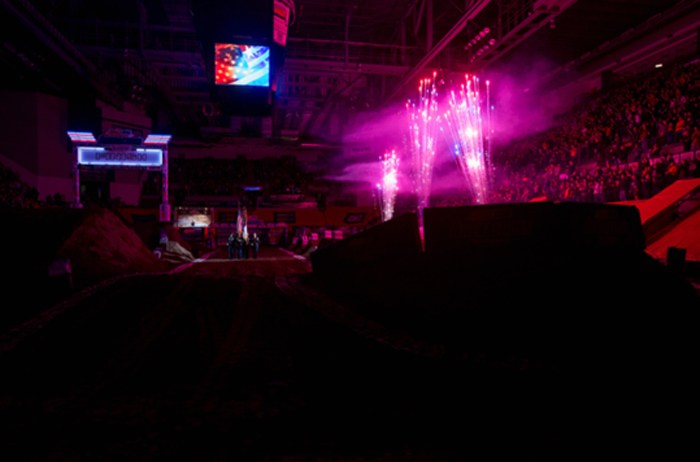 Last year's Military Appreciation Race took place in front of a capacity crowd at Broadmoor World Arena.
Photo: ShiftOne Photography
The Home Front Cares (THFC) was established in 2003 as an all-volunteer initiative led by Air Force colonels Bob Carlone and Joe Henjum. In 2004, it was incorporated as a non-profit and has continued grow, providing much-needed aid to all branches of the military. What initially was an operation supporting families throughout the Pikes Peak region around Colorado Springs has now evolved into a statewide agency that has raised millions of dollars for service men and women.
In an effort to show its gratitude for the services provided by THFC, and its integral role in the Second Annual Military Appreciation Race, $1 from all ticket sales will be donated to the non-profit.
The fifth round of the 2016 AMSOIL Arenacross season from Colorado Springs' Broadmoor World Arena will feature three nights of the world's most intense racing on Thursday, February 4, Friday, February 5, and Saturday, February 6. The final night will serve as the Military Appreciation Race, with each evening's action starting at 7 p.m. MT / 9 p.m. ET.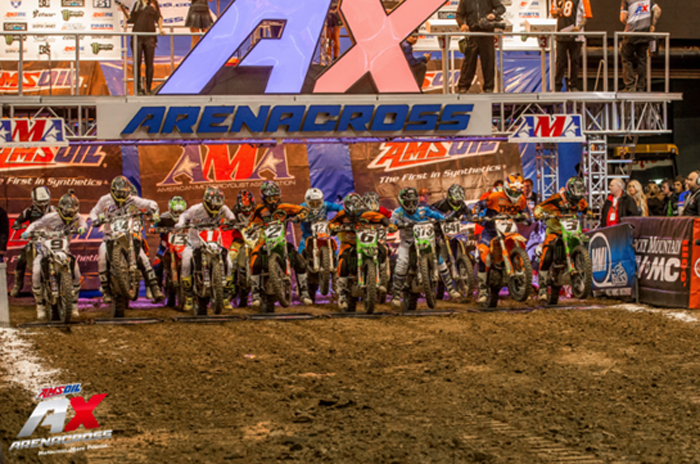 The world's most intense athletes are ready for three nights of action in Colorado Springs.
Photo: ShiftOne Photography
Never miss out on the latest news! For more information on AMSOIL Arenacross, please log on to www.Arenacross.com. To follow AMSOIL Arenacross on Facebook, Twitter and Instagram, long on to www.facebook/com/AMAarenacross, www.twitter.com/Arenacross and www.instagram.com/Arenacross. Subscribe to our YouTube Channel at www.youtube.com/ArenacrossLive.
---