Back to News
NIGHTMARE Snowboards - Interview with Trent Bush
January 25, 2016
"He's done a lot in the snowboard industry" is an understatement of Trent Bush's accomplishments over the years. But sharing the details here would consume the entire story. Google has all the details for you! Trent is having a Garage Days renaissance with the crew at NIGHTMARE Snowboards.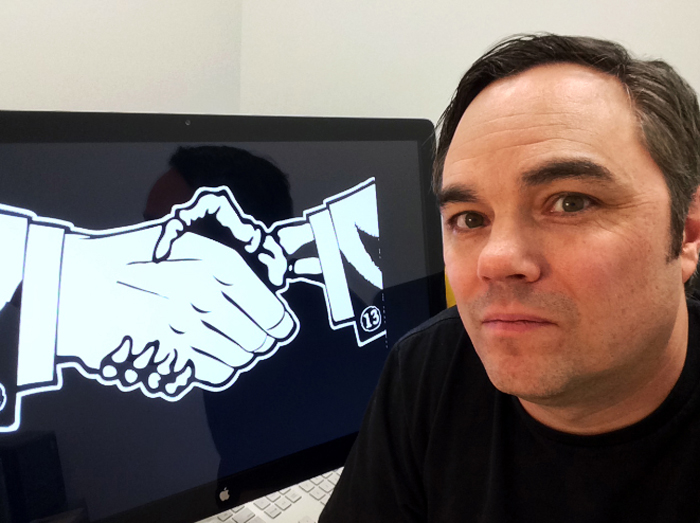 Why is right now the time to create a new brand?
NOW is always the right time if a brand is driven by the correct motives and the right people. The only thing that keeps snowboarding relevant are new ideas and reinvention straight out of the heads of people who truly love it, and will do everything they can change snowboarding to fit their ideas, instead of the other way around. That is exactly what NIGHTMARE is: A pure expression of the love of riding and the subculture that still exists at its fringes, in a time when so many people are predicting (and rooting for) snowboarding's demise.
I have been riding for more than 30 years and working in the snowboard industry every day since I was 14, when highbacks, metal edges, and riding lifts were still in front of us. Coming from that perspective it has proven itself, over and over, that new energy and ideas beats the marginalization of "snowboarding as a business category" every time.
From a business perspective, there has also never been a better time for NIGHTMARE, or any other brand for that matter, because we all have the ability to be exactly what we want to be. Technology has given us a completely new set of tools to speak directly to anyone who wants to listen, and we don't have to rely on any gate keepers or trying to be mainstream-distribution friendly. I truly believe in any industry, authentic transparency is going to win over marketing dollars, at least at a level that is meaningful beyond just trying to maximize sales.
At the same time, from a consumer perspective, snowboarding has never been so open and accessible. The opportunity for riders to hit lifts, backcountry, parks, urban, contests, or whatever their version of snowboarding is has never been easier. Technology has also given riders a new voice, and they are using it. There are no secrets anymore, and in NIGHTMARE's case, we will just put ourselves out there exactly as we are. Riders can get as involved with the brand as they want to. If they don't like us, that's fine too. There are plenty of great brands out there that fit their needs.
What is Nightmare's brand story?
Without trying to sound too contrived, there really is no "story" to the brand, but NIGHTMARE can be defined.
Since my earliest days in snowboarding, everything that I saw as being cool was driven by skateboarding. Literally everything: music, style, friends, girls… right down to the desire to be involved in it for life. The main reason most of us got started in snowboarding in the first place was because we wanted to keep skating in the winter, but couldn't. To get as close to it as I could, I started working at the original Wave Rave in Boulder in my teens and I got to sell skateboards and all the early snowboard brands. When Wave Rave started making snowboard clothes that were in the surf/ski vein that we didn't like, we started Twist to try to take snowboarding in a skate direction. Pretty quickly Twist started to resonate with kids because it helped usher in a new era with a brand that was equal parts riding/art/media and a completely different aesthetic based on a lifestyle, not just an activity. Between our crew of the most progressive skate-driven riders anywhere, the design sensibilities of my brother Troy and our friend Amani King, the ground-breaking art of Evan Hecox (of post-Twist Chocolate Skateboards fame) and our early attempts of documenting it all on film with our partner Justin Hostynek, (now Absinthe Films) Twist definitely helped define that era of snowboarding along with other DIY brands.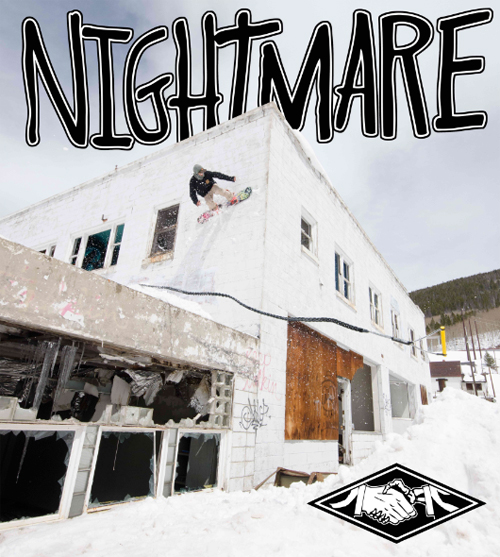 Losing Twist sucked, especially to see it turn into a mass-market brand, but that was also the time of a major shift in snowboarding. All the small brands were falling off, going public, or being consolidated into bigger non-riding corporations. Snowboarding was being primed as an Olympic sport, and everything was changing with a ton of money and hype coming into it.
It relates to NIGHTMARE because after Twist, I spent all of my time trying to recreate what we built, starting brand after brand, but I could never duplicate what we had at Twist. The industry was also changing because it was blowing up, and for the first time new snowboard brands weren't being influenced by skating or surfing, but by snowboarding itself; a version of snowboarding based on all the hype as it became the "next big thing" in the eyes of the media.
I found myself in a position that was exactly opposite what I believed in, so I started spending all my time building the Colorado Snowboard Archive extension of the Colorado Ski and Snowboard Museum because at least I could focus on the parts of snowboarding that I loved, even in the past. While hunting artifacts for the museum, Troy told me about some guys in Summit County that had bought a storage unit with some of the old snowboard presses from Solid and Summit snowboards, who apparently had a bunch of raw materials like mid-80's Sims bases and Aggression Tarquin Robbins topsheets that we had done the art for decades before.
I walked in to check them out, and I was instantly transported back to Twist. Here were 2 guys, Joe Suta and Tom Schneider, plus a super dedicated crew of team riders that alternated building snowboards and skateboarding. After talking to them a bit, I realized they were completely unaware that most snowboard companies were run out of an office, not a factory. Somehow, I stumbled into one of the most "real" things I have seen in snowboarding for a long time. They were making snowboards, from the ground up, and were completely self-taught, just like we were in the earliest Twist days when we made all of our clothes in Boulder and Denver. Come to find out, Joe was a kid that loved Twist when he was growing up in Chicago, and that era of skate-driven snowboarding helped define the path he was on along with skating, music, and art. He chased the dream to Colorado, met Tom, and they built snowboards and a community of riders at the same time through NIGHTMARE.
They asked me to get involved, and I jumped at the opportunity.
So who is involved in building the business?
Even though I am the one getting interviewed, Joe Suta and Tom Schneider are the original founders and the driving forces behind the brand, and deserve all the credit. Joe has the vision for all aspects of NIGHTMARE, including creating/directing all artistic, video, and digital output. Tom heads up the technical side of running the prototyping and production, building snowboards at our factory in Fairplay, CO. Paul McGinty, who was the Senior Design Engineer at Ride for 7 years and has been building boards for more than 15, came on last year to lend his vast expertise towards the technical side of our snowboards. Paul is a major asset for the brand starting with the boards we will show this year at SIA. My role is to help guide the brand, injecting my knowledge and experience in doses without interfering with the vision too much based on many decades working in all aspects of snowboarding. We work with some amazing artists beyond Joe like Sam Pierson and Mitch Cotie, and Darren Schaeffer is an integral part of our digital output. Then there is the team, who are working just as hard to keep it all moving forward, whether it means risking it all for their movie parts, or helping in the constant "building and moving things" from point A to point B that is the reality of running a snowboard brand. Anyone on the brand side of things knows exactly what I mean.
The riders and riding in the Last Champions movie are raw. Is that where Nightmare stays as a brand and company? Snowboarding in its raw form?
For sure. The riders are definitely the lifeblood of the brand, beyond Joe and Tom. It really isn't easy for any of them. NIGHTMARE is not following the traditional model where we go out and raise a ton of money, then spend it on riders and marketing. All of our riders believe wholeheartedly in the brand, and the success or failure rests heavily on every move they make. There is a lot of pressure to be on the team, because everyone on NIGHTMARE is expected to show up 100%, every time. Joe doesn't put up with amateur hour BS, and every person on the team has to live up to that ideal. That is the raw side that comes through in Last Champions. Every rider is pushing each other to ride at a level that doesn't bring the movie down, and every rider has earned the right to be there. None of them are really getting paid to snowboard right now. They have to earn their way. It just makes it that much better when we do the premiers to standing room only crowds. There is no actual budget to make movies. It is all raw grit and determination, and the guys have a lot to be proud of.

The current team roster is Zachery Ahrens, Josh Boeser, Matt Coughlin, Josh Carreola, Zack Griffin, Eric Gronneberg, Christian Handahl, Alex Malik, Sean Murphy, John Myre, Jade Phelan, and Stu Wozniak.

You'll see them all at SIA.

Buy them a beer if you like what they do.
We are also big believers in creating accessible snowboarding. There are unbelievable things going on right now, and the level of riding has gotten crazy. Because of that, most of the media out there revolves around things that common riders will never be able to afford or experience those things except as a spectator. We concentrate on things that are more accessible to real kids out there that just love to ride. That said, nobody gets after it with as much determination as our crew.
The other thing that keeps the brand raw is that everything we do is completely DIY, and pretty much avoids many aspects of the modern snowboarding industry. Our brand is not based on competing or any type of circuit, except in our own event Bull of the Woods. We love just getting out there and doing it, which by default means a fair amount of urban and urban-style backcountry shots, at least in Last Champions. Everything is budget constrained to be local, and that fits just fine with where NIGHTMARE is at. We are a brand that gets more compelling the closer you get to it. Our inside joke is that big brands would have to pay a lot of money to try to replicate the NIGHTMARE experience.
What is your goal for Nightmare? Where is your right place in the market?
The goal is to create a self-sustaining brand that can give more to snowboarding than it takes. We believe in supporting things that have the opportunity to inspire people. We have a great opportunity to open people's eyes to a lot of things that aren't necessarily a normal part of the snowboard world.
We want only want to be legitimate in the eyes of a certain breed of riders. To that end, of course we want to support all of the core snowboard shops that are out there, doing what we do in their communities. We want to become an important part of their businesses, but also understand that without a huge marketing budget, it will take more time to build brand awareness and demand.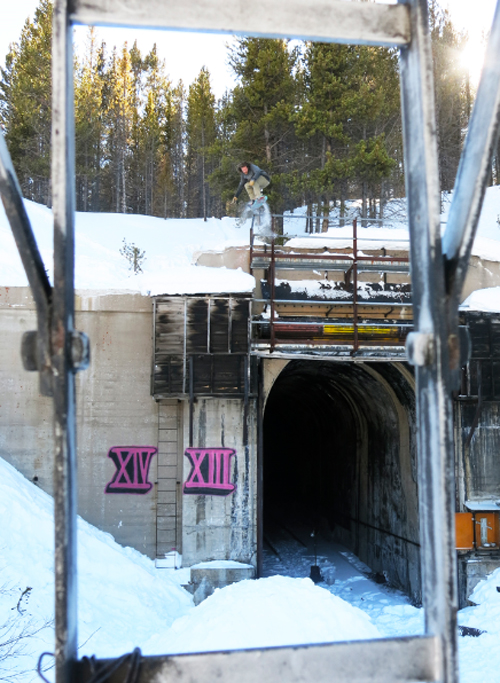 In the meantime, riders can easily find us, and we take care of them. There is still no substitute for walking in a shop and becoming part of the community, (just like we did along the way) but we also don't want to pressure anyone or pull any favors. NIGHTMARE's time will come, and we're sold out of most of our snowboards for the season.
As far as our right place in the market, we aren't the type of brand that a rider is going to make a choice between a major brand and us. The reasons riders buy one brand over another is based on so many factors, and NIGHTMARE is a brand that people either identify with, and want to be a part of, or they don't get it at all. We want to be the brand that fills the gap for anyone who lives a skate lifestyle, but happens to live where they can't skate in the winter. The ship sailed a long time ago when a tight bond between snowboarding and core skateboarding diverged, but that doesn't mean we have to try to be more in line with mainstream contest driven snowboarding and large-scale distribution.
There are five boards in the current Nightmare line. Why five?
It really comes down to the riding style of our core followers and team. The industry has gotten itself in a pretty big mess trying to be all things to all people, creating huge lines that are not sustainable. Bigger brands also need a lot more models because they have to satisfy all of their team rider's needs, different core vs. big box distribution channels, and have a model to compete with everyone else's array of camber profiles and shapes. Of course there are riders out there who have enough money for a quiver of boards for all the different types of terrain they may be able to ride, but we definitely appeal to someone more budget conscious who wants to hit the entire mountain, top to bottom. As a result, everything we make is super versatile, just with different levels of materials and performance. If you see your riding style in our movies, then you will like everything we make. We may expand in the future based on the same needs, but for now, we want to keep it easy for everyone, riders and shops alike.
What is the philosophy behind your board design and construction?
We keep it pretty simple. We make camber and hybrid core profiles, and don't make reverse cambers because we want our riders to know how to really ride a snowboard. As I mentioned, our constructions vary based on different levels of technology, but in every case our underlying goal is to offer the absolute best riding experience we can deliver at each price point, especially under $400 retail. Snowboarding is really expensive to begin with, and we want to keep the barriers to entry as low as we possibly can, without sacrificing a rider's experience. This is a big point of difference compared to a lot of brands out there because we aren't drawing a line in the sand about what country we make our snowboards in so we can truly deliver at the lower end of the price spectrum. The only stipulation we have is that we are able to make amazing snowboards at every price point, and that actual snowboarders are ultimately in control of every part of the process. While NIGHTMARE started out making all boards in house, we didn't have the capacity to produce enough to even supply our local needs. The other problem was there was no way for us to compete at lower price points that align with the needs of our customer base, so we've created the best of both worlds. We have the ability to design and test everything in-house, right down to building our own cores. When it is time for production, we place our larger volume and lower price point models with Dan at GP-87 in the factory he owns in China, then make our higher price point models with lower volume in our own factory in Colorado. While it took some trial and error to get everything right, we are now really, really happy with everything from quality to performance. It all comes down to the quality of materials we put in and Paul's geometries. The fact is if we made exactly the same lower price point board in our own factory, it would be an extra hundred fifty dollars at least for exactly the same snowboard. Otherwise, we would have to go in the business of building and running snowboard factories, instead of focusing on building snowboards. The Established Forever model is our highest end board, and we make it ourselves in limited quantities. In future seasons, we will continue to expand our house made offerings. Again, everything is designed based on many decades of experience of Paul, Joe, Tom, and myself, plus the added expertise of one of the best factories on the planet.
What is your strategy for building a professional and amateur team to represent Nightmare?
Like every other aspect of the brand, strategy isn't really an applicable term, as our team is more like a family. We are going to continue moving in the same direction we are currently in. Our team is already crushing it and is very effective in portraying what NIGHTMARE is all about, because they live it 24 hours a day. They also are all progressing at such a rate that makes it unnecessary to raise a ton of money and go after riders with bigger names, as they are very capable of building their own names. We do want to expand more with shop riders, expanding our community to include other people just like us who relate to what we are doing. To that end, we are also sponsoring some shop riders in Japan and in a few other countries. No matter what, we want to help give exposure to those that believe in the brand.
What are you most excited about with this brand?
I'm really excited about every part of it. NIGHTMARE is a convergence of all the best parts of snowboarding. It is vital and I feel the brand is desperately needed in snowboarding right now. It's not at all centered around "good old days" nostalgia, but I always think of it as "Twist part 2", because I have found in Joe, Tom, Paul, and the entire team, all the things I had been searching for for all those years. It has nothing to do with money. It is a chance to make a difference for a lot of people, as NIGHTMARE is a vehicle for discovery for riders out there that don't fit the standard snowboard industry marketing profile. Most of all, it is my chance to give back any knowledge and experience I have gained from doing many things right and many things wrong in my own career. It is an opportunity to pass the torch help some very passionate people that truly love snowboarding to build a life doing exactly what they love, even if it's not always easy.

RideTheNIGHTMARE.com
@DealsWithDeath1413
---