Back to News
Chill Foundation Brings Youth from Across North America to the Burton U.S. Open of Snowboarding
February 24, 2016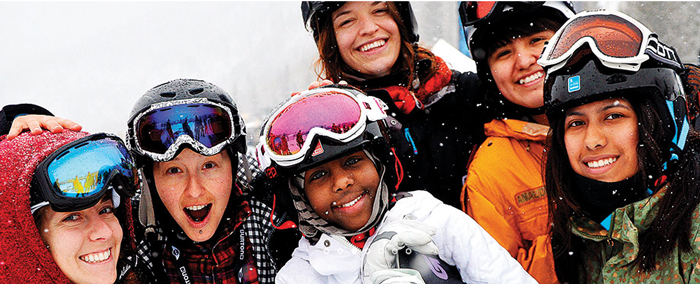 The Chill Foundation will be in Vail, Colorado from Tuesday, March 1st through Saturday, March 5th for the Burton U.S. Open Snowboarding Championships.

Chill, Burton Snowboards' non-profit, provides opportunities for under-served youth to build self-esteem and life skills through snowboarding and other board sports. The organization will bring one stand-out youth from each of its 12 sites across North America to participate in this once-in-a-life-time opportunity. These youth will get a chance to meet Jake Carpenter, Burton Founder, and his wife Donna Carpenter, CEO of Burton Snowboards and Founder / President of the Chill Foundation. Chill youth will also meet some of the world's best snowboarders and see them compete!

Throughout the five days, Chill will host a fundraising event on Wednesday, March 2nd from 8:30 to 10:30 p.m. at the Colorado Ski and Snowboard Museum in Vail. The event will feature an exclusive silent auction, U.S. Open athletes, music, and food. Be sure to stop by and support a great cause. A $20 minimum donation is required at the door.

In addition to Chill's charitable event, the organization will also hold a meet, greet and ride event for Chill youth with Jake and Donna Carpenter on Friday, March 4th.

"The Burton U.S. Open is a life-changing experience for our youth who participate," said Jeff Morton, Marketing and Development Manager at the Chill Foundation. "This event gives Chill kids incredible opportunities that they would never otherwise have. "Being part of the Burton U.S. Open has a profound impact on the life-skills we are trying to instill in the youth that participate in our program."

About Us
Chill is a non-profit youth development program with sites in 13 cities across North America. The mission of the Chill Foundation is to provide opportunities for underserved youth to build self-esteem and life skills through snowboarding and other board sports. Each year, we take 1200 youth to the slopes. We provide them with everything they need to learn to ride: lift tickets, lessons, transportation, and head-to-toe gear. We use snowboarding to motivate youth to accomplish goals they never thought they could, while teaching them some of the most important lessons in life about respect, patience, persistence, responsibility, courage, and pride – our weekly themes within the program. The non-profit youth development program has served nearly 20,000 kids since its inception. Our programs take place in Baltimore, Boston, Burlington, Chicago, Denver, Los Angeles, New York City, Portland, Salt Lake City, Seattle, Toronto, Vancouver, and Washington D.C.

Our History
Jake and Donna Carpenter, the owners of Burton Snowboards, founded Chill in 1995 in Burlington, Vermont, to bring snowboarding to youth who otherwise wouldn't have the opportunity. The program had such an immediate and profound impact that we have continued to expand into new cities, new board sports, and new countries.

Who We Serve
Chill serves youth facing a multitude of challenges such as poverty, addiction, and mental health issues. Many of the youth have never left their cities, and most have never been to the mountains. Chill gives these youth the chance to break boundaries and find their opportunities to be successful in life. More than that, Chill helps them look forward-- to see beyond the circumstances of today and encouraging them to focus on positive alternatives for the future.

Why Chill Rocks
With positive adult role models, engaging activities, and incredible mountain environments we build self-confidence and raise self-esteem. The impact of snowboarding can be particularly inspiring.

Become a Chill Partner
Chill is heavily dependent on the support of individual and corporate donors. To find out how you can partner with Chill, e-mail chill@chill.org or call 802-383-6920. For more information, or to donate, visit www.chill.org.



---