Back to News
Sheckler Foundation Announces Andrew Hale as Road to Recovery Recipient
April 7, 2016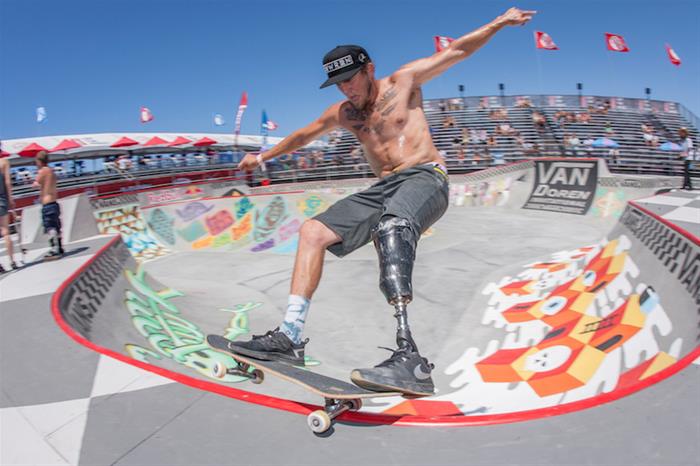 The Sheckler Foundation is proud to announce Andrew Hale's Road to Recovery as its sixth "Be the Change" recipient. As the beneficiary, Andrew Hale will receive support and a $10,000 grant from the Sheckler Foundation. Andrew will use the proceeds to help with the cost of medical treatments, hospital transportation from the mountain and some of the extensive medical bills that Andrew has incurred thus far.
Pro Skateboarder and Sheckler Foundation Founder, Ryan Sheckler says, "It's a blessing that so many people took part in this initiative from entering and voting to making it all happen. We're stoked that the foundation and our communities get to help Andrew on his road to recovery. Congrats Andrew! Hope you get well soon, homie!"
In 1997, Andrew was involved in a car accident and lost his leg. Throughout the years, Andrew became an Adaptive Action Sports athlete and made progress towards making the Paralympic Snowboarding Team for United States of America (USA). After this past New Year's, Andrew suffered through a snowboarding accident that left him with a brain and spinal cord injury.
Before Andrew's life threatening accident he had dedicated himself to Becoming the Change. Through the non-profit organization Adaptive Action Sports, Andrew worked persistently to support the future generation of adaptive snowboarders and skateboarders. He trained, coached, and served as a mentor to adaptive athletes at action sport camps, clinics and events for youth and young adults with physical disabilities. Andrew's impact and expertise is greatly valued by the action sports community.
Ryan Sheckler's "Be the Change" initiative was created to help injured action sports athletes and children in need. Since starting in 2008, the Sheckler Foundation has been paying it forward to help numerous individuals and causes. The past five "Be the Change" winners include: The Port Gamble S'Klallam, Peach's Neet Feet, The Ashley Wade Foundation, Hope for Carter and Gamerosity. For additional info on The Sheckler Foundation, stay tuned to: Facebook, Instagram, Twitter, LinkedIn and visit shecklerfoundation.org.
---