Back to News
ElliptiGO Steps Up to Support REI Outessa Summit
April 28, 2016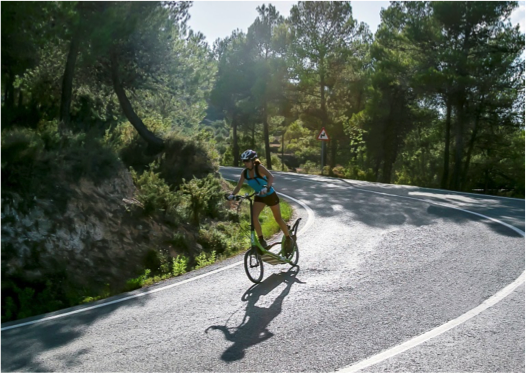 First-of-its-kind event series offers women outdoor education, recreationand adventure in stunning mountainous settings

ElliptiGO Inc. today announced its sponsorship of the REI Outessa Summit, outdoor weekend getaways for women which offer authentic outdoor adventures led by professional athletes and guides. In its inaugural year, the two weekends will be held at Kirkwood Resort near Lake Tahoe, California, from August 19 to 21, and Powder Mountain near Salt Lake City, Utah from September 9 to 11. Registration opens to the public today.

As part of the partnership, ElliptiGO will provide outdoor elliptical bicycles for attendees to ride during guided adventure tours at scenic Outessa locations. Combining the best of running, cycling and the elliptical trainer, ElliptiGO bikes provide a fun, cardiovascular workout alternative that eliminates impact on joints and allows people to get out of the gym and enjoy the outdoors. ElliptiGO will have available a selection of its original long-stride elliptical bikes and its newest model, the Arc.

"ElliptiGO is thrilled to be participating in the REI Outessa Summit. It provides a great opportunity to try new experiences in an amazing setting. This may be the first time some attendees have had a chance to try an ElliptiGO bike. All it takes is one ride to appreciate how fun, comfortable and effective the workout experience is and why it has inspired thousands of people to stay active in the great outdoors."

"Through the REI Outessa Summit, we are offering women the opportunity to try something new and experience some unforgettable outdoor adventures," said Julia Stamps Mallon, co-founder and VP business development of the REI Outessa Summit. "We are excited that ElliptiGO has signed on to provide elliptical bikes for the attendees' use and enjoyment."

These weekends boast flexibility and variety since each attendee can customize her schedule, although choosing classes might be the biggest challenge as more than 200 options exist. Camping, backpacking, kayaking, outdoor cooking, mountain biking, paddle boarding, rock climbing, yoga, hiking and trail running are some of the offered activities.

ElliptiGO rider, Hollywood stunt actress and "American Ninja Warrior" contestant, Jessie Graff, will be on hand to ride with Outessa women at both the Kirkwood and Powder Mountain locations. Graff is an impressive athlete who uses elliptical cycling to maintain the cardiovascular fitness required by her grueling career. Having ridden an ElliptiGO bike since 2014, including participation in the 2014 Elliptical Cycling World Championships, Graff is excited to lead participating women on an adventure tour of the area.

Mallon added, "After three days, Outessa women will find inspiration in their peers as well as in their own new-found abilities. We want them to connect with the outdoors and each other during these unforgettable weekends."

To learn more and register, visit www.outessa.com, follow on Instagram and Twitter, and like on Facebook.

---