Back to News
Outdoor Retailer Moosejaw Launches Virtual Reality App
May 5, 2016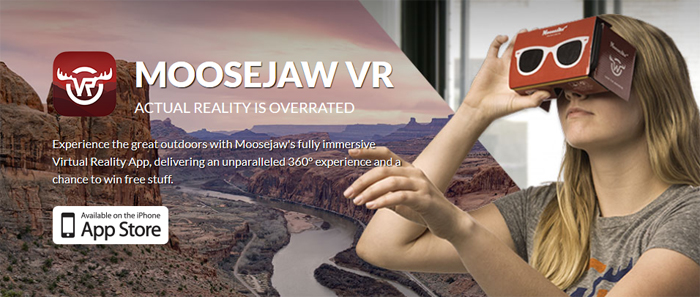 Moosejaw's at it again. Following 3+ million downloads of their X-Ray App, the wacky outdoor retailer is releasing a Virtual Reality App that lets you experience an array of outdoor activities while still in your underwear, plus win a bunch of cool gear from The North Face, Patagonia, Arcteryx, Marmot and more.
"Actual Reality is overrated," said Eoin Comerford, Moosejaw's CEO, "It's sweaty and messy and generally doesn't involve winning cool prizes."
The Moosejaw VR App is available for free download on the Apple App Store. For the fully immersive experience, Moosejaw is giving away limited edition Moosejaw Cardboard VR viewers (free with orders over $49.) Those that don't have a fancy VR headset can still access all the experiences in 360-degree mode.
Viewers will need to keep their eyes peeled (or at least open) because each experience is followed by five questions like "You probably shouldn't be hiking in these." Answer all five questions and you'll be entered to win a $500 Moosejaw Gift Card or gear featured in the video.
"You can earn badges and compare your stats on the leaderboard for legit bragging rights," added Dan Pingree, Moosejaw's VP of Marketing. "Let's face it -- nothing's worth doing without the ability to share your achievement with the world."
The app is being launched in concert with the Moosejaw VR Catalog that contains codes to unlock behind-the-scenes videos with hints for answering the questions.
The Moosejaw VR App launches with VR experiences for climbing, backpacking and swimming shot in Moab, Utah with the assistance of desert gnomes and drones. New experiences and contests will be released on a regular basis, including more summer stuff from Moab plus skiing, snowboarding, and ice climbing shot in the backcountry of Ouray, Colorado.
---