Back to News
Hyper Bicycles Named Official Bike of Nitro Circus
June 13, 2016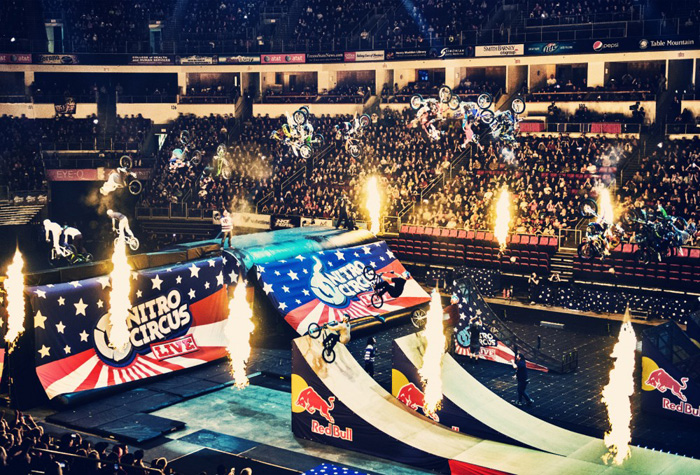 Global Action Sports Leader Teams with Top BMX and Mountain Bike Producer For New Bike Range

Nitro Circus, the world's leading action sports entertainment brand and Hyper Bicycles, Inc, a leading manufacturer of BMX bikes, mountain bikes and other specialty products, have announced a licensing partnership. This multi-year agreement, effective immediately, establishes Hyper Bicycles as the official bike of Nitro Circus. Millions of fans have seen athletes like the legendary James Foster ride Hyper Bicycles in sold-out Nitro Circus Live shows around the world. Now Hyper Bicycles will be an even more prominent part of this incredible touring event, through on-site fan giveaways and much more.

Hyper Bicycles will also distribute and sell a range of new Nitro Circus-inspired products including BMX bikes, mountain bikes and both 6 and 12-volt electric motorbikes for adults and kids. Thanks to Hyper's extensive retail distribution network, these will be available in stores next year.

"X Games medalists and Olympic champions have chosen Hyper Bicycles for their tremendous quality and cutting-edge innovation," said Peter Maule, Nitro Circus' global head of licensing. "That credibility, built over Hyper's 26-year history, speaks volumes and is perfectly aligned with the Nitro Circus brand. Having such an established partner in this important category is definitely a major win for us."

Hyper Bicycles CEO Clay Goldsmid said of the partnership; "We see a strong synergy between the Hyper and Nitro Circus brands. We share a dedication to action sports and competition with the crowds that come out to see Nitro Circus and the loyal customers who have supported Hyper for more than 25 years."

Travis Pastrana, action sports icon and Nitro Circus ringleader, had this to say; "Growing up I was always a fan of the Hyper brand. A lot of this was because my best friend, and one of the original members of the Nitro Circus crew, Jim DeChamp had a connection with Clay Goldsmid, the owner of Hyper. When I was 12 years old, he was able to convince my hero at the time, Tim "Fuzzy" Hall, to stop by and ride our back yard dirt jumps.

Later at the Columbia BMX National, I was trying to show off in front of another Hyper-backed rider Eric Carter (who later became an MTB legend) and landed straight on my face over the first triple step up at the Columbia track. Eric came and picked me off the ground and I explained to him that I just wasn't cut out to ride 20" BMX bikes because the short wheelbase was so different from the dirt bikes I was used to riding. So Eric got in touch with Clay at Hyper and they built me a custom 24" Cruiser for my 13th birthday. That bike saved me from God knows how many face-plants over the next three years of my life.

Since then Hyper has been a big part of the progression of Nitro Circus and their bike technology has helped shape history. Thanks to my good friend James Foster and his Hyper bicycle, I get to see a triple back flip every night in the show. I couldn't be more excited to have Hyper on board for all the shenanigans we will get up to in the future."

This announcement follows the game-changing launch of Nitro Circus' e-commerce platform, shop.nitrocircus.com, in May 2016 and is just the latest move in Nitro Circus' comprehensive licensing and consumer products strategy. Nitro Circus will continue to roll out an expansive global collection in the coming months across both soft-lines and hard-goods featuring sporting goods, toys, video games and more.

Named #22 on Forbes magazine's 2015 list of, "America's Most Promising Companies," Nitro Circus creates spectacular live events and unbelievable original content for thrill seeking fans worldwide. With over two million tickets sold to date, television programming that has aired in over 60 countries and an aggressive slate of digital media offerings garnering 100 million views per month, Nitro Circus is at the forefront of action sports and entertainment.

Hyper Bicycles, Inc. was established in 1990 by former BMX pro Clay Goldsmid. Initially, the company produced high-end BMX Racing frames and components. The company also established an ongoing commitment to supporting riders and the sport through sponsorships of individuals and teams. Hyper has since diversified, becoming a major player in mass market and specialty sporting goods offering BMX, mountain bike and other products to a broad audience of consumers. The company continues to seek industry partners that share its vision of support and commitment to producing high quality, high performance products.



---