Back to News
Hookit and VerifiR awarded 2016 SDSI Star Brands and $5,000 Cash Prize
June 13, 2016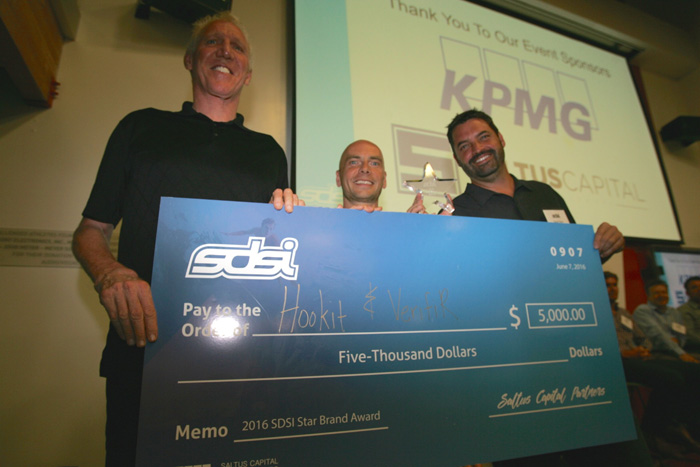 Celebrity and investor judges honor top graduates of SDSI Springboard business mentoring program
SD Sport Innovators (SDSI) is excited to announce Hookit and VerifiR as the winners of the inaugural SDSI Star Brand Award and $5,000 cash prize. The SDSI Capital Forum & Star Brand Award presented by KPMG and Saltus Capital Consultants, celebrates the courageous and dedicated entrepreneurs who take the risk of bringing new products, services and ideas into the Sports and Active Lifestyle (SAL) market. It provides a platform for the SAL investment community to see and evaluate emerging SAL businesses.

The 2016 SDSI Star Brand Award winners were announced on June 7, 2016 at the SDSI Capital Forum held at the Challenged Athlete Foundation. Six up-and-coming SAL companies presented their business opportunities to a panels of celebrity investor judges and an intimate room of investors. The judges included; Bill Walton, basketball legend & SDSI Chairman; Tony Finn, "Godfather of Wakeboarding" & founder of Liquid Force; Beaver Theodosakis, founder of prAna; and Robert Reynolds, Director at Park Lane sports investment bank.

"All six of the presenting companies were over the top exemplary," said Walton. "They made it overwhelmingly difficult to select just one winner – so we selected two. Ultimately, they are all winners and well prepared for their future success! What a night! I wish everything in my life could be just like the SDSI Capital Forum and Star Brand Awards – let's do some more of that"

Rather than break a tie, thanks to SDSI's generous sponsors, VerifiR and Hookit were named co-winners of the Star Brand Award and each company took home a $5,000 check. The event emcees were Sully Sullivan and Russ T. Nailz, co-hosts of the Big Biz Show.

"The team at Hookit is honored to have received this award recognizing the efforts we have put into building Hookit to where it is today," said Scott Tilton, Hookit CEO and co-founder. "Our involvement with SDSI over the years and programs like SDSI Springboard have been a real inspiration and provides incredible support to emerging companies here in San Diego."

Presenting companies included: Aculief, Advntur, Hookit, LALO, SkateXS and VerifiR. All presenting companies were vetted by and graduates of SDSI Springboard, a 20-week business mentoring program that helps prepare companies for sustainable and scalable growth. SDSI Springboard is now accepting applications through June 26. Learn more and apply to SDSI Springboard here for a chance to participate in the 2017 SDSI Capital Forum and Star Brand Award.



---