Back to News
Alex Ortiz, Road to the Olympics
June 20, 2016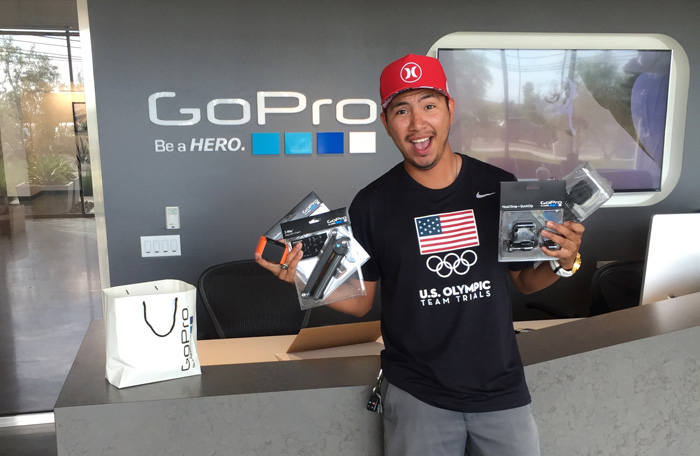 Alex Ortiz, who works in social media and marketing at Ethika, is a natural in rallying support for a cause. His first big success in bringing people together enabled him to make it to a summer speed skating training camp in Salt Lake City, Utah. Here's the story of Alex pulling together support from friends, family, and community to reach the 2016 Olympics in Rio De Janeiro, Brazil.

How did the idea come about to go to the Olympics?

I grew up in a small West Texas town called Kress. With a population of only 700 people, We didn't have much going on. I was an over hyper kid who didn't do well in school, and was diagnosed with osgood schlatter disease at an early age so wasn't able to play any sports. When I was 10 years old, I watched the 2000 Sydney Olympics on T.V and remember seeing Michael Johnson win the gold medal in the 400m. That moment sparked something in me, and I was inspired to join the Kress junior high track team despite the complications with my knees. I was able to overcome the pain of osgood schlatter, and became a top ranked 400m and 800m runner in my school district. Then a few years later in 2006, my dad and I were watching the Torino Olympic Games on T.V and I saw Apolo Anton Ohno win his Gold Medal in the short track Speedskating 500m event. I had never ice skated in my life, and to see the speed these guys were going fascinated me. This pushed my Olympic interest even further.

I spent some time researching for ice speed skating training centers, I found that the facility that hosted the 2002 Olympic Speed Skating events offered summer training camps for beginners. In the summer of 2006, I was invited to a speed skating training camp at the Utah Olympic Oval in Salt Lake City, UT. My parents were being pretty resistant to let me attend the camp as I was only 16 years old, had never been on an airplane, and simply could not afford the traveling and camp fees. After weeks of talking to my family about this incredible opportunity, my parents allowed me to attend the camp - only if I was able to raise the $1,200 for the expenses. This was going to be a challenge, but I took this unique opportunity and went to every business (on foot) in my community and told them my story and my pursuit to the Olympics. Within 2 weeks, I was able to raise the $1,200 needed for all my traveling and camp expenses.

After attending two speed skating training camps in Utah, and with the help of Texas Tech University I was able to graduate high school early, and move to the Olympic Training Center in Milwaukee, WI. From 2008-2010, I was able to compete as a U.S Speedskating athlete at the American Cup, Champions Challenge, and the U.S Junior National Championships.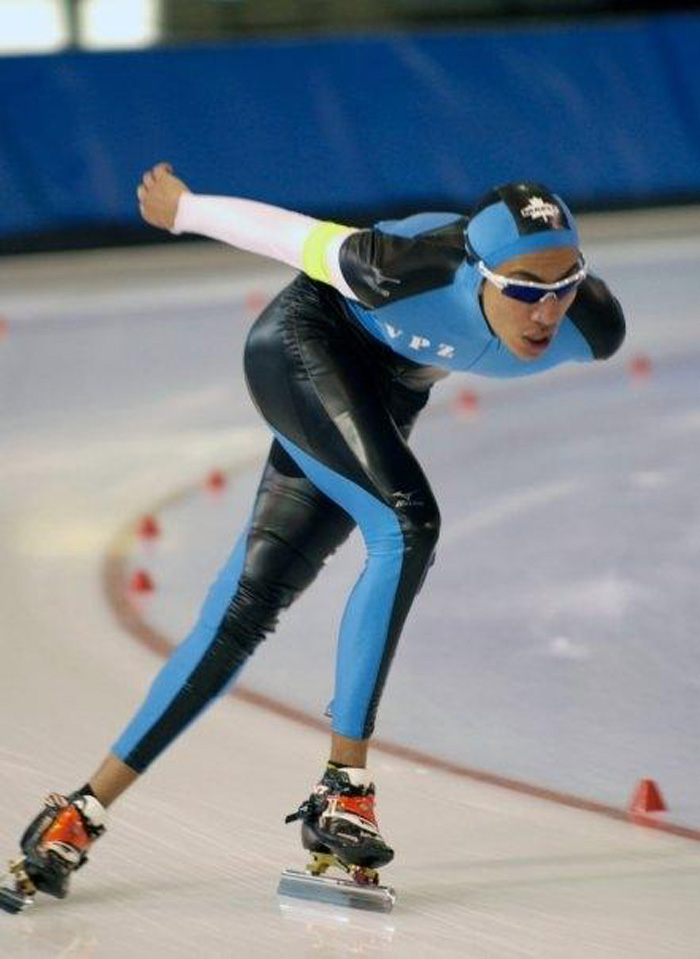 Alex Ortiz, practicing his craft on the ice.


I decided to retire from competition and jumpstart my career in sports after missing the 2010 Olympic Trials by 2.1 seconds,

In 2014, the Rio2016 Olympic Organizing Committee invited me to apply for a position in their Olympic Volunteer Program. In this moment, I was given the opportunity to continue my Olympic Dream.

Why is it important to you?

This moment is important to me for 2 reasons. First: My vision as a kid was making it to the Olympic Games. I wanted to set an example for my community, and show them what chasing your dreams can accomplish. When I retired from athletics in 2010, I felt that I wasn't able to fully set that example of accomplishment for my community. I truly believe that being a part of the Rio2016 Olympic Games will give me that closure, and I hope that my community is proud and inspired to pursue their dreams.

Second: My Journey to the Olympic Games would have not been possible without a phenomenal support system. Many people donated their hard earned money towards my journey so that I could keep fighting for my dream. This moment is especially important to me, because I want to make sure that every person that has ever contributed to my Olympic Dream knows that I remember every single act of kindness you've shown me. And you will all be with me to put our piece of history into the Olympic Games.

What will you be doing at the Olympics?

I will have 2 assignments at the 2016 Olympics. My first assignment is PRINT AND DISTRIBUTION TEAM LEADER at the Olympic Hockey Center in the Deodoro zone of Rio de Janeiro. My duties will include leading a team of 10-15 international volunteers, and overseeing the print and distribution of official results for Men and Women's Field Hockey events. My second assignment is HOSPITALITY MANAGEMENT at the USA House for the United States Olympic Committee. My duties will include assisting with Gold Medal Celebrations, Athlete and Political Leaders relations, and operations of daily activities.
Please share the story of your fundraising efforts. What do you think enabled you to succeed in meeting your fund raising goal?

Being that my assignments at the Rio2016 Olympic Games was going to be a 100% voluntary commitment; I knew that I would have to find a financial way to make this project happen. In March 2016 I launched a fundraising campaign to assist me with the cost of travel, accommodation, and legal documents. The launch of this campaign took me back to when I was 16 years old. I began to think to myself, "with no education in business, marketing, or promotions at that young of an age, how was I able to successfully complete my first fundraiser?" After days of brainstorming, and asking some friends in the sports industry for advice, I came to an amazing conclusion. I believe that the reason my first fundraiser was successful was because I authentically told a story, and never let rejection stop me from reaching my goal.

Back in 2006 during my first fundraiser, there was no access to Facebook, Instagram, or LinkedIn for a 16 year old, so I walked business to business to promote my project. Now in 2016, I am able to utilize these social media platforms to authentically tell my story and promote my project to a wider audience. I first reached out to my family with a very detailed description of my fundraiser. The second week, I reached out to my closest friends. The third week, I sent messages to my connections on LinkedIn and Facebook who worked in sports or who had an influence on my career. This strategy helped me be personable with each potential sponsor, and helped me express how much each of their contribution was going to make towards the success of my fundraiser.
After a few short weeks, 22 amazing individuals helped me successfully raised over $2,000 which covered the cost of my flight, accommodations, and passport fees for Brazil.

Do you think your profession helped you succeed?

Absolutely!

I've been very fortunate to work with two brands that have a powerful influence in Sports. My 4 year career at Oakley helped me develop my skills in international clientele relations, and public speaking. My current position at Ethika has helped me develop my skills in marketing, event operations, and professional athlete relations.

The skills that I've learned in my profession were definitely helpful tools and played a key role in the success of my fundraising project, and being recruited by the Rio2016 Olympic Organizing Committee and U.S Olympic committee.

What are you most excited about?

There is so much to be excited about! From being able to be a part of South Americas first Olympic Games, to having the honor of being a guest representative at the USA house for the United States Olympic Committee!

But what I think I'm most excited about is being able to experience the presence of the whole world in one beautiful city like Rio de Janeiro!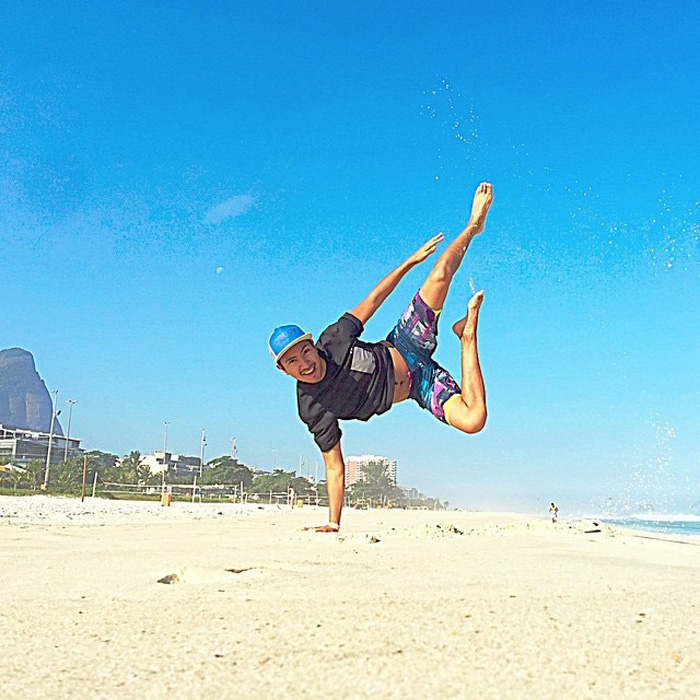 Would you like to acknowledge anyone right now?

I would like to take this opportunity to acknowledge my 22 individual sponsors! Without you, this Olympic journey would not have been possible. Thank you!

-Chase Vance
-Mel Walls
-Norma Juarez
-Armando Juarez
-Kenneth Bell
-Danny Dahl
-Alan Luna
-Thomas Craig
-Chad Mihalick
-Adam Robbins
-Brennon Bloom
-Adrian Bolgarin
-Cindy Belt
-Tina Brechlin
-Maryna Razhko
-Sandra Aven
-Steven Price
-Justin Michael
-Evan Jones
-Nicole Aguilera
-Natalie Galvan
-Arturo Ortiz




---