Back to News
Emmy Award-Winning Series World of Adventure Presented by Subaru Unveils New Digital Distribution Partnership with TEN: The Enthusiast Network
July 6, 2016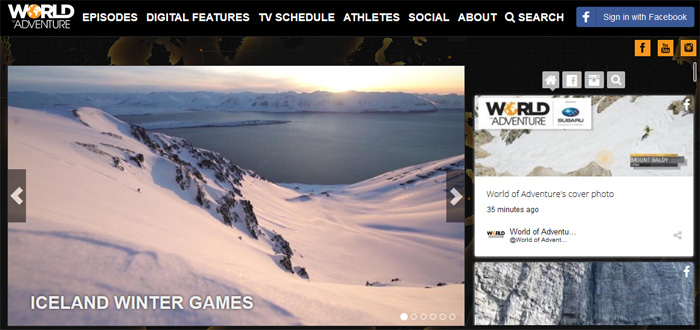 World of Adventure Presented by Subaru, the long running Emmy-Award winning series showcasing content from the best athletes and stories in adventure sports today, unveiled major digital expansion for the property with the announcement of a partnership with TEN: The Enthusiast Network's GrindTV platform, as well as increased broadcast hours on Outside Television and the confirmation of world renowned freeskier Angel Collinson as host.

Expanded Distribution
This new media partnership with adventure sports industry leader GrindTV will play a central role in dramatically elevating the digital reach of World of Adventure (WOA), which was acquired by leading adventure lifestyle company POWDR in 2013.

GrindTV, the world's largest gateway to adventure sports and outdoor lifestyle and an official adventure sports content provider for Yahoo, will serve as the official digital distribution partner of WOA. As part of this deal, original digital content from the series will be released weekly to GrindTV's six million plus monthly users.

"GrindTV.com is the perfect digital distribution partner for the World of Adventure series," said Norb Garrett, Executive Vice President/General Manager of TEN: The Enthusiast Network. "Our focus at GrindTV is on being the gateway to adventure sports and outdoor lifestyle where consumers can view the world's most compelling action and adventure sports content through mobile, web and social platforms. We're excited about working with World of Adventure, Outside Television and POWDR teams to amplify this outstanding content."

Additionally, through WOAand Outside Television's ongoing partnership, WOA will continue to be broadcasted exclusively on Outside Television, the only national 24/7 network dedicated to the active adventure lifestyle and the 143 million Americans who regularly participate.

"Outside Television continues to view WOA as one of our benchmark programs in our robust active adventure lifestyle programming schedule. Adding Angel Collinson as a host to World of Adventure's compelling content, storylines and locations speak to the network's brand perfectly,"said Rob Faris, SVP Programming & Production of Outside Television.

More 2016 developments includethe debut of an enhanced web and social experience via thewoa.com and its associated social media channels and full integration through all of POWDRconsumer touch points including mountain resorts, content, digital platforms, and events.
"We are really excited about our new partnership with TEN," said President of POWDR Enterprises, Wade Martin. "World of Adventure has always been a terrific platform for brands to tell unique and authentic stories, and now, through the partnership with TEN, we will deliver our content to significant and targeted digital audiences. With TEN, Outside Television, and our presenting partner Subaru, we believe we have the right team to lead World of Adventure forward."

Host - Angel Collinson
In 2016 Big Mountain skier and rising action sports star Angel Collinson will assume host duties for WOA. As host Angel will bring viewers along with her as she explores a variety of top adventure destinations. Collinson is a former Freeski World Tour Champion, 2015 Freeskier of the Year and has starred in multiple pioneering ski films.
"World of Adventure's core editorial mission is to travel to the world's most extraordinary places to reveal the stories of amazing athletes pushing the limits of what is possible and to that end Angel couldn't be a better fit," said Rufus Frost of 360 Media Ventures.

The New World of Adventure
For the past 12 years WOAhas provided an innovative platform for brands, events and tourism boards to connect and engage with the outdoor sports, adventure travel and active lifestyle community in relevant and authentic ways and will continue to do so in 2016 and beyond.
Series creator 360 Media Ventures will continue to produce WOA on behalf of Series owner POWDR and handle all digital and broadcast production. Key partner Subaru will return as official Auto Partnerand work alongside WOA to generate engaging Subaru-related broadcast and digital content.
"Subaru has become a brand synonymous with the outdoors and active lifestyles," said Brian Cavallucci, National Advertising Manager at Subaru of America. "Our continued partnership with World of Adventure allows us to not only engage this community with amazing new content, but to help showcase the best athletes and stories from around the world."
World of Adventure Presented by Subaru will air all year long on Outside Television and original digital content will be released weekly at www.GrindTV.com. WOA can also be found at www.thewoa.com and on Facebook (www.facebook.com/worldofadventuresports), Instagram (@worldofadventuresports), YouTube (www.YouTube.com/woastv) and SnapChat (World of Adventure)



---