Back to News
Element and Major League Baseball Partner on Board Series
July 12, 2016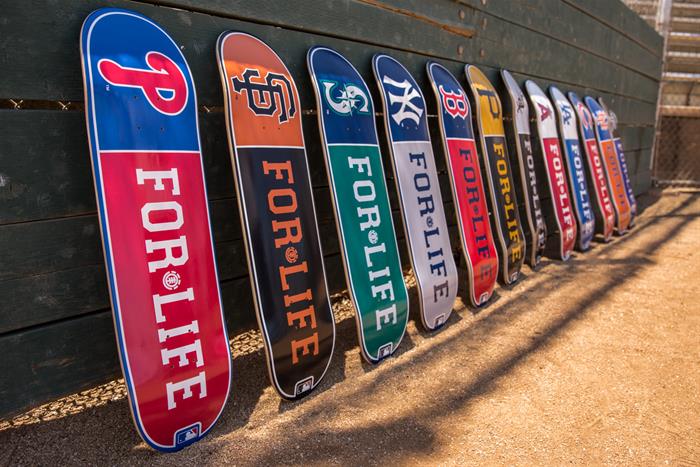 Today, Element is excited to announce a licensing partnership with Major League Baseball (MLB) to create a series of team skateboards. The partnership with MLB allows Element to produce boards of all 30 teams. This introduces a new category to the market that offers skateboarders the opportunity to represent their favorite hometown baseball team and heroes. From the New York Yankees to the Los Angeles Dodgers, check out Element's MLB deck offering here: http://us.elementbrand.com/mens/page/element-skateboards-mlb-baseball
The Element + MLB Skateboard series was inspired by the connection, history and dedication towards a skateboarder's respective hometown and love for the team.
During the 2016 MLB All-Star Game festivities, Element is showcasing the board series at the MLB All-Star FanFest at the Convention Center in San Diego, California. Fans can come by to checkout the boards, hangout with the Element crew and have the chance to purchase the boards on-site.
The Element + MLB Skateboards soft launched with 20 exclusive skate shop collaborations including FTC, Orchard, Familia, Alive and Well, 303, and many more. The "Club" and "For Life" series are now widely available for $60 at skate counters across the nation, and online atwww.elementbrand.com and MLBShop.com. Element will also be offering $100 complete skateboards of the Los Angeles Dodgers, San Francisco Giants, New York Yankees, Boston Red Sox, and the Los Angeles Angels. All Element + MLB Baseball completes include grip tape, team colored trucks, 52mm wheels, hex bolts and Abec 5 bearings.
About Element: Founded in 1992 by skateboarder and artist Johnny Schillereff, Element has grown from a skateboard company to a global brand spanning hard goods, apparel and accessories for men, women and boys represented by the best skateboarders in the world. Through the longstanding Advocate series, Element has developed a rich tradition of collaborating with top artistic talents including PUSH, Thomas Campbell, Jeremy Fish, Timber and photographer Brian Gaberman, among others. Today the company is sold in more than 60 countries and 5,000 points of sale in leading destinations across the US, Canada, Europe, Australia, Brazil and Japan. For more information please visitwww.elementbrand.com.



---