Back to News
New Collaboration Ethika x The Game x Robin Hood Project
July 15, 2016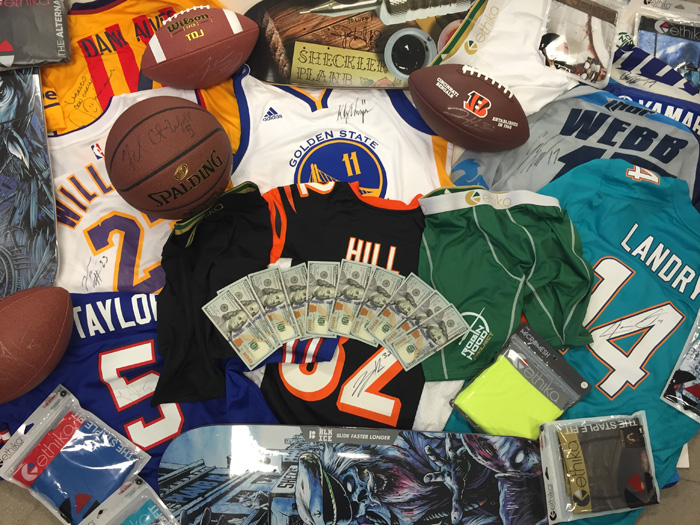 Ethika is excited to announce unique collaboration with The Game and his Robin Hood Project initiative. The three-piece collection was designed with spreading generosity and kindness as the ultimate goal.

"When we first sat down with The Game, he brought a concept to us that I thought was a perfect fit for Ethika," said VP of Marketing Danny Evans. "He wanted to make sure that every single person who bought his pair was also surprised with some sort of gift in the package. I knew that the rest of our athletes would immediately want to be involved as well. We have football players, basketball players, skateboarders, motocrosss riders and the rest of our team all coming together to throw in cash and autographed gear in order to really stoke people out. At the end of the day, the ultimate goal is to encourage the customers to spread the generosity and pay it forward. For every pair sold online and in stores with our retail partner DTLR, we will also be donating a pair of Ethikas to a community in Little Rock, Arkansas. This has been a fun project from start to finish."

The Robin Hood Project Ethikas were designed on our new breathable Micromesh material in black, green, and white. The pairs sold out in record time on www.ethika.com but are still available exclusively in DTLR locations.

Ethika is focused on expressing every person's individuality across a variety of cultures including, skateboarding, motocross, bmx, snowboarding, surfing, basketball, football, music, art, and fashion. More Ethika news, photos, and videos can be found on Twitter (@ethika), Instagram (@ethika), and online at www.ethika.com.



---