Back to News
Lucid Eyewear Introduces The Albatross- the official sunglasses of the PGA Lecom web.com tour.
August 23, 2016
From their Los Angeles headquarters, Lucid Eyewear set out to design a sunglass that would be affective for all types of active people and yet would not sacrifice style. The result is the Albatross, which features a lightweight simplistic frame matched with a crystal clear polarized lens making it perfect for outdoor enthusiasts and those who have an active lifestyle.
Lucid Eyewear | Albatross from Lucid Inc. on Vimeo.
"We designed the Albatross to stay on your face no matter what activity you are involved in," says Founder/President, Mark Reininga. "It's spring hinge molds to your face and minimalistic design gives you an unobstructed view."
This all-new Lucid sunglass model comes in black and grey polarized and tortoise and gold polarized and each pair comes in a beautifully crafted leather case and can be ordered direct online at lucidwear.com.
"Golf is one of the most popular outdoor sports in the world and thus the launch of the Albatross is perfect for those who spend their days on the greens," added Reininga. "We are proud to be the official sunglass of the Lecom health challenge for the web.com Tour which is part of the Professional Golf Association (PGA). http://www.lecomhealthchallenge.com/sponsorships/
Spread The Shade - Giving Back With Every Pair Sold
And as always, for each pair of sunglasses sold, Lucid will donate five dollars to Mikey's Way Foundation. Together with Mikey's Way, Lucid will help Spread The Shade helping children cope with the emotional strain and isolation associated with prolonged and debilitating treatment for cancer and other life-threatening illnesses. http://mikeysway.org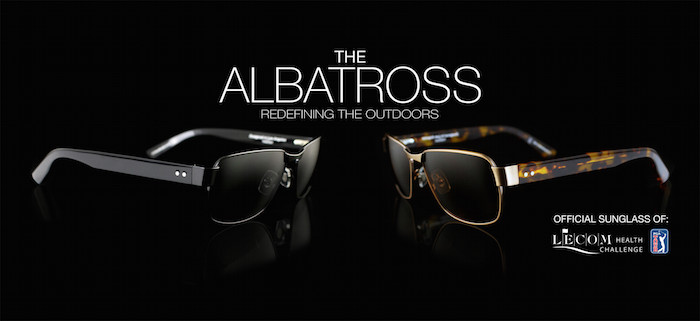 Check Out The Entire Lucid Eyewear Collection: https://lucidwear.com/collections/all
Lucid Collections Technology: http://lucidwear.com/pages/design
About Lucid Eyewear:
Lucid Eyewear was established in 2013 with a mission to design, develop and deliver high quality products that help define individuals through lifestyle, culture, music, fashion and desire. The Lucid passion is to positively influence the world by directly giving back with each, and every, product that is sold. For more information on Lucid Eyewear visit http://www.lucidwear.com/
---