Back to News
Nitro Circus Teams with Ethika for Exclusive Underwear Collection
September 20, 2016
Nitro Circus, the world's top action sports entertainment company, and Ethika, a leading underwear brand driven by personal identity, have announced a new licensing partnership. The agreement, effective immediately, follows the March 2016 debut of Ethika's signature Pastrana Vintage collection celebrating Nitro Circus co-founder and global motorsports icon Travis Pastrana.
As part of this new partnership, Ethika will release a signature Nitro Circus underwear collection. Inspired by the record-breaking achievements of Nitro Circus' daredevil athletes, these exciting designs will embody the individuality of the Nitro Circus crew and feature the quality and comfort they expect. Available in men's and boys' styles at major retail locations and online in 2017, more details regarding the Nitro Circus collection will be announced soon.
"I'm so pumped to take this collaboration with Ethika to the next level," said Pastrana. "I've been a part of Ethika from the beginning and couldn't be more proud of my friend Malcolm McCassy for coming so far and bringing Ethika to the forefront of comfort and style. That entire crew is dialed in to the action sports community. It truly is a Familie."
"We are thrilled to join forces with Ethika and partner on this exciting collection," said Peter Maule, Nitro Circus' Global Head of Licensing. "Ethika is a tremendous industry leader whose style and originality resonates across youth culture."
"Ethika has been worn by the athletes since the birth of Nitro Circus," said Ethika VP of Marketing Danny Evans. "We are excited to combine the Nitro ideas and designs with our expertise in the underwear category. We will be offering the styles as part of our youth line as well so there will be something for the whole family."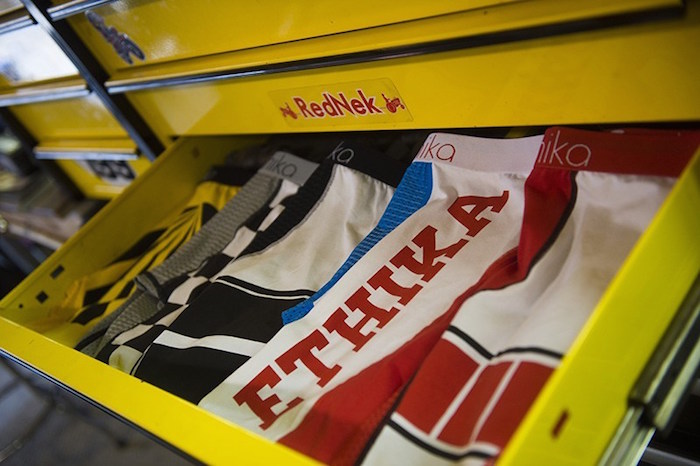 Nitro Circus entered the licensing arena full-force in 2015 and will continue to roll out an expansive global collection in the coming months across both soft-lines and hard-goods featuring exciting sporting goods, toys, video games and more.
Named #22 on Forbes magazine's 2015 list of, "America's Most Promising Companies," Nitro Circus creates spectacular live events and unbelievable original content for thrill seeking fans worldwide. With over two million tickets sold to date, television programming that has aired in over 60 countries and an aggressive slate of digital media offerings garnering 100 million views per month, Nitro Circus is at the forefront of action sports and entertainment.
About Nitro Circus:
Named #22 on Forbes magazine's 2015 list of, "America's Most Promising Companies," Nitro Circus continues to position itself as the world's leading youth action sports & entertainment brand. From humble beginnings in 2003 – with Jeremy Rawle, Gregg Godfrey and soon to be action sports superstar Travis Pastrana producing DVDs from a Utah garage -- to a smash TV series which has aired in over 60 countries, Nitro Circus has exploded to global popularity. In 2012, Nitro Circus: The Movie, featuring cast members from the hit television series, was released in cinemas worldwide. In 2015, Nitro Circus announced a partnership with NBC Sports Ventures. The multi-year strategic alliance features TV specials, such as the recent Nitro World Games, and series programming airing nationally in the U.S. on NBC and NBCSN as well as streamed on NBC Sports Live Extra.
The TV show was transformed by action sports industry guru, now current CEO, Michael Porra into a must-see live event in 2010, creating the global touring phenomenon that is Nitro Circus Live. Since its inaugural Australian trek six years ago, the show has travelled the globe, obliterating box office records and cultivating a legion of diehard fans. Nitro Circus has now rolled across five continents, blown away over two million fans and sold out shows in the United States, Canada, Europe, Australia, China, Japan, the Middle East and South Africa. After close to 100 shows globally in 2015 and with a packed 2016 touring schedule, Nitro Circus is undoubtedly the world's most successful action sports touring brand. For more information visit www.nitrocircus.com.
About Ethika:
Located in San Clemente, Ethika was founded in 2001 with the mission of filling a void in the underwear category. Ethika has become a category leader with a focus on creating the perfect fit and infusing it with style across a variety of cultures including, skateboarding, motocross, bmx, snowboarding, surfing, basketball, football, music, art, and fashion. No matter what your passion, talent, or daily life includes, Ethika is the brand that is with you everywhere. More Ethika news, photos, and videos can be found on Twitter (@ethika), Instagram (@ethika), and online at www.ethika.com.
---