Back to News
Why the New Issue of Transworld Skateboarding Magazine is so Important for Girls in Action Sports
October 14, 2016
By Cindy Whitehead - Pro Skateboarder & Founder of Girl is NOT a 4 Letter Word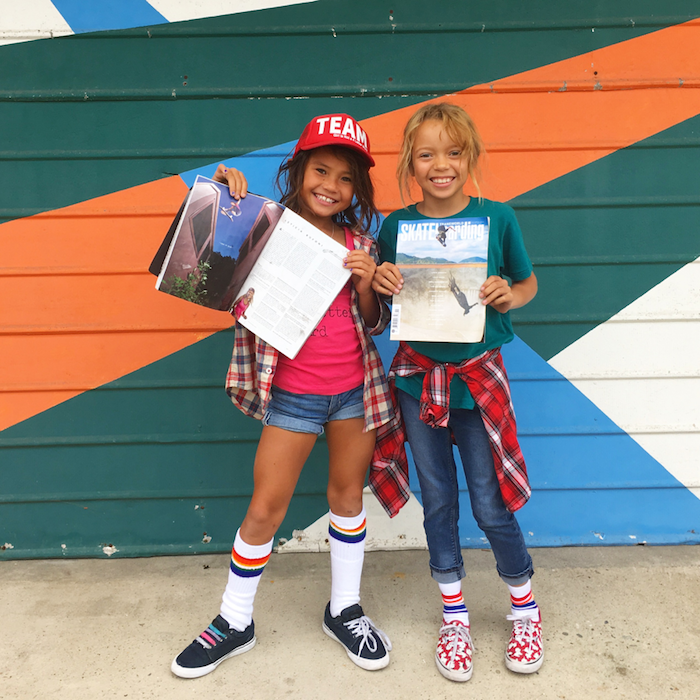 I still can't believe it...
Pro skateboarder Lizzie Armanto is on the cover of Transworld Skateboarding Magazine, and the pages inside are filled with interviews, photos, and ads, except this time the magazine is 90% women and girls. That is unheard of in a male dominated industry like skateboarding. The girls are shredding. The pictures are seriously rad, and the words are inspiring. Barnes & Noble, as well as skate shops everywhere, are selling out of the magazines left and right, and we are only on day TWO since it launched. Girls are posting about it on every social media outlet and are STOKED. It is the talk of the skateboard world.
I gave these little rippers above, eight-year-old Sky and Quinne, copies of the magazine this morning over breakfast. As they thumbed through the pages they yelled girls names out as they came across their pictures "Oh my gosh look there's Leticia!!, Lacey!!, Allysha!, here's Alana, Wow! Look at that shot..." They thumbed through the pages again and again, looking closely at each girl's photo with huge smiles on their faces. As we left the restaurant they each clutched the magazine to their chest as if it was the most important possession they had with them this morning, and perhaps it really was. It was full of girls just like them who were absolutely killing it, and it made them realize that one day, they could actually be that girl in the magazine. When they can see girls even those just a little older than them, like 12 year old Brighton Zeuner, in a decades old, male dominated skateboard magazine, it gives them fuel, and inspiration, and ignites their passion for skateboarding even more than ever. And that is HUGE.
For me it was something else entirely. It was a sigh of genuine relief. It was knowing that this day had finally come. Thirty eight years has passed since I became a female pro skateboarder and had helped pave the way, along with a small group of other girls in the 70's, and now it was really happening. It's been 3 years since I started a website featuring girls skateboarding every single day, so girls would have somewhere to see other girls like themselves and get inspired. Should it have taken this long for one of the top skateboard magazines to do this? Hell NO. But it's happening now, so we really need to celebrate that. We are seeing the change we have always wanted, hoped for, and fought hard for. I went to bed last night with the magazine in my hands as I thumbed through the pages and read those interviews again and again. I fell asleep holding it to my chest, and woke up this morning with a huge smile on my face, knowing that women in skateboarding had finally created a significant wave of change. Skateboarding is not a "boys club" anymore it's just skateboarding. This day means more to me than when I was inducted into the Skateboarding Hall of Fame. That is how huge this milestone really is. It shows every young girl and women out there that we are finally being seen and recognized as skateboarders.
I feel that it is fitting that I share this post I wrote back on September 24, 2013 - because it's just 3 years later and look how far we have come.
Image via Glamour Magazine Spain
This post was originally created for my blog site "It's Not About Pretty". When I was writing it way back when, I started to realize that instead of bitching about what I wasn't stoked on, that maybe I should think about starting a blog about girls skateboarding and post a "Who's Rad" every week to create the content I thought there should be more of. Sometime your biggest pet peeves have a way of giving you forward momentum. This photo above reminds me of back in the day. But not in the way you might think…
Back in the day you had to hunt and hunt to find girls profiled in skateboarding magazines. I craved those photos, I studied them and cut them out and thumb-tacked them to my wall for inspiration. I don't think I could have filled all the walls in my teenage bedroom with female skate photos even if I had tried – there just weren't enough of them. But there were always photos of girls in cute outfits watching the boys skate…
Which brings me to this editorial spread. Don't get me wrong, I love that skateboarding is featured here in a very 70's California way, BUT I'd really be digging it if the girl was the one skating and maybe the boys were the ones watching. I'm waiting for the year that happens, and in the meantime, I am still tacking up photos of rad girls, with the hope that one day my walls will be filled.
I believe it's time for a new ending to the same old story. What about you?
Flash forward to today:
I have been smiling for the past two days knowing that I could tear out all those photos and put them up on my office walls, and have plenty of images to do it with. That is amazing to me. That is what I have hoped and dreamed of all these years.
Thank you to Transworld Skateboarding Magazine, the photographers, writers, editors, advertisers and the female skaters featured, who just changed our world. I believe we also changed yours as well.
Thank you to every girl who has ever skateboarded - from the OG's in my day, to the little ones ripping today, for always charging hard, and skating no matter what. Every single girl out there helped make this happen, and you should all be stoked as hell. I know I am.
---