Back to News
SDSI Signs 100th Member
October 26, 2016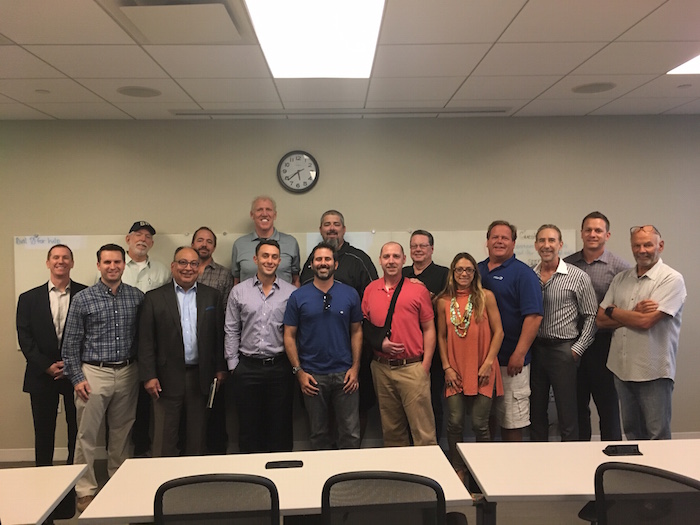 Solana Beach's San Diego Sport Innovators (SDSI), the nonprofit business development organization dedicated to the Sport and Active Lifestyle (SAL) Industry, announced today they have signed their 100th member, Surf Cup Sports.
"It's a big day for us for two reasons," noted Bob Rief, Executive Director, SDSI. "Reaching 100 members is really a threshold for SDSI. Our focus is on the SAL community, basically the companies whose products or services constitute the San Diego lifestyle. Bringing together 100 of these companies to promote San Diego and our business category is really fantastic."
Surf Cup Sports is a significant business generator for San Diego, bringing $139 million in associated revenue annually. Their facilities in Del Mar and Oceanside collectively provide 44 fields of play for the community. Over 200,000 athletes compete on their fields each year. More than 2,000 college coaches attend Surf Cup Sports events to recruit players, resulting in millions of dollars in scholarship awards.
"Secondly, my guess is there is not a more well-known name in North American youth soccer," continues Rief. "To share our 100th member celebration with Surf Cup Sports is especially rewarding and really a perfect fit for SDSI."
"As one of the top sporting event organizers in the country with deep roots here in San Diego we are excited to join SDSI to participate in the collaborating and networking opportunities provided by the organization," says Mike Connerley, President of Surf Cup Sports. "We want to continue to grow and improve our business as well as support other San Diego sports companies, and we see SDSI as a vital part of that process."
About SDSI
SDSI is a nonprofit business development organization focused on the Sport and Active Lifestyle (SAL) industry. Working with Executive Chairman and NBA great Bill Walton, our 100 company membership represents the "San Diego Lifestyle" and includes leading sports and technology brands, nutrition, yoga, surf, skate, cycling, golf, retail and more, as well as some of San Diego's bests service companies. We focus on relevant and actionable C-level content that benefits our member companies. SDSI's award winning SDSI Springboard business accelerator program features a 20-week mentor-led curriculum whose graduates have raised $47.5 million and have an 89% success record. For more information, visit www.SDSportInnovators.com.
About Surf Cup Sports
Surf Cup Sports is one of the most influential and recognized youth sporting event organizers in the nation. Originally formed as a local soccer club for San Diego's best youth soccer players, Surf Cup Sports is now recognized nationally for Surf Soccer Club and globally for Surf Cup, which draws the "best of the best" players from all over the world to compete in "America's Finest City."
---