Back to News
Sheckler Foundation Provides Be the Change Round 8 Finalists an Opportunity to Receive $10K and Support
October 31, 2016
Today, the Sheckler Foundation is pleased to announce its top four finalists for its eighth "Be the Change" initiative created by Ryan Sheckler to help injured action sports athletes, children and individuals in need. The top four finalists include: Adaptive Skate Kollective, Boards for Bros, Talk About Curing Autism (TACA) and Tilly's Life Center. The finalist who receives the most votes by Wednesday, November 2, 2016 will receive support from the Sheckler Foundation and $10,000 to help make their project a reality. To learn more about the top four finalists please take a moment to watch the video entries and cast your vote, here: shecklerfoundation.org/be-the-change.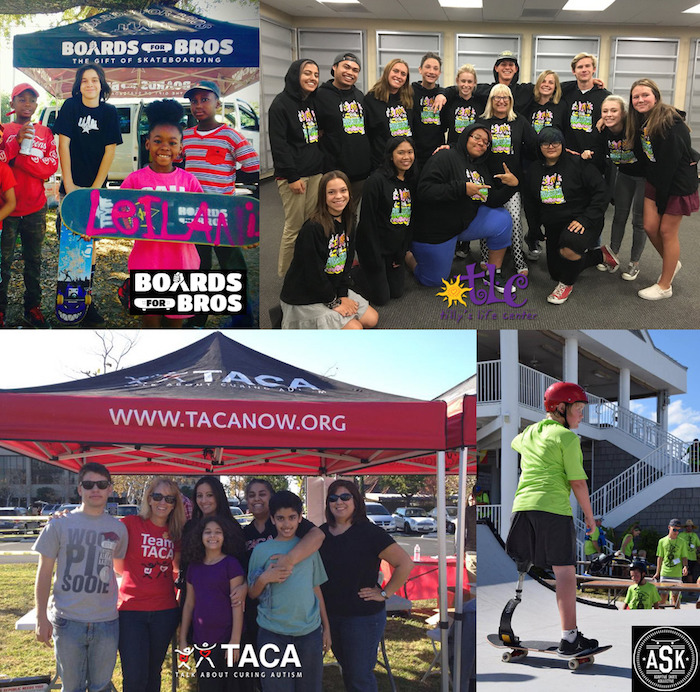 Top-to-bottom, Left-to-right: Boards for Bros, Tilly's Life Center, Talk About Curing Austism (TACA) and Adaptive Skate Kollective
The round eight top four "Be the Change" finalists, include:
Adaptive Skate Kollective

: Adaptive Skate Kollective is a non-profit that travels across the country providing skate clinics, demos and competitions for people with different abilities. Adaptive Skate Collective would like to purchase a mobile skate park to host skate clinics indoors or in cities where skateparks are limited or nonexistent. A mobile skatepark will cut down organizational costs per clinic, giving them more funds to focus on sponsorship opportunities for families in need.

Boards for Bros

: Boards for Bros gives skateboards to kids who cannot afford them. They use the gift of skateboarding as a tool to teach perseverance, promote exercise and provide an outlet for personal expression. In addition, Boards for Bros provides skaters of all ages with an opportunity to get involved in community service while doing what they love.


Talk About Curing Autism (TACA)

: Talk About Curing Autism (TACA) wants to see all children affected by autism living the fullest life possible and reaching their highest potential. To assist families in improving physical, social and emotional outcomes for their children with autism, TACA provides access to information, resources and support. TACA's efforts to change the lives of children with autism include education and awareness events, as well as family support services.


Tilly's Life Center

: Tilly's Life Center (TLC) is a youth-focused, 501(c)(3) nonprofit charitable foundation aimed at empowering all teens with a positive mindset and enabling them to effectively cope with crisis, adversity and tough decisions. TLC's mission is to inspire today's youth to reach their full potential as productive, kind, happy, and responsible individuals. The TLC program empowers teens by teaching them life skills that build confidence, inspire compassion, and encourage them to pursue their dreams.

The Sheckler Foundation is dedicated to the mission of educating, equipping and empowering its community to "Be the Change" and has helped numerous different causes and individuals over the years, to include: The Port Gamble S'Klallam, Peach's Neet Feet, Ashley Wade Foundation, Hope for Carter, Gamerosity, Andrew Hale's Road to Recovery and COPING MECHANISM.
The voting process closes on November 2, 2016 and the "Be the Change" recipient will be announced on the following day, November 3, 2016. For additional information and to cast your vote, please visit shecklerfoundation.org and follow @ShecklerFoundation on Instagram, Twitter and LinkedIn.
About The Sheckler Foundation:
Founded in 2008, the Sheckler Foundation was created as an avenue for Ryan Sheckler, his family, friends and business associates to give back to the community and industry that they are so grateful for. Fueled by the desire to contribute to the many causes that directly benefit and enrich the lives of children and injured action sports athletes, The Sheckler Foundation will produce fundraising events, passion projects and web-based initiatives to raise capital and awareness. Our ultimate goal is to empower our community to "Be the Change!"
---