Back to News
SLVCDR Presents "Archive" by J. Grant Brittain December 15th
December 15, 2016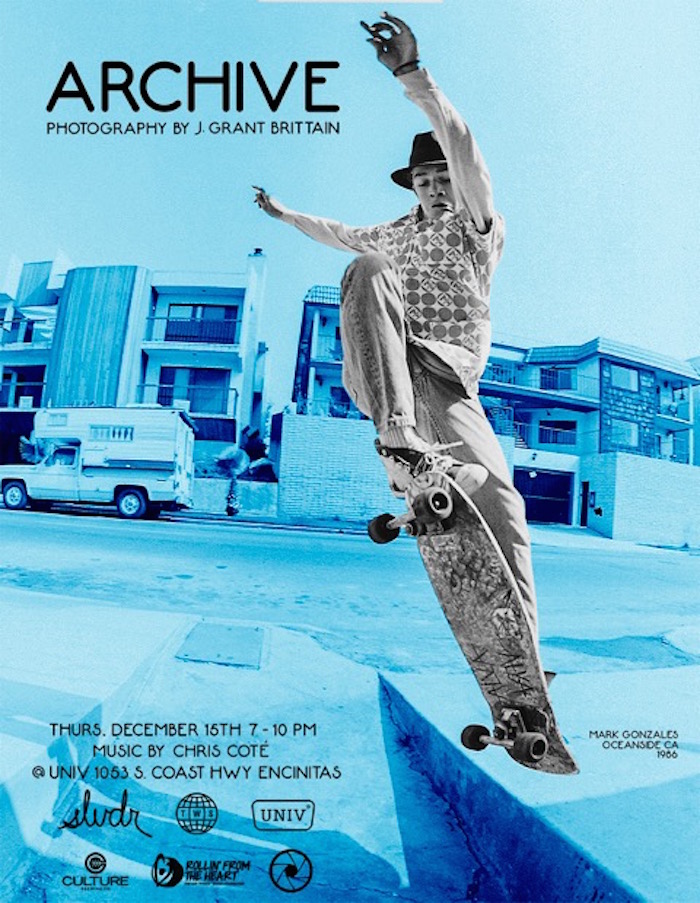 SLVDR is pleased to announce "Archive" by J. Grant Brittain this Thursday December 15th. The show will feature many of Grant's iconic skate images from the 80's and more. The event will be held at UNIV at 1053 S. Coast Hwy. Encinitas from 7-10pm. Also on hand, playing music, will be the one-and-only Mr. Chris Cote.
The event represents a long-standing friendship between Grant and SLVDR's Tim Swart and the opportunity to showcase many from the vault of Grant's 37 years of iconic skateboard imagery. Grant's photos have helped document the progression and creativity of skateboarding for decades. "Archive" will highlight many of the classic photos and some not often seen over the years.
There are suggested donations to benefit the Rollin' From The Heart organzation and attendees are encouraged to bring a deck, wheels or cash. The main initiative for Rollin' From The Heart is in "improving the lives of disadvantaged and at-risk youth and young adults."
"Archive" is further supported by Transworld Skateboarding, Chrome Digital and Culture Brewing Co.
About SLVDR
SLVDR is a contemporary California style brand that encourages creative thinking to inspire cool culture. The design philosophies are shown in our products by hyper-focused attention to creative details, premium fabrics and well-considered fits.
About J. Grant Brittain
Grant Brittain picked up a camera at the ripe old age of 25 and started shooting his friends skateboarding at the Del Mar Skate Ranch. In 1983, Grant was asked to contribute skate photos to the premiere issue of TransWorld SKATEboarding magazine and became its founding Photo Editor and Senior Photographer.
Over the past thirty-plus years, Brittain has captured the best skateboarders in photos that have become classics. He has also taught some of the best skate photographers, past and present, and helped them develop their own work. Grant then went on to become one of the creative elite who founded The Skateboard Mag and he continues to develop his photographic craft to this day.
Few photographers have pursued so wide a range of subjects and styles. But few individuals find themselves so central to such an active community, where one's perspective is just a notch askew of the rest, and where movement and progression is the norm. Grant Brittain's body of work reflects his deep involvement in an emerging youth culture, as well as his escape from it.
---