Back to News
Canfield Brothers Updates Carbon EPO
January 13, 2017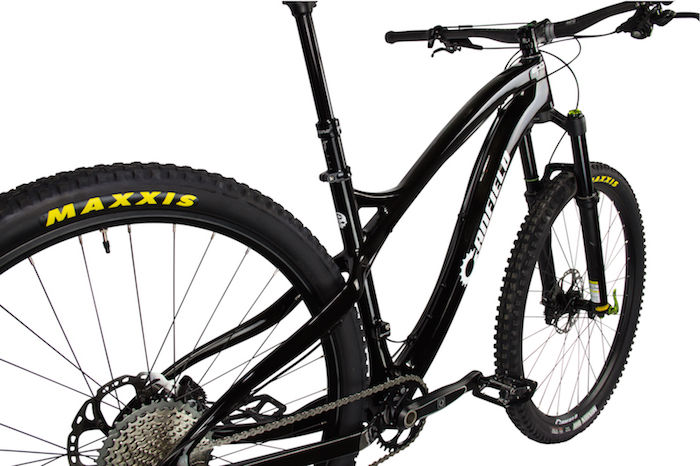 Canfield Brothers, high-end boutique mountain bike manufacturer, updates the EPO, the brand's carbon-fiber hardtail 29er engineered for aggressive all-mountain riding, with XL sizing, stealth dropper routing and a gloss black finish.
The first carbon-fiber bike from Canfield Brothers, the original category-defying EPO was released in 2015, and turned heads with its sleek, flowing lines and the aggressive all-mountain 29er geometry that Canfield Brothers pioneered with the Yelli Screamy.
"As our first carbon fiber frame, the EPO continues our tradition of making bikes that we want to ride," said Lance Canfield, co-owner and designer. "And that includes hardtail 29ers that are as much fun pointed downhill and in the air as the are efficient on the way up. And with the EPO's carbon frame, we really created a bike that we love to look at almost as much as we love to ride it."
The EPO features a 66.8-degree headtube angle when paired with a 140-millimeter fork for stable descending and ultra-short 16.3-inch chainstays for nimble handling. The all-new XL frame gets 467-millimeter reach and 657-millimeter stack, making the cockpit even roomier for large riders.
Don't let the 3-pound (1,450-gram) carbon hardtail frame fool you—the EPO is an all-mountain brawler built to take a beating and look good doing it. Carbon weaves of varying thickness add strength and lateral stiffness where it counts to ensure the EPO is tough enough to wear a skull on the headtube while allowing for a vertically compliant ride.
All-new stealth dropper routing makes for an even cleaner build. Other details include 142x12 rear through-axle as well as ISCG mounts and 1x or front derailleur compatibility and a threaded bottom bracket for creak-free riding.
The EPO is available in gloss black with white graphics in M, L and XL and retails for $1,499 as a frame, or $3,899 as a complete Factory Build featuring Canfield's own C2 components wheels, cranks and chainring, Shimano XT brakes and components, Race Face Sixc cockpit and RaceFace Turbine Dropper. Available now at Canfieldbrothers.com.
Features:
Carbon all-mountain 29er
66.8° Head angle, (140mm fork)
Short and fun 414mm (16.3in) chainstays
NEW Stealth dropper routing
NEW High gloss black finish
142×12 dropouts with Maxle included
ISCG 05 tabs
Integrated headset cups
Front derailleur compatible
Threaded 73mm BB for creak free riding
Available in M, L and XL
1,450 grams
ABOUT CANFIELD BROTHERS
Canfield Brothers produces the most sought after high-performance—and fun—bikes and components available. Having continually refined the principles of suspension design and frame geometry ever since Lance and Chris' first handuilt bikes went on to be Rampage and World Cup tested, the Brothers remain on the cutting edge of what is what is possible between two wheels. Produced in limited quantities to the Brothers' exacting standards and backed by a commitment to personal customer service and a hands-on consumer direct approach, you won't find anything quite like a Canfield Brothers bike. For more information, visit CanfieldBrothers.com.
---