Back to News
Ravean Responds to Customer Feedback with Launch of Ravean Down 2.0 Featuring 2X Heat Time, Heated Hood and Fingers - Eclipses Crowdfunding Goal in Less Than 10 Hours
January 31, 2017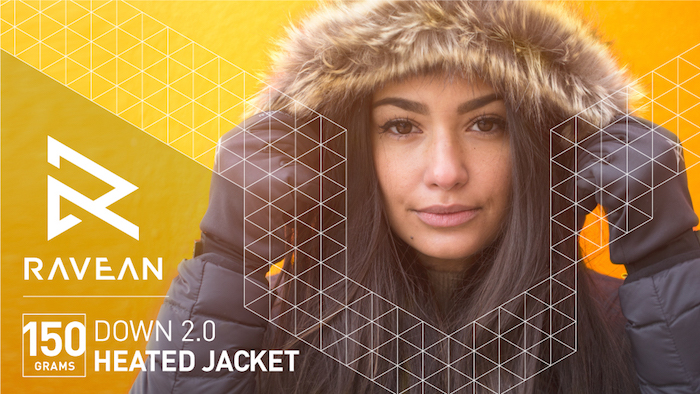 Ravean, creators of the world's first down heated jacket that raised more than $1.5 million during crowdfunding, is back with the already popular Ravean Down 2.0 on Indiegogo. Ravean 2.0 quickly surpassed its $50k goal and has raised more than $68K (and counting) less than 24 hours into the campaign.
Co-founder Bryce Fisher said Ravean used ideas and suggestions from customers who bought the original Ravean Heated Jacket to add new features to the 2.0 version.
"We've taken all of the feedback from the backers who ordered our first jacket and literally created the ultimate heated jacket they asked for," Fisher said. "The 2.0 version has more heating elements, added battery power for charging phones 4X, double the heating time, heated gloves with heated fingers, a heated hood, more pockets, faux fur option and even improved zippers. The Ravean 2.0 is truly a jacket created by our customers."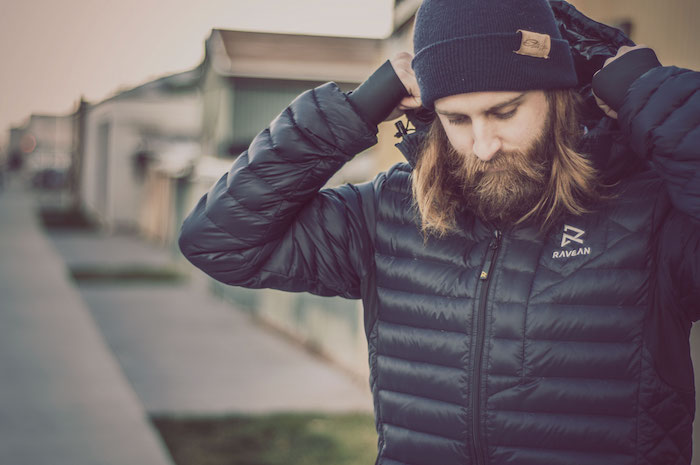 The Ravean 2.0 includes the following features:
Back/chest/glove/pocket warmers
A new heated hood option
Gloves with heated fingers, with self-retractable glove connectors
A new controller with head control, body control, and pocket/glove control
10600mAh Battery
A new battery-life gauge
An added battery pocket and connector for two batteries, offering twice the playing time for phones and other electronic devices
New and improved YKK zippers and zipper pulls
Breathable underarm flex panels
Rip guard outer shell, with DWR water-resistant shell coating
Hydrophobic down
Reflective inner aluminum coating
Outside chest pocket for smartphone or sunglasses
interior large mesh stuff pockets
In its new design, the batteries have been moved under each arm so they are out of the way and both can be operated at the same time for added playing time.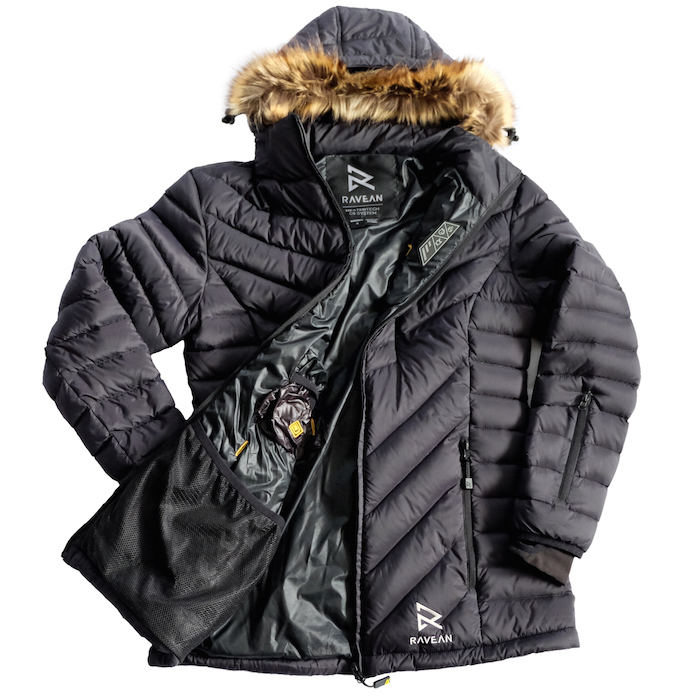 The Ravean 2.0 Down Jacket is available in men's and women's versions – with the women's version featuring a stylish, removable faux fur collar and a longer torso for added coverage.
Ravean Co-Founder Jonathan Bybee notes that the company extends a 100 percent pledge-back guarantee for all backers who purchase the Ravean 2.0 Down Jacket – as it has done for all its products.
"For people who live in or travel to cold climates, the Ravean 2.0 Down Jacket delivers heat where they want it – not only in the jacket itself, but also delivering warmth to their hands, fingers and head as well," Bybee said. "With this jacket, you never have to be cold again."
In 2015, Ravean raised $1.54 million on Kickstarter and Indiegogo with the backing of close to 10,000 global consumers with the world's first heated down jacket.
A limited number of super early-bird specials are available for crowdfunding backers during the new Indiegogo campaign, with reduced pricing for multiple purchases. For more information or to pre-order, visit the Ravean 2.0 Down Jacket Campaign Page on Indiegogo.
About Ravean
Let's be real here for a moment; we're not the first people to come up with the idea of heated jackets or heated gloves. We're just the first ones to do it right. By doing it right we mean our jackets look good, they're durable, they're affordable and they integrate our technology seamlessly and unobtrusively. Finally, there's a heated jacket you can wear with equal comfort and style from the mountains to the office without missing a beat. Sure, it's been tried before, but other solutions have been pricey, ugly and the technology was problematic. Ravean has addressed and solved each of these issues to present jackets you can wear anywhere, that are as stylish and durable as they are warm and cozy. For more information, visit ravean.com.
---