Back to News
First Competitors Announced for Nitro World Games 2017
January 31, 2017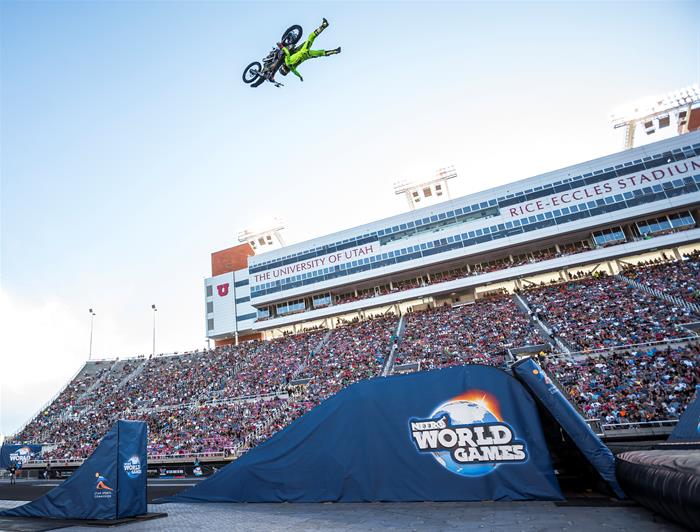 The best athletes in action sports now will have the chance to defend their Nitro World Games titles. The 2016 winners in FMX Best Trick, FMX, BMX Best Tricks, BMX Triple Hit and Skate Best Trick are invited straight to the 2017 finals, airing in primetime on NBC from Salt Lake City's Rice-Eccles Stadium on Saturday, June 24.
Travis Pastrana, action sports icon and Nitro World Games co-creator said:
"We pride ourselves on having the most open qualifying format possible for Nitro World Games, but everyone wants a shot at the champion! With the level of competition constantly rising, we want to reward those who risked it all to take the trophy the previous year by inviting them to go directly to the finals. It also gives riders who make it to the top of the podium the opportunity to promote their sponsors in the finals the following year, in front of a packed house and live on NBC."
Jeff Robbins, president & CEO of the Utah Sports Commission, added, "We are proud to partner with Nitro World Games to host the world's best action sports athletes here in the state of Utah. This innovative event further positions Utah as a leader in the national and international action sports community."
The following athletes are now invited to the 2017 Nitro World Games finals:
Gregg Duffy (2016 FMX Best Trick Winner): The Annapolis, Maryland-based motocross racer stunned the world last year, winning his first ever FMX event in epic fashion by stomping the extremely dangerous double front flip on a motorbike (the first time the trick had even been attempted in competition, let alone landed).
Levi Sherwood (2016 FMX Winner): The New Zealand rider (and three-time X Games medalist) faced a packed field, including Josh Sheehan, Adam Jones, Taka Higashino and more. But, Sherwood put on a master class in technical precision and maximum extension to prevail.
Ryan Williams (2016 BMX Best Tricks Winner): Considered by Travis Pastrana to be among the best athletes in all of action sports, Australia's "R Willy" seized first place in, remarkably, his second discipline. The self-taught BMX prodigy, who shattered the "child's toy" perception of scooters, withstood a barrage of world firsts in arguably Nitro World Games' most heated contest. But Williams brought down the house with a massive 1080 front flip that, in one online post alone, has received 44 million views to date.
Colton Walker (2016 BMX Triple Hit Winner): The up and coming South Bend, Indiana native advanced through qualifying to win the action-packed final, reinforcing that he is one of the best new athletes in BMX today.
Elliot Sloan (2016 Skate Best Trick Winner): An eight-time X Games medalist, Vista, California's Elliot Sloan showed off his exceptional skills by hitting the all-new Nitro World Games Giganta ramp and topping the leader board.
To see how these champions redefined their disciplines and took action sports to the next level, go here.
As Nitro World Games continues to push progression, it will once again feature open qualifying, making it the most inclusive competition in action sports. More athletes from around the world will be added soon with further announcements to follow.
Created by Travis Pastrana and Mike Porra, the Nitro World Games revitalized action sports in 2016, shifting the landscape for both athletes and the industry alike. Over 25,000 people saw it all go down in Rice-Eccles Stadium, while viewer numbers for NBC's live primetime broadcast surpassed all expectations and Nitro Circus' global livestream reached a hungry audience worldwide. To date, Nitro World Games digital content has generated more than 100 million views in aggregate. With breakthrough ramp technology, new judging criteria and innovative scoring formats, this is a complete reboot of action sports competition.
For fans looking to witness action sports history in person, there are a variety of Nitro World Games ticket options to choose from. Tickets start at $19 each while Nitro Club VIP tickets – the best seats in the house plus a special VIP experience - are $79 each (all ticket prices plus applicable service fees).
Nitro World Games 2017 continues Nitro Circus' multi-year partnership with NBC Sports Ventures, combining NBC's broadcasting excellence with Nitro Circus' authority as an action sports leader. NBC Sports will present three hours of Nitro World Games coverage airing in primetime on NBC in the United States. Details on how fans outside of the U.S. and Canada can watch Nitro World Games will be announced soon.
Nitro World Games 2017 sponsors include Be The Match, Valvoline, Oberto and Vivid Seats.
For more information about the #NitroWorldGames please go to nitroworldgames.com. Fans can also follow Nitro Circus on Twitter and Instagram: @nitrocircus and on Facebook: www.facebook.com/NitroCircus.
About Nitro Circus:
Nitro Circus continues to position itself as the world's leading youth action sports & entertainment brand. From humble beginnings in 2003 – with Jeremy Rawle, Gregg Godfrey and soon to be action sports superstar Travis Pastrana producing DVDs from a Utah garage -- to a smash TV series which has aired in over 60 countries, Nitro Circus has exploded to global popularity. In 2012, Nitro Circus: The Movie, featuring cast members from the hit television series, was released in cinemas worldwide. In 2015, Nitro Circus announced a partnership with NBC Sports Ventures. The multi-year strategic alliance features TV specials and live events, such as Nitro World Games, and series programming airing nationally in the U.S. on NBC and NBCSN as well as streamed on the NBC Sports App.
The TV show was transformed by action sports industry guru Michael Porra into a must-see live event in 2010 creating the Nitro Circus Live global touring phenomenon. Since its inaugural Australian trek six years ago, the show has travelled the globe, obliterating box office records and cultivating a legion of diehard fans. Nitro Circus has now rolled across five continents, blown away over three million fans and sold out shows in the United States, Canada, Europe, Australia, China, Japan, the Middle East and South Africa. After over 70 shows globally in 2016 and with more shows coming up worldwide in 2017, Nitro Circus is undoubtedly the world's most successful action sports touring brand. For more information visit www.nitrocircus.com.
About the Utah Sports Commission:
The Utah Sports Commission is a not-for-profit, 501c3 charitable organization created to foster national and international amateur sports competitions to be held in the state of Utah, which will enhance the quality of life of all Utah citizens and strengthen Utah's presence in the worldwide sports community.
---