Back to News
Sheckler Foundation Brings Light to Be The Change Round 9 Finalists
February 2, 2017
Today, the Sheckler Foundation presents the top four finalists for its ninth "Be the Change" initiative, designed to help children, organizations and individuals in need. The top four finalists include: Adventure Club, Next Up Foundation, Nick's Picks and Traveling Stories. The finalist with the most votes by Tuesday, February 7, 2017 will receive support and a $10,000 financial grant from the Sheckler Foundation to help make its vision a reality. Watch the videos and cast your vote here: shecklerfoundation.org/be-the-change.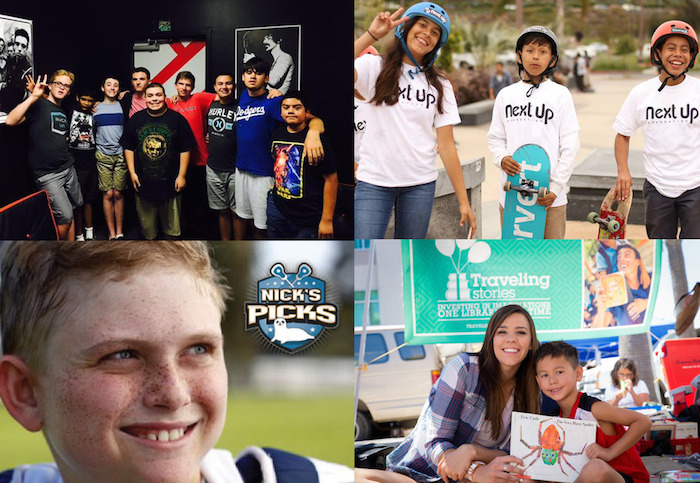 Top-to-bottom, Left-to-right:
Adventure Club; Next Up Foundation; Nick's Picks; and Traveling Stories
Learn more about each of the top four "Be The Change" finalists, below:
Adventure Club: Adventure Club has created a social network specifically for teens with Autism to give them the opportunity to build lasting, quality friendships and work together to live a meaningful life. Adventure Club hosts dances, special events and fun group activities for teens and their families to enjoy.
Next Up Foundation: Next Up Foundation is a skateboarding community that mentors under-served kids by teaching problem-solving skills, developing youth leadership, and encouraging social mobility. Next Up offers a "cool" alternative to traditional after-school programs, one that appeals to many hard-to-reach kids and inspires them to believe in their talents and pursue their dreams and goals.
Nick's Picks: Nick's Picks was started by seventeen year-old, Nick Wallace who was born with Biliary Atresia, a pediatric liver disease. Nick received a liver transplant in 2012 that saved his life and now gives back to kids who are facing long term hospitalization by delivering fun-filled backpacks loaded with "must have" items and cool activities that help entertain and comfort kids in isolation.
Traveling Stories: Traveling Stories creates engaging, social reading experiences to help low income kids in San Diego get ahead in school and avoid summer learning loss. Traveling Stories emphasizes the joy of reading and transforms reluctant readers into confident ones by the fourth grade.
The Sheckler Foundation is dedicated to the mission of educating, equipping and empowering its community to "Be the Change" and has helped numerous causes and individuals over the years, to include: The Port Gamble S'Klallam, Peach's Neet Feet, Ashley Wade Foundation, Hope for Carter, Gamerosity, Andrew Hale's Road to Recovery, Coping Mechanism-Parisite DIY Skatepark and Talk About Curing Autism (TACA).
Voting ends on February 7, 2017 and the "Be the Change" recipient will be announced on the following day, February 8, 2017. For additional information and to cast your vote, please visit shecklerfoundation.org, and follow @ShecklerFoundation on Instagram, Twitter, as well as on Facebook and LinkedIn.
About The Sheckler Foundation:
Founded in 2008, the Sheckler Foundation was created as an avenue for Ryan Sheckler, his family, friends and business associates to give back to the community and industry that they are so grateful for. Fueled by the desire to contribute to the many causes that directly benefit and enrich the lives of children and injured action sports athletes, The Sheckler Foundation will produce fundraising events, passion projects and web-based initiatives to raise capital and awareness. Our ultimate goal is to empower our community to "Be the Change!"
---